You Ought to Give Broadway a Try: Columbia GS Student Performs in Revival of The Music Man
Drew Minard '25GS talks about making his Broadway debut this year and how he balances performing with his Columbia classes.
October 07, 2022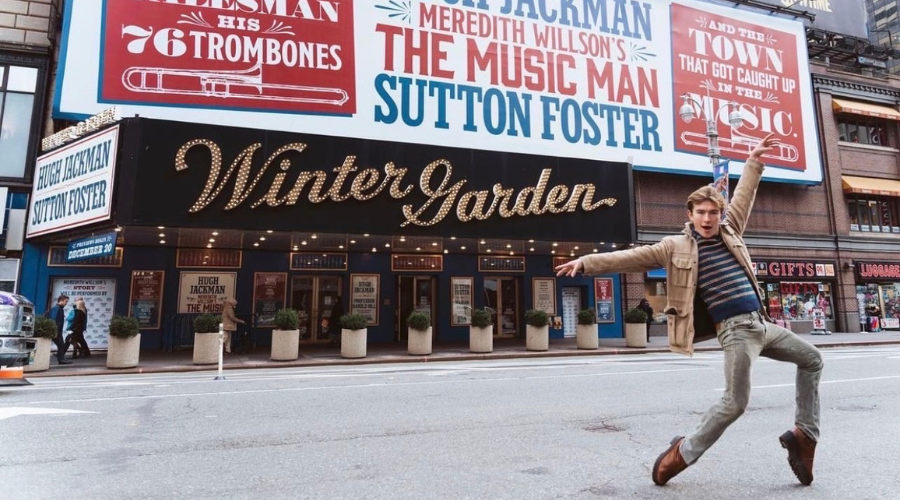 Originally from Iowa, Drew Minard '25GS began his dance training when he was just three years old. He participated in competitive dance for many years before discovering his passion for musical theater—and soon found himself touring the country in the title role of Billy Elliot: The Musical. Following his travels with the production, Minard moved to New York City to attend a performing arts high school, where he continued to hone his craft acting in, directing, and choreographing various productions. At GS, Minard plans to major in Drama and Theatre Arts with a concentration in Directing or Playwriting. He's currently staying in touch with his Iowan roots performing in the Broadway revival of The Music Man.
Embodying what the music man, Harold Hill himself, says, "Never allow the demands of tomorrow to interfere with the pleasure and excitement of today," Minard spoke with us about making his Broadway debut, being on stage at the famed Winter Garden Theatre, and how he balances performing with his Columbia coursework.
Tell us your GS story in one sentence:
I'm expanding my knowledge on things that I love while being able to put those passions into practice outside of school as well.
How did you get involved with The Music Man?
I was at school for musical theater at the College Conservatory of Music in Cincinnati and in the summer before my sophomore year, I saw the audition notice for The Music Man. I texted my manager and asked him to PLEASE get me in the room. About a half a dozen auditions later, I booked the four-week developmental workshop, took the risk, and left school. I re-auditioned some more after the lab and booked the Broadway company.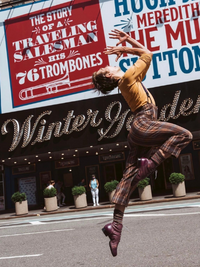 This was also your Broadway debut: What was that experience like for you?
It has exceeded my expectations in so many ways and has assured me that I want to be in the world of musical theater forever. In a way, that assurance was what motivated me to go back to school, so that I can gain the tools I need in order to have longevity in the field. I have dreamt of being on Broadway since I was very, very young and this has solidified my love for it in so many ways. The people in this cast have become my family, and coming to the Winter Garden every night and performing this material gives me so much comfort. I am able to escape the world and enter into this dream of mine and I feel so lucky. 
Describe what it's like being on stage at the Winter Garden, performing in one of the American theater's most classic musicals.
The Winter Garden was the home to the original West Side Story, Cats, and Mame. It feels like more than just a show every night. Every time that I step into the theater, no matter how I'm feeling that day, I'm able to conjure up these theatrical ancestors that were the driving forces for me to become an actor and let them inspire me to do this show. Every square inch of the theater feels like magic. Sometimes I find myself exploring the depths of the basement or the tiers of the mezzanine on our breaks just to feel the comfort and history of the Winter Garden. 
The show itself is incredibly special to me, being the only Iowan in the cast. I grew up learning the music in school and I feel deeply connected to it. Every night while facing the excitement and largeness of Broadway, I'm able to have a bit of home with me in the story that we're sharing.
How do you balance school and performing—and what does a typical day look like for you?
It takes some patience and preparation, but I've definitely gotten into the swing of it. I live a very chill lifestyle during the day so that I am able to be at 100% for the show at night. I cook, read, and exercise, while seeing friends as much as I can. I've scheduled my classes for the morning so that I am able to start early, which is sometimes a bit difficult with the semi-nocturnal hours of Broadway, but my classes have been very inspiring and helpful to me at work. I feel very lucky. 
What else are you hoping to accomplish during your time at GS – and what are you looking to do after graduating from Columbia?
I'm really looking forward to challenging myself as an actor and theatermaker while at Columbia. I aim to take my passions a step further and really develop projects with the school and my peers to put a lot of the things that I've learned as an actor into practice. I am aiming to finesse my skills as a writer and director to be able to put pieces on their feet. 
After I graduate, I plan on combining my love for writing, musical theater, and directing to create theater pieces of my own in addition to performing.