A Spirit of Service, from the Military to Medicine
2023 Grad Profile: Katie Cavenee '23PBPM shares how a spirit of service took her from Army linguist to the Postbac Premed Program, and soon, future-medical professional.
April 22, 2023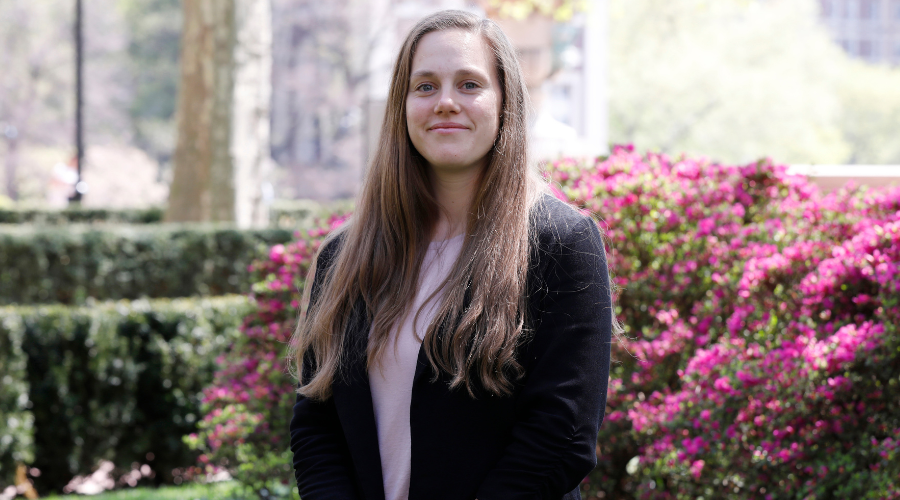 Hailing from Orange County, California, veteran Katie Cavenee '23PBPM shares what drew her to medicine following her time in the Army, and how the support of Postbac advisors, faculty, and peers was crucial to her success in the program. 
Tell us about your path to GS!
I joined the United States Army at the age of 17. I learned Iraqi Arabic at the Defense Language Institute for a year and half, and following that, was stationed at Fort Gordon, Georgia for four years. During this time I completed my bachelors degree in Arabic Language and Culture at California University of Pennsylvania. While working on this degree, I was a camp counselor at a camp for kids with diabetes, and I learned more about the field of medicine and realized that was where I wanted my career to go next. I was accepted into Columbia's Postbac Premed Program and started in the summer of 2021.
What has been your proudest accomplishment at Columbia?
My greatest accomplishment has been being able to finish the program. I did my bachelor's degree online, and only did 1-2 classes at a time because I was working full-time. The first year of the program was especially hard for me. In the Spring 2022 semester, I was taking Calculus, Physics I, Physics I Lab, and General Chemistry II. I was also working three jobs, as a scribe, a waitress, and a dog walker. I was stretched beyond my limit, and I ultimately ended up getting sick for most of the semester, which resulted in poor grades. There were a lot of people telling me to quit and try something else, but I reset myself, made a new plan, and with my advisor's support, was able to continue with the program. My grades have significantly improved since then and I am incredibly proud of myself for making it to this point in my life. Attending Columbia's Postbac Premed Program is the hardest thing I have ever done in my life, but completing it has given me a sense of efficacy and accomplishment that is unmatched. 
Who are some people who have contributed the most to your Columbia experience?
Dr. Joseph Ulichiny is one of the best faculty members at Columbia University. He teaches General Chemistry Lab, which in my opinion is a hard class, but he gives you every tool you need to succeed. His office hours are incredibly instructive and I learned so much about the applications of the things I learned from General Chemistry I and II. He is also a very kind and understanding person. Going through this program it seems like your life has to be put on hold, which is impossible. Dr. Ulichiny would work around emergencies in a reasonable manner.
Also my advisor, Dean Sunshine, has helped me through this program a lot. He is very responsive, which is important for someone like me with an nontraditional background. There were a lot of times I did not know what classes to take or even what applying to medical school entailed, and Dean Sunshine was always available to explain the things I needed.
What are your plans for after graduation?
I take the MCAT on June 16, and plan to apply to medical school over the summer!
What advice would you give to a student who's about to start their GS journey?
The best advice I could give is to find some friends and study with them. Everyone knows pieces of information, and when everyone combines those pieces, the study group as a whole benefits. The people next to you are the only ones that are going to be able to understand exactly what you are going through. I made my best friends in the Army by suffering through hard times together. Other people will be monumental in your happiness and learning at GS.