Postbac Premed Graduate Harnesses Military Experience to Work for Medical Equity
Brandon Moore '23PBPM, a retired U.S. Army Physician Assistant and former member of the White House Medical Unit, shares the personal and professional motivations that brought him to the Postbac Premed Program.
April 22, 2023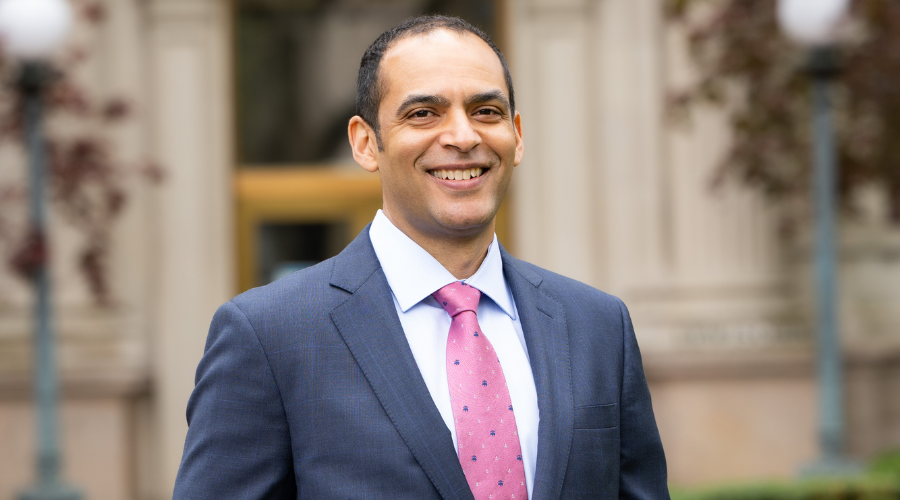 In the spring of 2020, over a decade into his military service as a U.S. Army Physician Assistant (PA), which included eight combat deployments and several years as part of the White House Medical Unit, Brandon Moore '23PBPM was already planning on taking a break when COVID-19 brought the army and the world to a standstill. Then, his mother was diagnosed with breast cancer, and Moore wasn't even able to be by her side during treatment due to pandemic safety precautions. 
All of the turmoil prompted Moore to dig deep and think about the future. "I was questioning what I could do to help my mom, what I wanted to do after I retired from the army, and it all kept leading to being a medical doctor." As an experienced PA, Moore wasn't starting from zero on his path to medical school, but was advised by contacts in the medical field who were familiar with his trajectory—especially as someone who had graduated college 10 years prior—that he would benefit from taking classes and proving himself academically before embarking on the rigorous medical school admissions process. This led him to research various postbac programs, but it was a conversation with fellow veteran Ricky Ditzel Jr. '22PBPM and Dean James Colgrove that ultimately brought him to Columbia GS and the Postbac Premed Program 
Once he chose GS, Moore was all-in: He retired from the military and relocated with his wife and three young children to New York. Bold moves are nothing new to Moore. As a high schooler, his path to the military began when he heard a talk from two West Point cadets. "My mom was a single parent and we didn't have a lot," he recalled. "When I heard about this opportunity, it clicked with me that this could be a way to a better life." With the support of his family and academic community, Moore successfully pursued admission to West Point.
His next daring pivot came during his first deployment to Iraq in 2005. "At West Point, I was a premed student, but then 9/11 happened, literally when I was in an organic chemistry class," he said. "My route shifted to being a ground soldier, but during my deployment to Iraq, I saw someone helping out medically and it turned out he was a PA. I knew then I wanted to do what that guy was doing: be on the front lines, treating people. Right when I got back from that deployment, I went to PA school."
"One of the things that I bring to the table is a very unique perspective on how to create things with just an idea, because that's what we did in the military."
Moore has applied the same determination and versatility he brought to his military career to his endeavors at GS. In fact, he credits his time in the army for helping him develop a resilient ingenuity that shapes his approach to medicine. "One of the things that I bring to the table is a very unique perspective on how to create things with just an idea, because that's what we did in the military," he said, citing experiences building medical stations at inhospitable locations and working with diverse and constantly shifting groups of colleagues and patients. 
Perhaps it is this skill which has made him so adept at research within the medical field, which is often centered on tackling information gaps or analytical challenges from the ground up, leading to multiple opportunities as a contributor, editor, or second author on medical papers while a Postbac student. Moore said that he found many of these positions through the Postbac website, and through a program he participated in with the Cornell Surgery Department. 
Much of Moore's research work has centered on racial disparities and data gaps in healthcare. In "The Accuracy of Race & Ethnicity Data in US Based Healthcare Databases: A Systematic Review," submitted to the American Journal of Surgery, Moore investigated inaccuracies in race and ethnicity reporting in medical records, and how that can distort data on overall health trends in specific communities. In another research project, he helped confirm that African American and Hispanic patients have higher rates of two of the more deadly breast cancers, and sought to understand the medical inequities which might underlay these alarming statistics. "I think access to care is a problem, and I also think how we see access as a concept is a core problem," Moore said in reflection on the research he's assisted with. He shared his interest in creating equitable health policy solutions, in particular advocating for a more intersectional approach to defining accessibility in a medical context that would take into account race, ethnicity, class, and environment when evaluating whether healthcare is truly 'accessible' to everyone in any given location.
For Moore, these endeavors are not only professionally constructive, they are deeply personal; it was his mother's cancer diagnosis which spurred him to pursue medicine in a civilian context. Indeed, his family is often at the heart of his motivations, and the core of his support network. He shared his gratitude for his sister, who helped Moore stay in school even through their mom's cancer re-diagnosis in 2021 by taking the lead on healthcare support during her next round of treatment, for his wife, who provided a second pair of eyes on more than a few late night papers and applications, and for both his wife and kids for supporting him through this exciting but demanding Postbac adventure.
"I'm only here for a short time, so every grade counts, but so does time with my kids, so does time with my wife, and so does time for yourself."
"When I started this whole mission to become a doctor, I sat down with them and really got their buy-in," he recalled. "The truth is, we could have probably lived a very comfortable life with me just being a PA: nice house, backyard with a garden, all of that. But I told my family that this is something I really want to do, and I really want them to be a part of that. And they said yes." 
That's not to say that balancing professional, academic, and personal commitments hasn't been tricky at times though. "I think one of the biggest challenges for anyone at GS with a family is trying to make sure they are comfortable as you go on this journey," he said. "I'm only here for a short time, so every grade counts, but so does time with my kids, so does time with my wife, and so does time for yourself." Moore shared that communication is key, as is carving out specific dates and places for quality time, from Saturdays spent taking his kids to watch soccer, to doing martial arts training regularly as a way to relax and reset.
Post-graduation, Moore wants to continue cultivating balance. On the medical end, he plans to pursue more research opportunities, continue part-time PA work at ZipCare, a Harlem-based urgent care clinic, and take the MCAT in June in preparation for the upcoming medical school admissions cycle. He's also looking forward to having more time for community involvement, such as deepening his volunteer engagement with the West Side Campaign Against Hunger, and of course, spending more time with his kids, potentially as a part-time soccer coach!
As he looks to the future now, in parallel to the pivot point that brought him to the Postbac Premed Program in 2020, Moore's path forward in medicine seems clearer than ever. With more than a decade of military medical expertise to guide him, and a passion for health equity cultivated at GS as his drive, Moore's potential for success and impactfulness in the medical field is without limits. Despite the lofty challenges in accessibility he's dedicated himself to tackling, Moore is optimistic. "There's a lot of people committed to positive change," he said, "and I think when more people put their ideas on the table, we'll probably come up with something really cool, something that could even raise the standard for the whole world. That's why you gotta love America, because if someone's gonna fix something, it's gonna be here."