2022 Grad Profile: Ricky Ditzel Jr.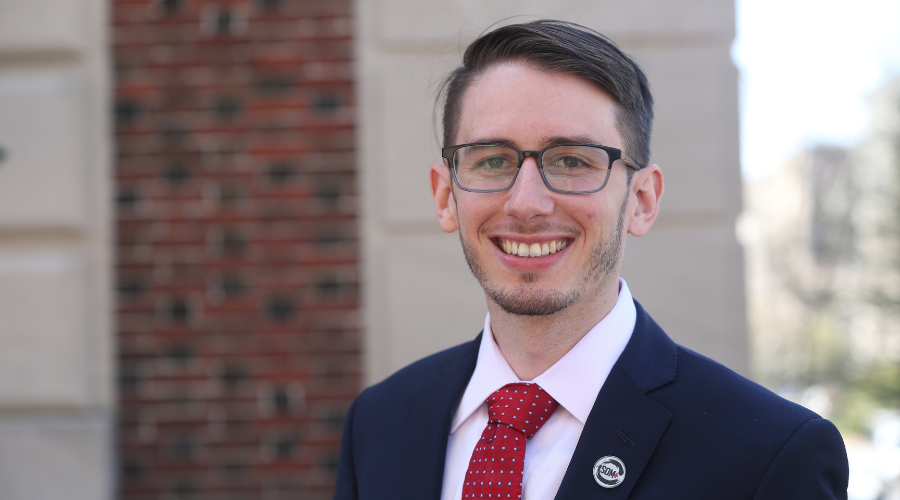 Ricky Ditzel Jr.
Postbac Premed
Where are you from?
Fort Lauderdale, Florida
Tell us about your path to GS!
Prior to coming to GS, I was in the United States Army for eight years serving on active duty, with the latter half of my career as a Special Operations Medic. I was very fortunate to serve not only as a Special Operations Medic, but also as a voting member for the Committees on En Route Combat Casualty Care and Surgical Combat Casualty Care, helping to shape clinical practice guidelines for the Joint Trauma Systems. 
Through my military experiences overseas and within the U.S. I was exposed to many aspects of medicine and I was inspired by mentors to pursue a career to become a physician. While I had graduated from George Washington University with a Disaster Management degree, I did not have the sciences required for medical school. I decided I needed to leave active duty to achieve this goal. Transitioning from an active duty career can be very difficult, so a year prior to leaving the military and with the help of a close group of friends, we established the Special Operations Medic Coalition (SOM+C), which is 501(c)(3) nonprofit organization focused on helping Military Special Operations Medics transition from military provider to veteran professional. I have been extremely lucky and fortunate to serve as the Director of Research and Education for SOM+C since 2019 and I am still serving in that capacity today. 
I completed my active service in April 2020 and two days after signing off active duty, I flew to New York City to help stand up and serve as the Clinical Operations Director for a COVID-19 field hospital with other military veterans and the leadership team from NewYork-Presbyterian. On April 10, 2020, the NewYork-Presbyterian Ryan F. Larkin Field Hospital was opened and we were extremely fortunate to have many students from GS volunteer and work for us either serving in nursing or paramedic roles, or conducting outside security for the hospital. A majority of our workers were part of the MilVets society at GS, and after talking to multiple students, I was convinced I needed to come to Columbia to take the classes required to matriculate into medical school. 
We closed the doors on our field hospital on May 10, 2020 after evaluating that the NewYork-Presbyterian hospital system had been successfully decompressed of COVID-19 patients, and I transitioned from my role of Clinical Operations Director to Tracheostomy Care Team leader within the Milstein Hospital. Myself and three other military veterans (two of them GS students) conducted basic and advanced tracheostomy care for all COVID-19 patients within the Milstein Hospital who had tracheostomy tubes in place. After my assignment at Milstein was complete in June 2020, I switched into a completely new job that I had never thought I'd find myself in. From June to December 2020 I worked as the Health and Safety Supervisor for a mental health docu-series hosted by AppleTV+. It was very exciting to bring my medical and disaster management background into a new domain and see behind the curtain of the film industry. Luckily, while I was on set one day I received the email that I was accepted to the Postbac Premed Program at Columbia. The docu-series wrapped in December 2020 and my Postbac journey began January 2021.
What has been your proudest Columbia moment?
My proudest moment at Columbia was assisting in the Afghanistan withdrawal by establishing a telemedicine network for Afghan women and children known as Task Force Mom, and serving as a Clinical Site Director at an At Risk Afghan Refugee camp between the summer and fall semesters of 2021.
Who are some people who have contributed the most to your Columbia experience?
My study group and support group was instrumental to my time at GS and the program would not have been the same without them: Andrew Sullivan, Elise McKenna, Kian Rezae, Tessa McEniry, Brian Higginbotham, Akonam Olivia Anakwe, Daniel Fu He, Gregory Brooks, and Tomas Davilla. I could not thank these individuals enough for their support through the 18 months of being here. The professors that had the most influence on my experience at GS were Dr. Karen Phillips (Department of Chemistry) and Dr. George Dragomir (Department of Mathematics & Statistics). Their passion for teaching and student success beyond the classroom was instrumental. Lastly, Dean Brian Allen and Dean James Colgrove supported all of my endeavors throughout the program.
What are your plans for after graduation?
After graduation I will be studying for and taking the MCAT, submitting my applications to medical school and working as a research associate at Mt. Sinai in the Crary Lab.
What advice would you give to a Columbia student starting their GS journey?
I was given this advice by Columbia GS alumnus Rico Pesce and I love to pass it on to others: "Be kind to yourself." The GS journey, whether within the Postbac or the undergraduate program, is an arduous path. There will be times where you are extremely proud of yourself and there will be times where you will be upset with yourself. At all times though, be kind and patient with yourself. Find a routine that works for you, adjust as necessary as class demands change, and don't stop breathing and exercising no matter how busy you get.