An Interdisciplinary Education with No Compromises
2023 Grad Profile: Emanuella Rozenfeld '23GS shares how the Columbia and JTS Joint Degree Program provided opportunities for learning without limits.
April 22, 2023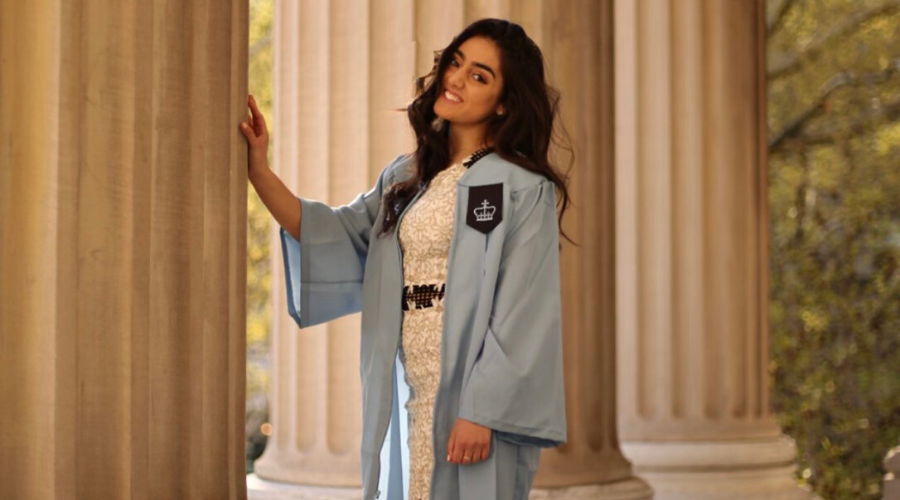 Emanuella Rozenfeld '23GS, a graduating senior from Queens in the Joint Degree Program with Columbia and JTS, reflects on the expansive learning environment of GS, from majoring in both psychology and Talmud, to pursuing interdisciplinary academic and extracurricular opportunities.
Tell us about your path to GS!
I attended dual-curriculum Jewish day schools my entire life and I knew that the Columbia GS and JTS Joint Degree Program would be a continuation of that academic rigor that I was used to and motivated by. I also wanted to be part of a program that understood the importance of life outside of the campus gates. As an avid mixed martial artist, I felt GS would allow me the opportunity to continue my daily training.
What has been your proudest accomplishment at Columbia?
It's difficult to choose just one! Something that comes to mind was my summer 2021 internship in psychological sciences. I was given the opportunity to research an area in sports and psychology, allowing me to bridge two of my passions. I learned how to collect and analyze raw data, and had the honor of sharing my findings with the Department of Psychology. 
At GS, I was also given the opportunity to be a chair for Model Congress. As a high school student, I attended meetings of Model Congress as a participant, and the competition entailed writing bills, critiquing others' bills, and honing public speaking skills. Oh, the nerves! Having the chance to be on the other side of the table as a chair, it was extremely humbling to see students yearn to present their best selves to me. The way their eloquent speech decorated their deep research was inspiring. Although it was always difficult to pick the best delegates, the process showed me that healthy competition teaches you both about others and about yourself. 
Last but not least, one of my favorite jobs that I've held on campus was serving as a tour guide. I've always felt extremely proud of my decision to attend GS, but even more so when I was able to be part of the recruiting processes. Meeting numerous students with different stories has been humbling and rewarding. Their desire to learn from the best professors, start their own unique clubs, and yearning to simply be part of the GS community was a warm reminder of how lucky I was to be here. I am extremely thankful to GS for granting me all these opportunities, and I hope to make GS proud as I continue my journey.
Who are some people who have contributed the most to your Columbia experience?
Professor Stathis Gourgouris has been an absolute honor to share the lecture hall with three times. I first met him when I took his "World Response to the Greeks" course to fulfill a Global Core requirement. His love for literature, deep analysis, and his desire to give everyone a voice was empowering to me. As a psychology major, and someone who has seldom studied literature in an academic setting, Professor Gourgouris instilled confidence by trusting my analysis. I went on to take "Anarchy" with him, and audited his "Culture of Democracy" course. Professor Gourgouris's assignments were always designed to promote flexibility. I recall sharing an art exhibition from MoMA that I found fascinating, and he urged me to weave it into one of my papers. It was the first of several times that I connected art and literature in an academic assignment. 
What are your plans for after graduation?
As a student in the BA/MA program, I am currently also pursuing an MA in Talmud from The Jewish Theological Seminary, and I hope to attend law school post-graduation. 
What advice would you give to a student who's about to start their GS journey?
GS is a unique school within Columbia that offers its own opportunities, adventures, and excitement. Before you settle into your routine, make sure you know what is out there—because there's more than you could've imagined!