Impactful Self-Expression Through Advocacy and Theater
2023 Grad Profile: Izzy Bohn '23GS on finding campus connections through theater, and seeking to impact metropolitan and nationwide communities through her advocacy work. 
April 22, 2023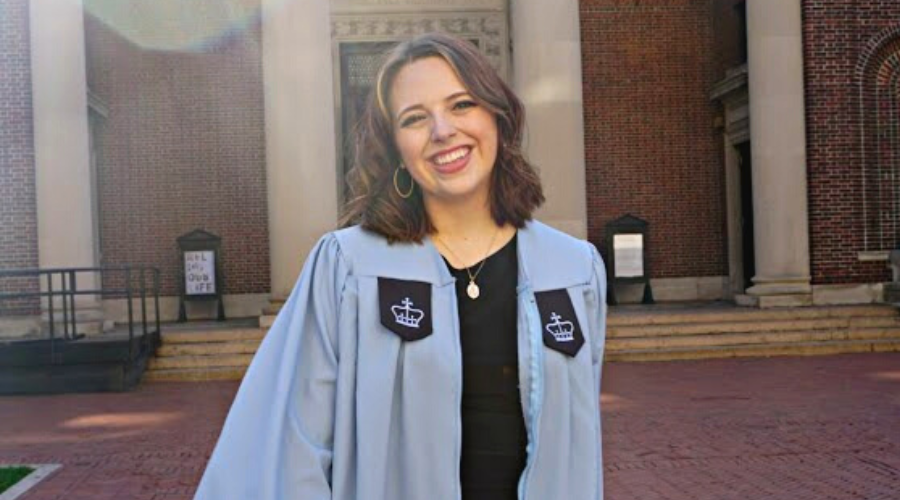 Hailing from Nashville, Izzy Bohn '23GS is a graduating senior in the Dual BA Program Between Columbia and Sciences Po, majoring in human rights and gender studies. She shares how she engages with community: from finding friendship in Columbia's theater scene, to advocating for transit justice in NYC, to pursuing a career in civil rights law. 
Tell us about your path to GS!
Never in a million years did I think I would be accepted to the Dual BA Program Between Columbia and Sciences Po. I received a flyer in the mail when I was 19 and applied mostly just for fun. The possibility of receiving two degrees, and having the chance to live in France and NYC, was completely inconceivable to me at the time. Flash forward a couple of months and I was applying for a visa and booking flights to France! To be honest, living in a foreign country at the height of the pandemic was incredibly difficult and isolating. But, overall, being in this program has truly shown me who I am and what I'm passionate about, allowed me to expand my horizons, and led me to meet some of the most amazing people. 
Who are some people who have contributed the most to your Columbia experience?
Coming to Columbia as a junior was somewhat intimidating—it felt like everyone had already figured out who their friends were and what groups they were involved in. All of that intimidation faded away as I was welcomed with open arms to the theater community on campus. In my two years at Columbia, I've gotten the opportunity to help lead three mainstage productions and write/direct for the campus sketch comedy group's anthologies. I have made so many friendships and have gotten the chance to learn from some of the most talented people in the city. 
What has been your proudest accomplishment at Columbia?
This semester, I've been given the chance to Stage Manage KCST's production of Antony & Cleopatra, which will be an outdoor roaming production on campus with a cast and crew of over 80 people. I've been stage managing for over seven years (both professionally and in community theater), but this is by far the largest and most daunting production I've ever been tasked with. Being the person in charge of keeping the entire production organized has been incredibly stressful, but such a joy as well! I'm so proud of the entire team and excited to have the chance to show the campus community what we've been working on all semester.
The past year, I've also gotten really involved with public transit advocacy in the city. Last summer, I interned with The Riders Alliance, a grassroots organization fighting for more reliable, accessible, and affordable public transit in New York City, and I had the opportunity to learn a lot about grassroots political organizing. I've since become really passionate about helping people understand how transit justice connects with so many issues, like housing and environmental justice, abolition, and carceral justice, and even gender justice. Living and studying in New York City has opened so many doors for me, and allowed me the opportunity to discover what I'm truly passionate about. None of this would have been possible without Columbia. 
What are your plans for after graduation?
After graduation, I've accepted an offer to be a full time paralegal with Cuti Hecker Wang, LLP. CHW is one of the nation's premier civil rights law firms, and is especially celebrated for representing the women who were victimized by Jeffery Epstein, Andrew Cuomo, Harvey Weinstein, and even former President Trump. They also regularly represent individuals and groups of plaintiffs who have been falsely arrested, wrongfully convicted, assaulted, or denied medical treatment by police officers and prison officials.
I think my time in the human rights program at Columbia and my time studying politics and gender at Sciences Po definitely helped me make this decision. To be able to actually take the things I've learned at these two schools and use them to help victims of human rights abuses is something I'm really excited for.
What advice would you give to a student who's about to start their GS journey?
Get your major requirements done as quickly as you can so you can take other unique seminars and lectures! This semester, I had already finished most of the requirements for my human rights degree, so I was able to take a bunch of classes I never would have gotten the chance to otherwise. It's really fun to step outside of your comfort zone and learn something completely different—don't get stuck on one path because you might discover a newfound love for something.