GS Welcomes Incoming Students for Spring 2023
This month, Columbia GS welcomed over 200 incoming students to the Spring 2023 Convocation and New Student Orientation Program.
January 17, 2023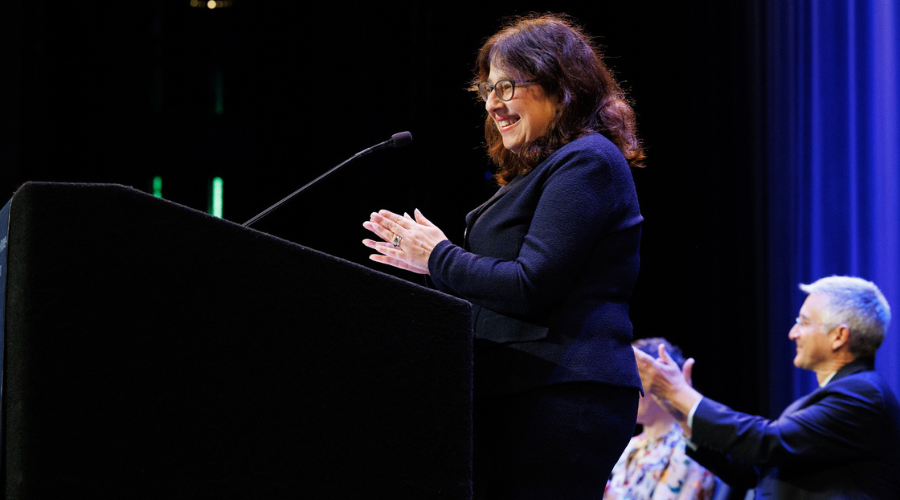 On Monday, January 9, the School of General Studies welcomed over 200 incoming undergraduate and Postbac Premed Program students, along with family members, GS staff, and Orientation Leaders to the Spring 2023 Convocation and New Student Orientation Program (NSOP).
Dean of the School of General Studies, Lisa Rosen-Metsch, opened the ceremony with a warm welcome to new students and their loved ones in attendance, along with those watching the livestream online. She expressed her excitement for the incoming class and emphasized the wonders of joining the GS community.
"As have thousands of GS'ers in our history, you are about to embark on a life-changing journey as Columbia's newest students. From our admissions process, we know that you are a diverse, highly talented, intelligent and most interesting class that will bring so much to the Columbia undergraduate classroom."
Finishing her opening remarks, Dean Rosen-Metsch introduced Amy Hungerford, the Executive Vice President and Dean of the Faculty of the Arts & Sciences of Columbia University, who highlighted the importance of embracing the unique timing GS students possess that goes against cultural norms. Dean Hungerford shared her personal experience about school and how her own non-traditional distinctions inspired her expansion as a student. 
"Use the fact of your different timing, your different paths, as the invitation to transcend such norms in your studies and focus on things that go beyond yourselves. Students of all sorts—on both traditional and non traditional life schedules—will join you in seizing this radically free space for thought and action. Given the exceptional people you are, the results are sure to be extraordinary," said Dean Hungerford.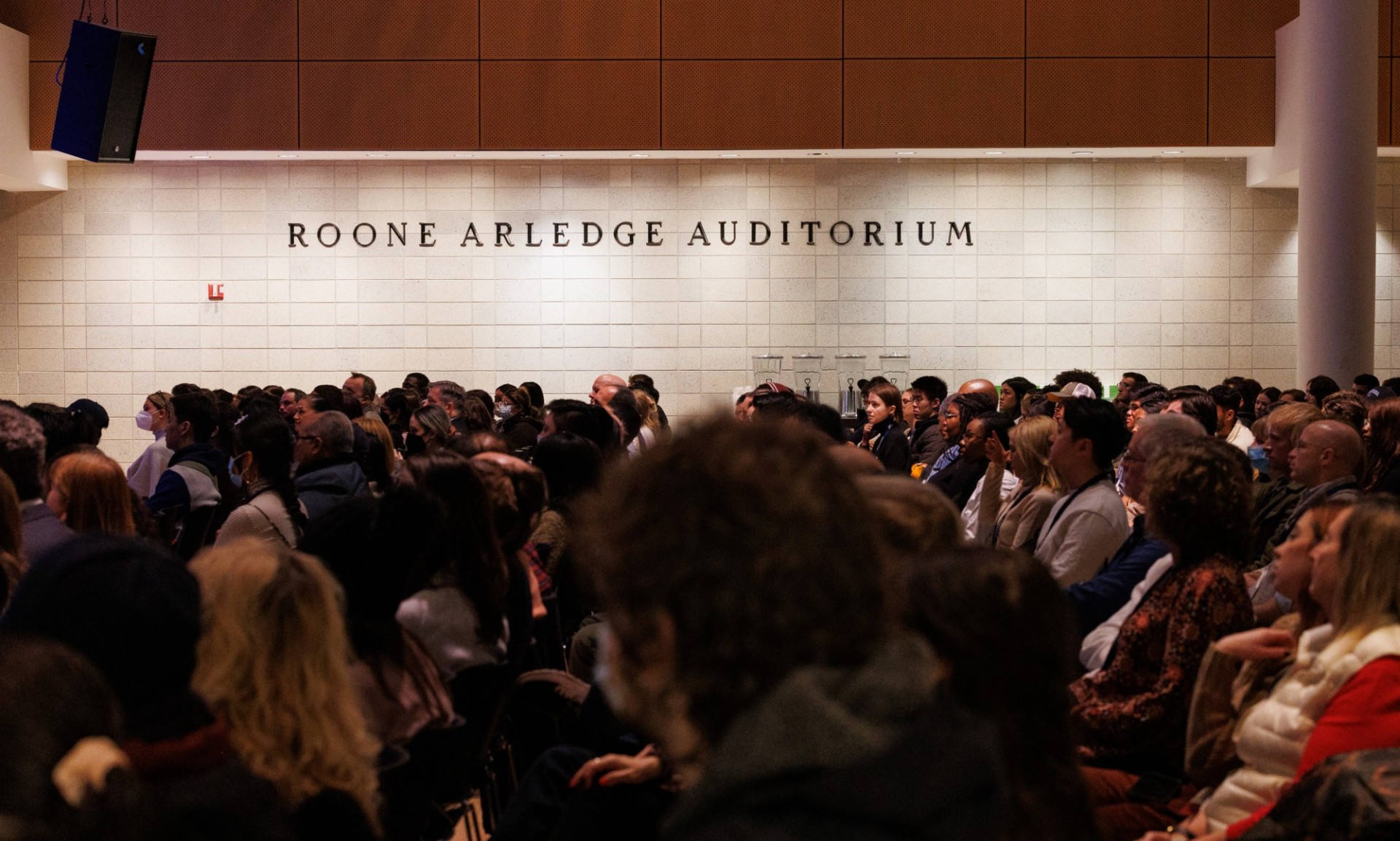 Dean Rosen-Metsch returned to the stage to give prominence to GS' mission, the many programs and resources GS has to offer, and the wide array of student veterans and international students within the GS community.
"Now more than ever, your pursuits at Columbia and the convictions and dedication you bring to your studies are needed in our communities. The world is facing serious, complex problems, and I am confident by immersing yourself in the life of the mind that you will be part of the future's solutions," Dean Rosen-Metsch remarked. 
Incoming students next heard from Marlyn Delva, Dean of Students at GS, who welcomed the new students and discussed the importance of having faith.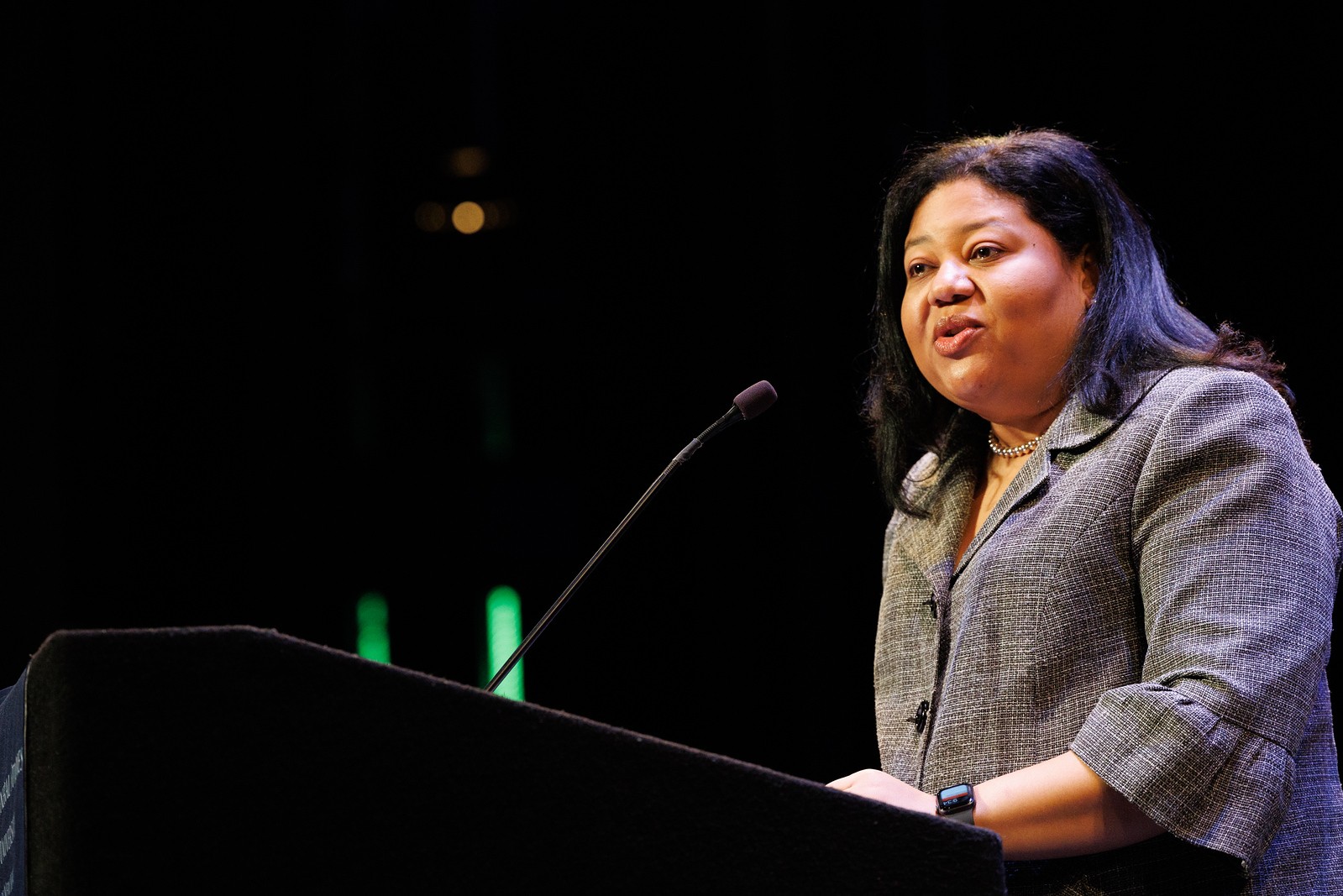 "We chose you because of who you are! If we do nothing else this week, we want to make sure you know how much faith we have in you, how much we value each and every one of you—and we want you to know and believe that!"
The excitement was palpable in Lerner Hall as Dean Delva led students in a favorite GS tradition of identifying the various groups in which the incoming GS class belonged.
Students were then met with warm receptions from Dr. James Colgrove, Dean of the Postbaccalaureate Premedical program and Alumni Association Board Co-Chair Kirsty Jardine '15GS, '16PH.
"Your nontraditional backgrounds do not place you at a competitive disadvantage compared to students who followed a more typical path to the health professions," Dean Colgrove said. "On the contrary, your backgrounds are a strength."
Finally, Emily "Ly" Robinson, NSOP Chair and General Studies Student Council President, concluded the ceremony by sharing her GS journey and encouraging incoming students to utilize all of the resources GS has to offer.
"Each GS'er comes with a unique purpose and perspective that they bring into the classroom, and that make up and define our vibrant community. Take the time to connect with them through the student councils, the mentorship program, the Peer Advisors, or in the GS Student Lounge in Lewisohn Hall—where you can often find free food and always find lively conversation."
Throughout the remainder of Orientation Week, NSOP Orientation Leaders guided new GS students through social mixers, workshops about campus resources and academic practices at Columbia, and outings throughout New York City. NSOP is instrumental to new students' integration at the University and provides numerous opportunities to meet new and returning students, as well as alumni, before spring classes begin.
An Overview of the Spring 2023 Incoming Class
The School of General Studies continues to be one of the most diverse undergraduate colleges in the Ivy League, and this year's incoming class is no exception.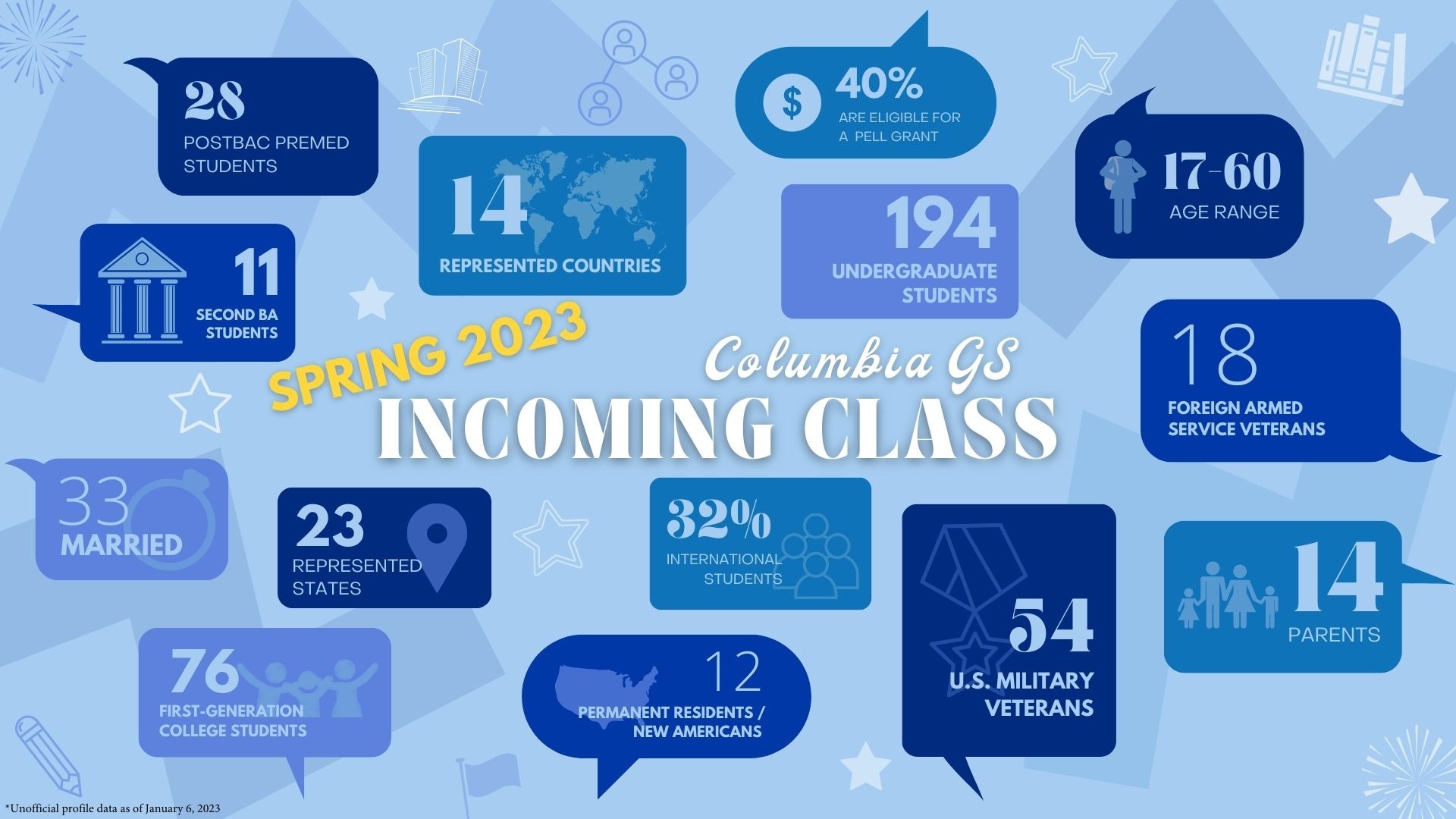 The presence of GS students creates a truly global diversity of socio-economic backgrounds, age, life and career experience, and perspective in the University's classrooms.
32% of incoming students are international students
39% of incoming students are first-generation college students
40% of incoming students are eligible for a Pell Grant
19% of incoming students are U.S. military veterans
Enrollment
Undergraduate: 194
Postbac Premed: 28
Demographics
Age range: 17–60
Women: 45%
Men: 55%
Students who are married: 17%
Students with children: 7%
U.S. residents hail from 23 states and the District of Columbia
Citizenship
Forty-six countries are represented, including China, Colombia, Egypt, Hong Kong, Israel, Kenya, Myanmar, Norway, Russia, Singapore, South Korea, Thailand, Vietnam, United States