GS Students Honored at Annual Academic and Leadership Awards Ceremony
On Tuesday, May 3, the School of General Studies celebrated the academic excellence and outstanding leadership of students of the Class of 2022 at the Academic Prizes and Student Leadership Awards Ceremony.
May 20, 2022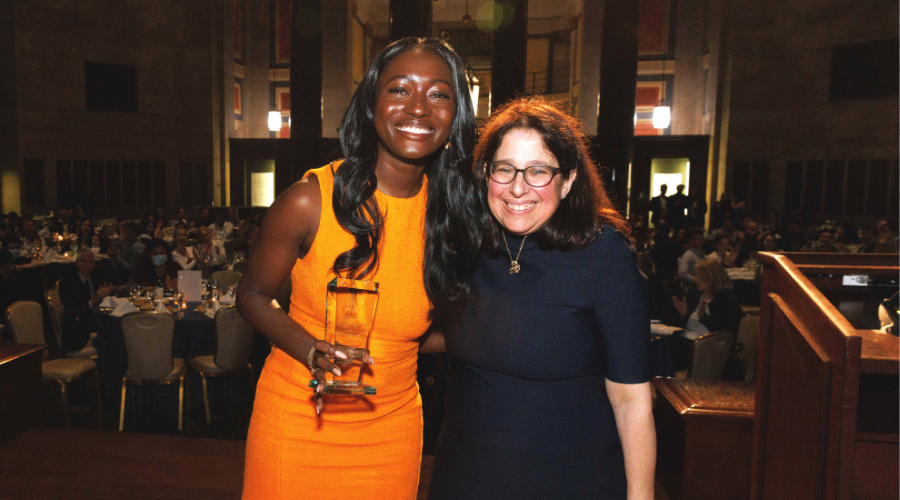 Guests of the award winners joined faculty and administrators in recognizing the achievements of more than 100 students in the GS undergraduate and Postbac Premed programs. The ceremony was held in Low Memorial Library.
Awards for Leadership Excellence
Alumni Key Award: Jarrell Daniels and Charlie Dubach-Reinhold
Awarded to a graduating senior for exceptional academic achievement and ongoing commitment to leadership and service to the School of General Studies community.
Campbell Award: Michael Higgins
 Awarded to a student leader who shows exceptional leadership and Columbia spirit as exemplified by Bill Campbell '62CC, '64TC
Dean's Citation: Julie "Julz" Greene and Serengeti Timungwa
Awarded to a graduating student who has demonstrated an ongoing commitment to outstanding leadership and service to the School of General Studies community throughout their academic tenure.
Honorary Owl Award: Mikhaela Diaz
Awarded to a Columbia student at a school other than GS who has made a contribution to the School of General Studies community through their leadership and service this academic year.
Change Agent Award
Awarded to a group of students who have made impactful contributions through their dedication to equity, inclusion, and social justice to the School of General Studies and the Columbia community.
Sylvester Benson, Elizabeth Bordi, Neelufar Franklin, Ebonnie Goodfield, Cajay Jacobs, Alanna Kelly, Darin Sawan, Isaac Scott, Katherine Slagell, Beila Ungar, Luis Fernando Velasquez Antezana
Spirit Award
Awarded to a select group of students who have made outstanding contributions through their dedication to leadership and service to the School of General Studies and Columbia community
Ferdinando Castro Gonzalez, Lester Falcon, Ella Grinstein, Rae Harris, Alexander Hiller, Paul Izard, Ariel Katz, Sam Landa, Chloe Mariotti, Grayson Noyes, Hannah Ressinger, Emily Robinson, Tori Sproat, Elaine Tseng, Cole Wagner
Service Award
Awarded to students who have distinguished themselves this academic year with a dedication to service and leadership within the School of General Studies and Columbia University community.
Nikka Afshar, Logan Allen, Akonam Olivia Anakwe, Rose Aydin, Jacob Babcock, Caleb Bowen, Jerome Brackins, Avidan Brown, Joshua Ezra Brunnlehrman, Simas Chacar-Palubinskas, David Chen, Ying-Tsun Chen, Brandon Christie, Anthony Costanzo, Margaret Crownover, Allison Darne, Victoria Daylor, David Dillard, Tommy Doyle, Savannah Eklund, Nour Elgoweili, James Elliott, Solomon Fox, Adam Frank, Eric Fredricks, Orla Frenoy, Kambi Gathesha, Bruce Goumain, Faith Grady, Gavin Green, Garrett Gregor-Splaver, Daniel Hineline, Daniel Hochster, Chantel Hover, Emma Jalees, Nathalie Jimenez Rivera, Katya Kantor, Christina Kennard, Maggie Khanna, Sun Kim, Michael Landis, Brian Laurito, Nicholas Li, Davey Liu, Nicholas Long, Alissa Maerzke, Kristen Magnatta, Anum Malik, Kevin Martin, Maxwell Martin, Liam McGrane, Elise McKenna, Christopher Mendell, Ariella Mitchell, Jonathan Mladineo, Maria Monzon, Andre Moutafov, Sarah Noon, Anne O'Connell, Nasser Odetallah, Gianna Paniagua, Rachel Papirmeister, Hyun Park, Linda Perla Corea, Daniel Perrotta, Kevin Petersen, Shatize Pope, Manuel Ramos, Karla Reid ,Yarin Reindorp, Hunter Rhoades, Nicolas Rockwood, Rebecca Romano, Evan Rork, Raysa Schumacher, Hewad Khan Shalamkhel, Zhexi Shan, Benjamin Sherbakov, Drake Sherman, Ashley Tan, Vanya Tandon, Alana Tang, Breana Thomas, Isabella Tincher, Jennifer Todaro, Peter Trevino, Griffin Utz, Sally Varner, Jeremy Wahl, Binxin Wang, Jordan Weiss, Ally Woodard, Aaron Xie, Robin Yu, Boaz Zborowski, Joanna Zhang
GS Student Council (GSSC) Excellence in Service Awards
Awarded to a faculty member, a teaching assistant, and an administrator who have made exceptional contributions to the School of General Studies community and its student body.
GSSC Excellence in Teaching Award: Emily Madison
English, Columbia University

GSSC Excellence in Teaching Assistance Award: Matthew Friedberg
Postbac Premed, School of General Studies

GSSC Excellence in Administration Award: Sean Trulby
Office of Student Life, School of General Studies
Academic Prizes
Dean's Prize in Anthropology
Awarded for excellence in the study of anthropology
Beila Ungar
Judith Lee Stronach Memorial Prize
Awarded for outstanding contributions in art history or archaeology
Amanda Steinborn
Dean's Prize in Creative Writing
Awarded for excellence in the study of creative writing
Tate Hewitt

Antonio G. Mier Prize
Awarded for excellence in Spanish
Hyeji Jang
Jonathan L. Gross Award
Awarded for promising innovations in computer science
Michelle Hur
Russell C. Mills Award
Awarded for excellence in computer science
Kaiwen Xue
Dean's Prize in Economics
Awarded for excellence in the study of economics
Michel Gutmann 
Professor John Angus Burrell Memorial Prize
Awarded for distinction in English and comparative literature
Michel Ge and Jane Loughman
Center for the Study of Ethnicity and Race
Award for Academic Excellence Awarded for excellence in ethnicity and race studies
Monica Victoria
Center for the Study of Ethnicity and Race Award for Outstanding Thesis
Awarded for outsanding senior thesis in ethnicity and race studies
Lianah Sta. Ana
Charles A. Beard Thesis Prize in History
Awarded for a senior thesis of distinction in any historical field or period in history
Isaac Daly
Garrett Mattingly Thesis Prize in History
Awarded for a senior thesis of distinction in any historical field or period in history
Rose Aydin
Herbert H. Lehman Prize
Awarded for outstanding accomplishments in the study of history
Claudia Wolff
Undergraduate Education Committee Prize
Awarded for a thesis of excellence written in any field of history
Madeline Zakheim
Arthur Ross Foundation Award
Awarded for excellence in the study of political science
Lorelei Vaisse
Jennifer A. Pack Prize
Awarded for excellence in the study of psychology
Jean-Pierre Bouvet and Viviana Evans
Stacy M. and Russell D. Paul Prize
Awarded for excellence in the study of neuroscience and behavior
Chelsey Fasano and Oliver Patrick Harris
Peter Awn Undergraduate Prize
Awarded for most outstanding paper or project in an undergraduate course
Natalie Cimino
Lillian L. Hacker Prize
Awarded for excellence in the study of sociology
Andrew Massengill