GS Student Lounge Dedicated to Dean Emeritus Peter J. Awn
The Columbia GS Student Lounge in Lewisohn Hall was formally dedicated as the Peter J. Awn Lounge earlier this month.
May 10, 2023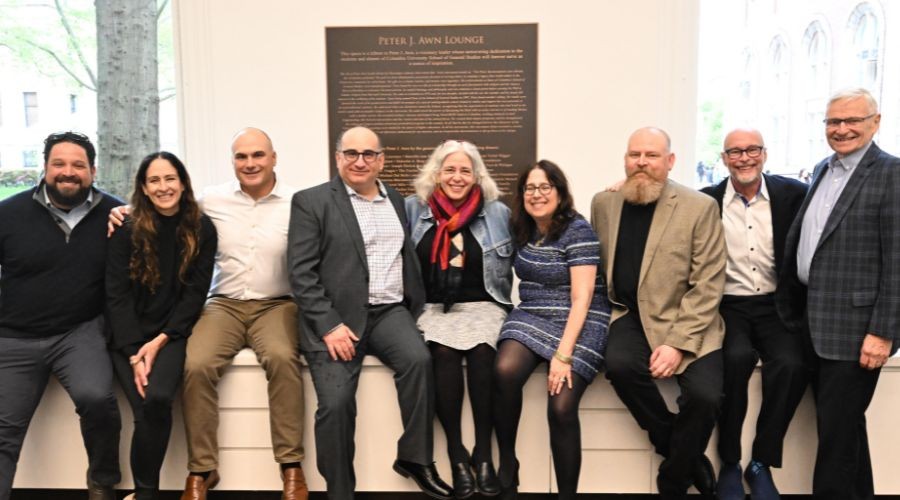 On Tuesday, May 3, the Student Lounge in Lewisohn Hall was dedicated to honor the legacy of Peter J. Awn, who served as Dean of the School of General Studies (GS) for 20 years. For Dean Awn, visiting the Lounge was a daily ritual. From his warm smile to his vibrant personality and impeccable taste in socks, his ventures into the Lounge were always a delight for students over the course of his 20-year tenure. His gifts as a scholar, teacher, and mentor were legendary.
In 2019, shortly after Dean Awn passed away from injuries sustained after being struck by a car, 30 donors in the GS community came together and raised $3.5 million for the Dean Peter J. Awn Scholarship Fund and to name the Lounge in his honor.
Dean Lisa Rosen-Metsch '90 welcomed members of Dean Awn's family and close friends, along with donors to the School, members of the GS Board of Visitors, GS alumni, current students, and GS staff to the newly named Peter J. Awn Lounge to celebrate his visionary leadership and the lasting impacts he had on the larger GS and Columbia University communities.
Columbia University President Lee C. Bollinger shared a statement read at the dedication:
"Peter touched all of us with his presence and generosity of spirit. He spent his life thinking of others and finding ways to bring out the best in everyone. As I have said before, he loved the School of General Studies in the deepest sense and understood that the people in General Studies were unique—people whose extraordinary talents and drive to learn and succeed had awakened in them at an age other than age 17, and who could feel that special sense of justice when the world is right because there actually is a place where you could fit in and be recognized as such for your gifts and ambitions. And he knew that the only thing he had to do was to make everyone else in the world realize and appreciate that fact. This dedication will help tell this story and preserve Peter's legacy. I know if he were physically here today he would insist we all focus our love and support on the students of General Studies instead of him. But I will insist we do both."
A memorial plaque, revealed by benefactors Larry J. Lawrence '69GS and Marcella Stapor '59GS, describing Dean Awn's legacy hangs proudly on the east wall of the Lounge for all to read and be inspired by.
Following the dedication, guests were invited to a reception in the new Center for Veteran Transition and Integration (CVTI) space in Kent Hall. Dean Awn was a co-founder of CVTI and worked tirelessly to recruit military veterans to GS and heal longstanding rifts between universities and the women and men of the armed forces.
Born in Brooklyn to Lebanese Christian parents, Awn studied theology and philosophy and was ordained a Jesuit priest before earning his PhD in Islamic religion from Harvard University. He came to Columbia in 1978 and, for two decades, dazzled with his wit, his warmth, and his deeply felt interest in the wellbeing of his students.
Upon being named Dean of the School of General Studies in 1997, Peter found another calling. He would carry forward the work of his predecessors and fulfill the promise of a special undergraduate school created to realize and support the vast potential of its nontraditional students. He embraced what was distinctive about the School, recognizing that the experiences of students who had lived in the world would add invaluable richness in the classroom. In all his movements, this uncommon Dean revealed a curious intellect, an open heart, an infectious enthusiasm for our mission, and an irrepressible determination to lift up those in his charge.
For more information about supporting the Dean Peter J. Awn Scholarship Fund or the Center for Veteran Transition and Integration, please write to [email protected].