GS Alumna Named Marshall Scholar For Work with Haitian Literature and Cultural Studies
Bérénice Sylverain '20GS was one of 41 scholars from across the U.S. awarded the 2022 Marshall Scholarship. She is GS' first-ever Marshall Scholar and will go on to pursue two degrees at the University of Oxford.
December 13, 2021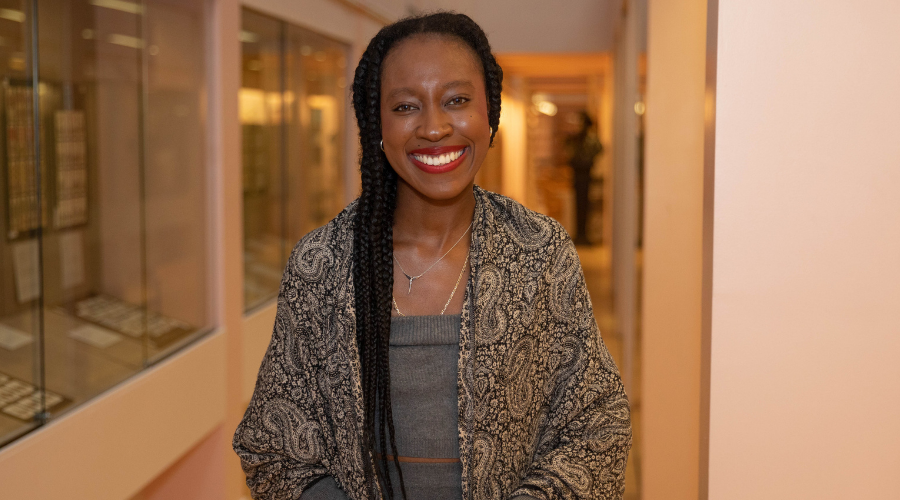 On Monday, December 13, the British Government announced the winners of the 2022 Marshall Scholarships. Among them was Columbia University School of General Studies alumna Bérénice Sylverain '20GS, the first-ever GS Marshall Scholar, and one of 41 winners from across the United States. Sylverain enrolled at GS in 2018 after completing a two-year college education at De Anza College in Cupertino, California. She will now go on to pursue two degrees at the University of Oxford, an MSc in Latin American Studies, followed by an MSc in Comparative Social Policy. 
Established in the 1950s, the Marshall Scholarship is granted to up to 50 American students each year for their outstanding academic performance and inspiring intellectual pursuits. Since its inception, over 2,000 students have been awarded the scholarship, with alumni going on to find work as Supreme Court Justices, Olympic athletes, and everything in between.
Originally from Pétion-Ville, Haiti, Sylverain was able to connect with her Haitian roots during the Marshall Scholarship application process, and expand on her passion for literature and library sciences. Having majored in English and Comparative Literature at Columbia, the Marshall Scholar recognises the importance of literature in understanding both culture and history in areas often neglected by traditional fields of study. After graduating from Oxford, Sylverain aims to begin her PhD in Latin American Studies, focusing on Haitian politics and diplomacy, and use her new-found knowledge to "establish an archive of Haitian literature, culture, and history" as a head librarian at one of America's leading academic institutions.
"Each day as I worked on my application, I reminded myself that this fellowship was not for me but my nation—to give voice and life to a frail, deoxygenated nation-state," she said. "I often found myself in tears and frustrated with all that was going on. I was completing my application during one of the most tumultuous times in Haitian history. In the tumult, I found courage and strength to continue. I was reminded of why I needed to do this, why I needed to share with the Marshall Committee my hopes, dreams, and goals for Haïti. I thought of my mother, a woman who inspired my love for and devotion to Haiti. Without her, I would not know its beauty, heritage, or the richness of its land."
Applying to the Marshall was always a goal of mine. I feel that it aligns with my values as a woman who is devoted to the betterment and restoration of her home country.
Glenn Novarr, Senior Assistant Dean for Academic Affairs at GS, echoed Sylverain's passion and determination: "In many ways, Bérénice is typical of so many of the wonderful students that we have enrolled with us at GS. She was born in another country, she moved around a lot as a child, and she worked for a number of years before beginning her higher education. She is a community college graduate. She is bilingual. She is dauntless, persevering, and absolutely committed to placing her education at the service of others. These are qualities we see all the time in our students, and I'm so happy that one of our own chosen for the Marshall," he said.
---
To read more about Sylverain's path to Columbia and being selected as a 2022 Marshall Scholar, please read her full profile.
Sylverain joins a growing list of Columbia GS students who have recently been selected for prestigious scholarships and fellowships. The full list is available on the GS website.
Current students and alumni can learn more about the Marshall and other fellowship offerings through the GS Fellowships Office and the Undergraduate Research and Fellowships office.
About the Marshall Scholarship
Named for Secretary of State George C. Marshall, the Marshall Scholarship Program began in 1953 as a gesture of gratitude to the people of the United States for the assistance that the UK received after World War II under the Marshall Plan. Since that time, it has remained uniquely positioned among national scholarships for its prestige and scope: offering talented young Americans the chance to study any academic subject at UK universities of their choice for up to 3 years. This has given rise to an unprecedented breadth of expertise in almost every academic field, producing numerous university presidents, six Pulitzer Prize winners, one Nobel Laureate, fourteen MacArthur Fellows, two-academy-Award nominees, two US Supreme Court Justices and a NASA Astronaut.
About Columbia University
Among the world's leading research universities, Columbia University in the City of New York continuously seeks to advance the frontiers of scholarship and foster a campus community deeply engaged in the complex issues of our time through teaching, research, patient care, and public service. The University comprises 17 undergraduate, graduate, and professional schools, four affiliated colleges and seminaries in Manhattan, and a wide array of research institutes and global centers around the world. More than 40,000 students, award-winning faculty, and professional staff define the University's underlying values and commitment to pursuing new knowledge and educating informed, engaged citizens. Founded in 1754 as King's College, Columbia is the fifth oldest institution of higher learning in the United States.
About Columbia University School of General Studies
The Columbia University School of General Studies (GS) is the premier liberal arts college in the United States for students pursuing a nontraditional path to a rigorous, traditional, Ivy League undergraduate education, including students who have interrupted their educational path and those enrolled in one of the School's innovative dual degree programs. GS students take the same courses, study with the same faculty, and earn the same degree as all other undergraduates at Columbia University.