GS Alumna Named Marshall Scholar For Work with Haitian Literature and Cultural Studies
Bérénice Sylverain '21GS was one of 41 scholars from across the U.S. awarded the 2022 Marshall Scholarship. She is GS' first-ever Marshall Scholar and will pursue two degrees at the University of Oxford in the fall.
December 15, 2021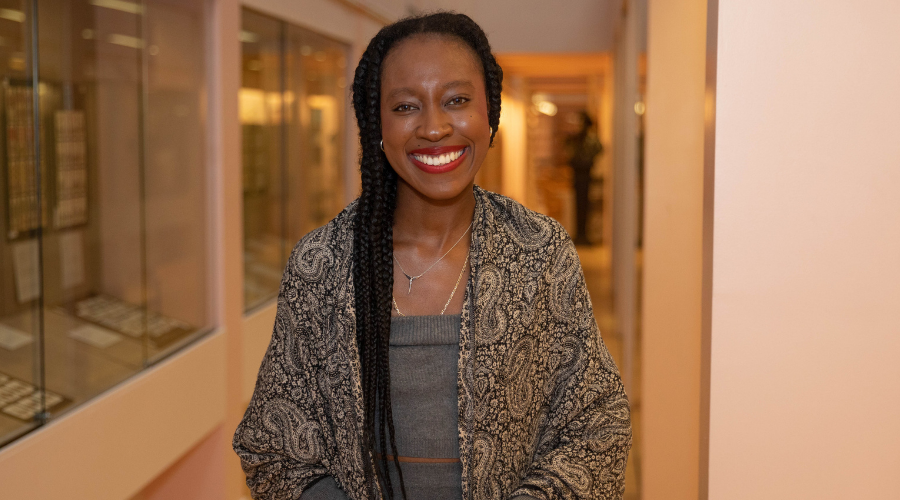 On Monday, December 13, the British Government announced the winners of the 2022 Marshall Scholarships. Among them was Columbia University School of General Studies alumna Bérénice Sylverain '21GS, the first-ever GS Marshall Scholar, and one of 41 winners from across the United States. Sylverain enrolled at GS in 2018 after completing a two-year college education at De Anza College in Cupertino, California. She will now go on to pursue two degrees at the University of Oxford, an MSc in Latin American Studies, followed by an MSc in Comparative Social Policy. 
Established in the 1950s, the Marshall Scholarship is granted to up to 50 American students each year for their outstanding academic performance and inspiring intellectual pursuits. Since its inception, over 2,000 students have been awarded the scholarship, with alumni going on to find work as Supreme Court Justices, Olympic athletes, and everything in between.
Originally from Pétion-Ville, Haiti, Sylverain was able to connect with her Haitian roots during the Marshall Scholarship application process, and expand on her passion for literature and library sciences. Having majored in English and Comparative Literature at Columbia, the Marshall Scholar recognises the importance of literature in understanding both culture and history in areas often neglected by traditional fields of study. After graduating from Oxford, Sylverain aims to begin her PhD in Latin American Studies, focusing on Haitian politics and diplomacy, and use her new-found knowledge to "establish an archive of Haitian literature, culture, and history" as a head librarian at one of America's leading academic institutions.
"Each day as I worked on my application, I reminded myself that this fellowship was not for me but my nation—to give voice and life to a frail, deoxygenated nation-state," she said. "I often found myself in tears and frustrated with all that was going on. I was completing my application during one of the most tumultuous times in Haïtian history. In the tumult, I found courage and strength to continue. I was reminded of why I needed to do this, why I needed to share with the Marshall Committee my hopes, dreams, and goals for Haïti. I thought of my mother, a woman who inspired my love for and devotion to Haiti. Without her, I would not know its beauty, heritage, or the richness of its land."
Applying to the Marshall was always a goal of mine. I feel that it aligns with my values as a woman who is devoted to the betterment and restoration of her home country.
Glenn Novarr, GS' Senior Assistant Dean for Academic Affairs, echoed Sylverain's passion and determination: "In many ways, Berenice is typical of so many of the wonderful students that we have enrolled with us at GS. She was born in another country, she moved around a lot as a child, and she worked for a number of years before beginning her higher education. She is a community college graduate. She is bilingual. She is dauntless, persevering, and absolutely committed to placing her education at the service of others. These are qualities we see all the time in our students, and I'm so happy that one of our own chosen for the Marshall," he said.
Sylverain's interest in reforming the way students learn and engage with knowledge through a university's library system started two years ago. "In 2019, I was tasked with creating the libguide for the African American and African Diaspora Studies Department which enabled me to work with spectacular library scholars like Thai Jones, Lehman Curator at the Rare Book and Manuscript Library and Sean Quimby, the former Director of RBML," she said.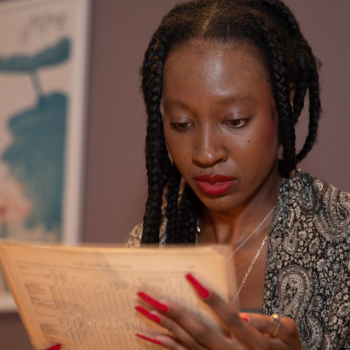 The Rare Book and Manuscript Library at Columbia is an often overlooked resource on campus, but one that has been gaining recognition recently as a critical source of knowledge for scholars looking to deepen their understanding of life as it was lived centuries ago. Sylverain was one of the first students to partake in Columbia's new African American and African Diaspora Studies program and access this unique collection of texts for the development of the program at Columbia, and help to grow the new program into what it is today.
While helping to develop the RBML, Sylverain credits two mentors who led her to the field of library science and encouraged her pursuit of the idea of establishing a library-think tank that also serves as a rare materials collection site and activist hub.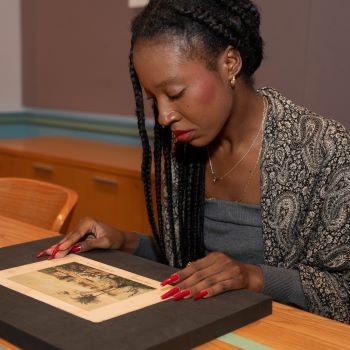 "Having mentors like Dr. Farah Jasmine Griffin, Inaugural Chair of the African American and African Diaspora Studies Department and Dr. Kaiama Glover, Ann Whitney Olin Professor of French and Africana Studies has certainly assisted in my development as a scholar. I owe my growth and overall evolution in African Diaspora Studies to them. I partook in independent studies projects with both professors and had the opportunity to explore and expand my niche within Haïtian literature and the arts as a result of this," she said. "With Dr. Glover and Dr. Griffin, I devoured the great texts of twentieth century Haitian and African-American novelists. I found myself lost in the works of Toni Morisson and Marie Vieux-Chauvet, and found mystical brilliance in the esoteric Dadaist scatological invective outbursts of Frankétienne."
Reflecting on the literature that inspired her both academically and personally, Sylverain admires the work of Michel-Rolph Trouillot in Haiti: State Against Nation. Recommended by Dr. Glover during an independent study project, Trouillot's book shed light on "the state of Haiti's failure and what it so desperately needed as a nation." It was through this reading that Sylverain "found the strength to put into words, in the most eloquent way possible, what I envisioned for Haiti."
"Economically, [Haitian] labor served as the engine of the global economy for many centuries; culturally, their songs, dances, stories, and paintings have always inspired the arts of the region and continue to resonate throughout the world," she said.
I have been asked by others pursuing fellowships: 'How can I make myself more interesting? I have a boring story.' What I say to them is that no one has a boring story. We all create and curate a life for ourselves worth sharing with others.
Looking forward, she hopes her time at Oxford as a Marshall Scholar will supplement her studies at Columbia and provide her with a wider base of knowledge for achieving her long-term goals in the fields of Haitian studies and library sciences. "Applying to the Marshall was always a goal of mine. I feel that it aligns with my values as a woman who is devoted to the betterment and restoration of her home country (Haiti). I am drawn to the idea of Marshall's focus on being a proponent of change in tackling global issues. I am delighted to be a part of the Marshall legacy and to be a living embodiment of it," she said.
Sylverain's advice for her fellow GS students pursuing similar opportunities is clear: "Be confident in your story. Know that your story matters and is important. This is something I have had to learn for myself after losing my mother at the young age of 17. I have been asked by others pursuing fellowships: 'How can I make myself more interesting? I have a boring story.' What I say to them is that no one has a boring story. We all create and curate a life for ourselves worth sharing with others. We experience trials, adversity, but more importantly, beauty, joy, and love. Out of these experiences, we gain strength and a profound sense of who we are."