Finding Purpose in the Great Outdoors
2023 Grad Profile: Maris Welch '23GS shares how meaningful experiences in nature have shaped her personal and professional outlook.
April 22, 2023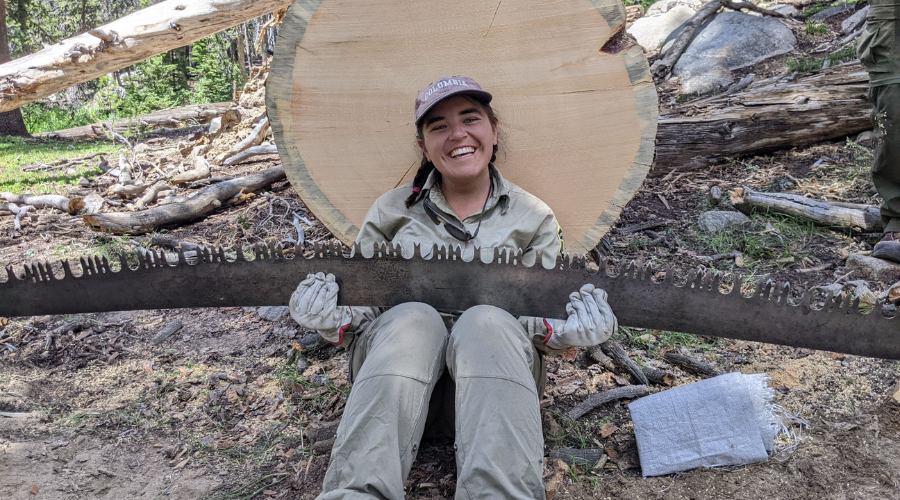 Maris Welch '23GS, a graduating student in the Dual BA Program Between Columbia University and Sciences Po hailing from Salinas, California, on how time spent on the Arizona Trail and in the John Muir Wilderness has influenced her pursuits in sustainable development. 
Tell us about your path to GS!
I've always been passionate about the outdoors and conservation, and chose the Dual BA Program with Sciences Po to combine my interest in politics and environmentalism. After studying politics and government at Sciences Po, I took a year off before coming to Columbia and worked as a research assistant for the Sabin Center for Climate Change Law. In that role, I discovered my interest in land use and zoning issues. I also hiked the Arizona Trail that year, where I had a lot of free time to think about public land and my role in conserving it. Those experiences cemented my decision to pursue sustainable development at Columbia.
What has been your proudest accomplishment at Columbia?
I absolutely loved writing my senior thesis. I chose to study how social media use impacts visitor behavior in wilderness areas. It was one of the hardest things I've ever done, but it was also a chance to delve into issues I was incredibly passionate about as a backcountry athlete. I was fortunate to receive funding from the Denning Global Fellows Fund to support my fieldwork in the John Muir Wilderness in California. This gave me the opportunity to spend over 40 nights in the backcountry collecting data for my research while I worked on a cross-cut trail crew for the Forest Service. I learned a ton about myself personally, academically, and professionally that summer. Plus, I experienced the joy of owning a project from conception to completion over the course of a calendar year.
Who are some people who have contributed the most to your Columbia experience?
I have to thank Lisa Dale in the sustainable development program who advised my thesis, helped me find funding for my research, and encouraged me to pursue my interest in public lands. I also loved taking "Forest Ecology" taught by Matthew Palmer and Kevin Griffin in the Department of Ecology, Evolution, and Environmental Biology Department. They offer some version of field ecology every fall, and it's an amazing chance to get outside and see some incredibly beautiful places every week. Plus, you get to meet and bond with a really great group of people. And I have to shout out the Columbia Rock Climbing Club, where I made some of my closest friends here.
What are your plans for after graduation?
After graduation, I'll be working as a climate change researcher with the consulting firm ICF.
What advice would you give to a student who's about to start their GS journey?
I think it's important to remember that a rising tide lifts all boats when it comes to building and maintaining community. Of course, grades matter. But lifting up your classmates, sharing resources, recommending each other for opportunities, etc., will take you so much farther both academically and socially than competing for a high GPA.