2022 Grad Profile: Ethan Lewis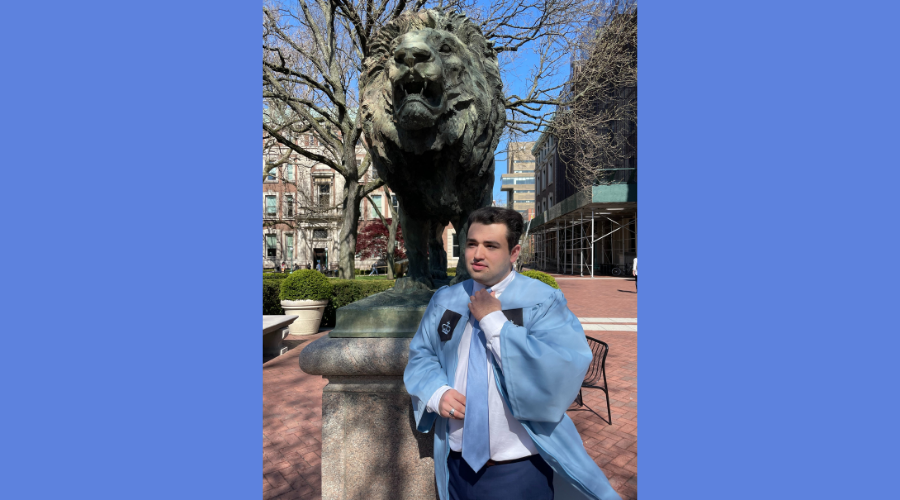 Ethan Lewis
Joint Degree Program with the Jewish Theological Seminary (JTS)
Where are you from?
Woodcliff Lake, NJ
Major: 
Political science and Jewish history
Tell us about your path to GS!
I grew up outside of New York City; far enough away to just see the outline of city spires but close enough to visit for the day. Whether it was playing chess on the weekend in Greenwich Village, or going on hikes behind Lamont Doherty Geological Observatory, my relationship with the city and Columbia started at a young age. Although I'm from a typical New Jersey town, my family has an eclectic background. My maternal grandfather fled Germany and then France during World War II, while the Romanian side of my family fought as decorated partisans. Because of these stories I heard as a child, I developed a longstanding love of history, politics, leadership, and public service. From the years of work I performed for the Leukemia and Lymphoma Society, to my volunteer work with special needs children, I always found a way to marry up my passion to do good with my interest in business and finance. Early on, I was running programs, leading teams, mentoring others, and developing fundraising campaigns.
My path towards the Joint Degree Program also started from an early age when my family joined our local Chabad. Although we weren't very religious, we gravitated towards it because of its focus on community service and Jewish ethics. And wherever I found myself (e.g. on the soccer field where I played for 14 years, or with the people and relationships I cherished), my goal was to incorporate these values across my entire academic and professional career rather than keeping these worlds separate. In the Joint Degree Program, with its combination of a world class liberal arts education at Columbia University and a Jewish Studies education at List College, I found the perfect fit for me. 
What has been your proudest Columbia moment?
My greatest accomplishment at Columbia was earning two undergraduate degrees in four years. This was a monumental feat, as it required taking between six to eight classes a semester and putting in late hours in the library. It took an incredible amount of discipline, dedication, and determination, not least of which was learning an entirely new language. And, of course, this is something I never could have achieved without the support of my family and classmates.
Who are some people who have contributed the most to your Columbia experience?
One group that was instrumental during my time as GS was joining Alpha Epsilon Pi at Columbia. This group was pivotal in my college experience as it led to the development of lifelong friends, and connected me with a diverse group of like-minded people. Essentially, they became my family at Columbia. 
What are your plans for after graduation?
After graduating, I will be working for Citi Bank as an analyst in their class of 2022 in the Capital Markets Division. I will be staying in the greater NYC area, continuing to explore the city and all that it offers. I also plan on being actively involved in the Columbia alumni community going forward.
What advice would you give to a Columbia student starting their GS journey?
For someone just about to start their GS journey, the best advice I can offer is to take advantage of all the opportunities that present themselves, and know that academia is just one component in the cadre of opportunities present at Columbia.