Alumni Connect and Celebrate School's 75th Anniversary at Reunion Weekend
Last weekend—and for the first time in three years—hundreds of GS alumni, friends of the School, and their guests returned to the Morningside Campus to reconnect, celebrate, and enjoy several new and exciting events during Reunion.
June 17, 2022
This year's festivities began on Thursday with an exclusive screening of Calendar Girl, a documentary executive produced by alumna Kikka Hanazawa '00. Dean Lisa Rosen-Metsch '90 offered welcoming remarks, including a special thanks to Hanazawa for sharing her work in the fashion industry with a focus on sustainability and philanthropy, and her leadership as a member of the GS Board of Visitors, as well as to moderator Sara Ziff '11 for her commitment to advocating for fair treatment, equal opportunity, and more sustainable practices in the fashion industry for models and behind-the-scenes creatives through her nonprofit organization, the Model Alliance.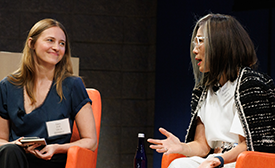 "Artists and filmmakers are part of the foundation of the Columbia School of General Studies, as we celebrate the nontraditional students who bring with them an amazing lived experience," said Dean Rosen-Metsch.
Guests enjoyed learning about the late Ruth Finley, a trailblazer who remained queen of the fashion industry from the moment she created the iconic pink "Fashion Calendar" as a single mother in the 1930s—a publication that continues to influence American fashion today. After the screening, Hanazawa was joined by her fellow executive producers for a conversation and Q&A moderated by Ziff.
Later that evening, alumni met up at Mel's Burger Bar, a Columbia favorite, for conversation, food, and giveaways at a casual get-together hosted by the General Studies Alumni Association (GSAA).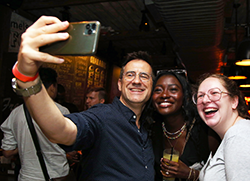 Friday's Afternoon Tea Party provided alumni another opportunity to reconnect and mingle, while graduates of the Classes of 2020, 2021, and 2022 were celebrated at a reception welcoming them as the newest members of the GS and University alumni communities—a particularly special occasion, providing the first opportunity for these recent graduates to gather in person for Reunion as alumni.
Later that evening, the School of General Studies hosted its annual Celebration of the Performing Arts at Columbia. GS has long been home to some of the world's leading performing artists, who play an active role in the student and alumni communities. At this celebration, Alison Paige Block '20 performed "Solo from Solidarity" choreographed by Daniel Mantei Keene of the Columbia Ballet Collaborative, followed by a performance of "Remembrances" from the film Schindler's List by current student Brittany Shinay '23. After these impressive performances, Michael Novak '09, Artistic Director of the Paul Taylor Dance Company, engaged in a discussion with Dean Rosen-Metsch.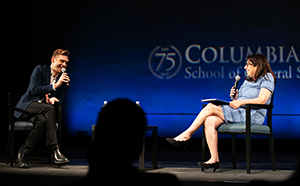 "The performing arts…connect us to worlds we know and worlds we never knew existed, and yet somehow remind us of something larger than ourselves. And that they are ephemeral in their very nature makes their impact all the more precious and spectacular to behold," said Novak.
The host of events on Saturday began with a special breakfast to celebrate anniversary class years. Dean Rosen-Metsch spoke about her passion for the mission of GS and her commitment to the School as the first-ever alumna to serve as dean. Her welcoming remarks were followed by those of alumna speaker Allison Fillmore '97, Chair of the GS Board of Visitors. Dean Rosen-Metsch then invited all of the guests to raise their glasses for a celebratory champagne toast.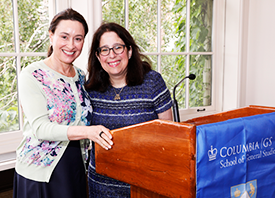 Breakfast was followed by a Reunion Lunch in the Presidential Ballroom at Faculty House. After Aviva Zablocki, Director of Alumni Relations, welcomed guests, Ebonnie Goodfield '23 moderated a discussion and Q&A with a panel of fellow GSers. Each spoke about their journey to Columbia, and the ways in which they found their community and home at the School. Speakers included Rae Harris '22, Senior Class President, Nicholas Li '22, a graduate of the Dual BA Program with Sciences Po, Zhexi Shan '22, who served as a peer counselor and teacher's assistant, and Peter Trevino '22, Co-Founder of the Columbia Recovery Coalition.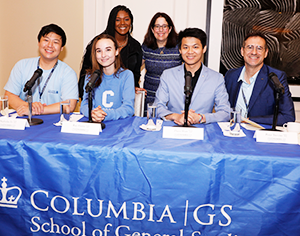 The diverse experiences of the panelists, including their impressive academic and extracurricular accomplishments, reminded guests of the unique and extraordinary community fostered by their alma mater.
After lunch, GS alumnus Steve Brozak, DMH '82, '94BUS, led a well-attended lecture titled "What Comes Next in the COVID-19 Pandemic?"
As the managing partner and CEO of WBB, a boutique investment bank and financial research firm specializing in biotechnology, pharmaceutical, and medical device companies, Brozak provided unique insights about the pandemic, and suggested ways in which society might best address related current challenges, and those likely to present themselves in the future, allowing for lively discussion by answering questions from attendees as they came up throughout the lecture.
The rest of the afternoon was filled with refreshments, delicious hors d'oeuvres, and great conversation at various receptions celebrating the GS community. At the receptions for Dual and Joint Degree Program and Postbac Premed Program alumni, students and graduates connected with old friends and formed new relationships with those from all class years and academic courses of study.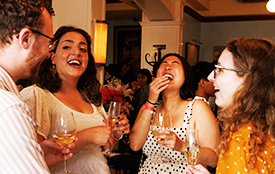 The Veterans Reception, a popular event open to all, brought together the military community across multiple undergraduate and graduate schools at the University, and guests learned about the specialized support offered by Columbia's Center for Veteran Transition and Integration to veterans nationwide.
Reunion Weekend concluded with the spectacular annual GS Reunion Dinner held in Roone Arledge Auditorium in Lerner Hall. More than 250 alumni, friends of the School, and guests enjoyed an elegant cocktail reception before making their way to their tables for welcome remarks from Allison Fillmore '97 and Dean Lisa Rosen-Metsch '90, who offered updates from the School including the Student Support Initiative, an unprecedented University-led initiative focused on improving financial aid for students.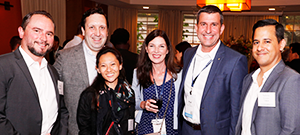 Following dinner, 2019 Owl Award recipient Paul Yates '05, '08BUS presented the 2022 Owl Award to Kirsty Jardine '15, '16PH, Co-Chair of the GS Alumni Association (GSAA), in recognition of her outstanding service to the School of General Studies.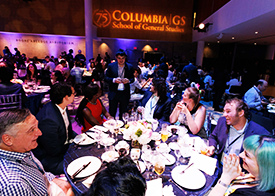 Originally created in 1959 by Barbara Levy '48 and Marshall Page '35, the GS Owl Award is given annually to a GS graduate, faculty member, or benefactor for exemplary service to GS, reflected by a sustained commitment to creating and building community, supporting and enriching School programs, and enhancing student life.
Guests also enjoyed a surprise visit from alumna Gale Brewer '97, former Manhattan Borough President and current City Council Member for the Upper West Side's sixth district.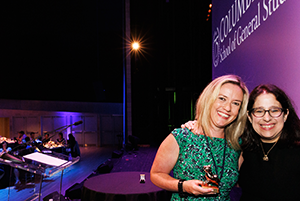 Dean Rosen-Metsch invited Brewer to join her onstage to offer a few remarks about her time at GS and how it has impacted her renowned career in public service. 
The evening came to a close with a final gathering of alumni from all schools for the Starlight Reception on Low Plaza, where desserts and dancing under the stars concluded the weekend. 
---
To view additional photos from the weekend's festivities, visit the GS Alumni Facebook page, and follow us for updates about upcoming alumni events!