2023 Graduate and Filmmaker Shines a Light on GS Student Stories
Keegan Hakim '23GS, a PALS Scholar, shares how his passion for the GS community and filmmaking skills have come together in a new documentary project.
April 22, 2023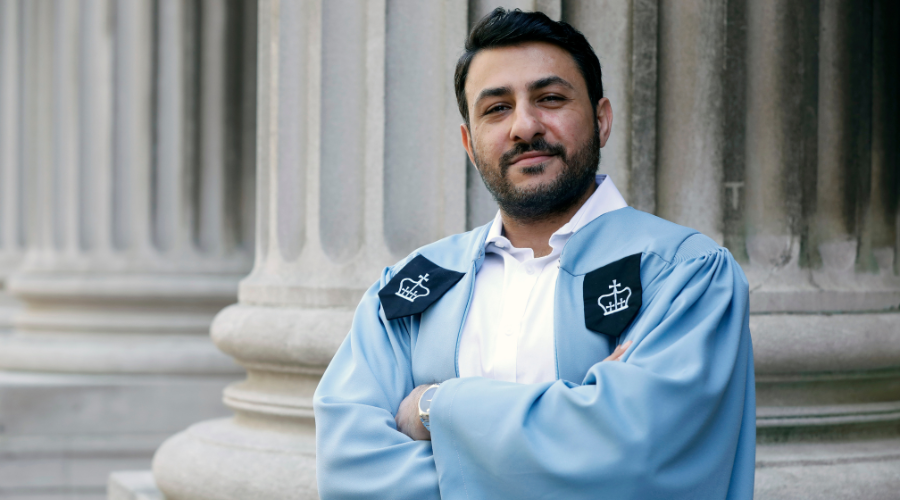 "I've been trying to go to school for a very long time," said Keegan Hakim '23GS on the eve of his graduation, noting that the milestone felt exhilarating and a little surreal. Born in Iraq, Hakim spent much of his youth in Michigan, but was kicked out of his house at 21 due to his sexual orientation. In the following years, school remained a goal for Hakim, but one that wasn't quite within reach. A dream of attending Columbia University specifically was part of what propelled Hakim to come to New York, and after beginning his college journey at Borough of Manhattan Community College, he found his way to Columbia GS. As he enters the GS alumni community this spring, Hakim stands out not only as a burgeoning filmmaker, but also as a committed and creative advocate for the GS community. 
A fundamental part of that community for Hakim has been being part of the Program for Academic Service and Leadership (PALS) Scholarship. Founded in 1999, PALS provides extensive financial and administrative support for a select group of accomplished GS students, with a particular focus on first-generation low-income students from historically underrepresented groups at Columbia. Hakim credited PALS, and the steadfast advocacy of Associate Dean Sara Remedios, as a major factor in his success at GS. He also shared that one of the greatest benefits of PALS has been social. "It's kind of lovely," he said of the PALS community. "I'll see my fellow PALS around campus and we share this connection. We meet up, hang out, and we can talk about things I normally wouldn't discuss with just my colleagues. It goes beyond the professional."
"I'll see my fellow PALS around campus and we share this connection. We meet up, hang out, and we can talk about things I normally wouldn't discuss with just my colleagues. It goes beyond the professional."
In the academic arena, GS has also been a site of tremendous success for Hakim. Initially interested in studying literature, he ultimately pivoted to film. Hakim shared that he found cinema to be a more intuitive tool of self-expression, especially as someone who speaks English as a second language. At Columbia, despite the challenges that COVID-19 brought in limiting filmmaking opportunities for several years, Hakim has flourished in the University's renowned film department. This January, one of Hakim's short films, The Last of the Harbingers, had a premiere at Dodge 511 with a full and enthusiastic house. "It was the most people I've ever worked with," said Hakim of the process of making the film, "over 30 people on set. It was a nice experience, and a nice reward to see how much people enjoyed it, how well-received it was."
Recently, Hakim's filmmaking and his pride in the PALS community have come together in a documentary project featuring interviews with fellow PALS scholars on their GS stories. "PALS has sometimes been a hush kind of thing around campus," said Hakim, "but we never really want to make this a secret. It's not something to be ashamed of, and there are lots of ways we can identify with other students on campus, from what we love about Columbia, to challenges like dealing with food insecurity, housing, transportation, and for students with children, childcare." 
By celebrating individual PALS Scholars' journeys, Hakim wants to bring the program, and many of the key elements it addresses in higher education, into the light. He said that he hopes that after his initial footage is compiled into the final film, with a to-be-determined release date, the project will continue on with new interview additions from future classes of PALS scholars. "I want students to see it, and also our donors, because we really appreciate them, and we also want them to know that because of you, we got this far, and you can help someone else too."
"Community is the key, and life at Columbia is beyond the classes."
Besides being an opportunity to bring his creativity to GS advocacy work, Hakim noted that the project has been a great chance to expand his filmmaking capacities. Generally a fiction filmmaker, learning and adapting to the documentary medium has been a rewarding endeavor. "A documentary is a very shared experience," said Hakim. "I'm just the director: It's the people I'm interviewing who are sharing their stories, so they write the script."
Post-graduation, Hakim will continue his filmmaking ventures. He expressed his goal to work on a longer-length film with frequent production partner Renegade Features, and after a break to re-ground, plans to pursue graduate studies in film. For now though, he's taking a moment to soak in his long-awaited and hard-fought graduation, and to reflect on the impact of the GS community on his journey. Asked to share advice for current and future GS students, it was to that community, and to the importance of creating space to soak in the excitement of Columbia itself, that he turned. "Imposter syndrome is a real thing," he said, "and sometimes, when you first get here, you might feel like you don't belong to any group, especially if you're going from being a big fish in a small pond to a little fish in a big pond. But community is the key, and life at Columbia is beyond the classes. A not so serious, yet important thing I'd say is to take time to just walk on campus and enjoy being a student. People don't do that enough: Just walk, and realize, I'm gonna remember this the most."