Profiles of the Spring 2023 Incoming Class
Several incoming students share their stories, from the experiences that brought them to Columbia University this spring, to their goals for their time at GS.
February 02, 2023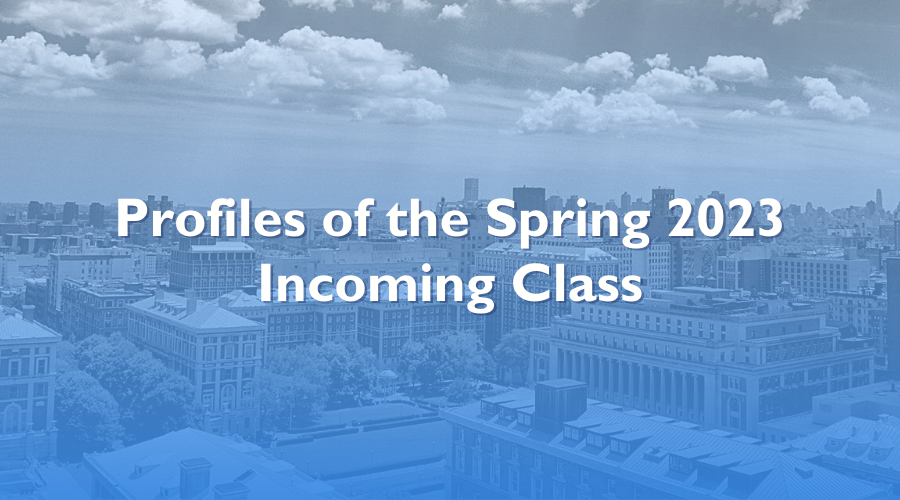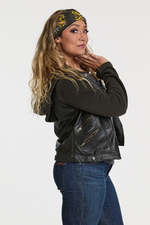 Katie Uhlaender
"My father told me a story of his first at-bat in Yankee stadium with Mickey Mantle in the outfield. He couldn't get his legs to quit shaking. He kept stepping in and out of the batters' box, looked at Mickey in the outfield, and couldn't figure out if he deserved to be there with greats like him. But he realized that every legend before him had to take the same steps he did into the batter's box, and once you were, they had the same job: 'hit the ball.' He realized it didn't matter how long it took you to get to that batter's box or what path you took; what mattered was stepping into the box and believing in yourself and the job set before you. He reminded me that we are all hitting against the odds, but it didn't change the job. Hit the ball."
Katie Uhlaender '27GS has carried on her family's sports tradition as a weightlifter, competitive freeskier, and five-time Olympic skeleton athlete for Team USA. Katie has achieved incredible success on the skeleton track and used her platform to advocate for sport equity and athlete's rights, including participating in the HBO documentary "The Weight of Gold," which highlights the importance of mental health in elite sports and also features fellow Olympian and GS'er Sasha Cohen '16GS. When she's not training or competing, Katie has taken on a variety of career endeavors, from working on the crew of CBS's Survivor and interning with Athletes Germany, to directing and producing commercials.
Katie now brings the same determination that has carried her to professional success to her academic pursuits as an undergraduate student at GS planning to major in economics-political science. "Finishing my degree and continuing my education is as important to me as the Olympics, as they are both in the pursuit of excellence," she said. Her goal is to channel her professional successes and experiences and her education into continued endeavors at the intersection of athletics, media, and policy. As she put it, her hope is to "pursue an education that will facilitate a way to contribute to sports and society in the future."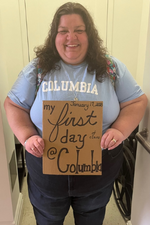 Adrienne Childres
Hailing from Lenoir, North Carolina, Adrienne Childres '25GS comes to Columbia as a proud community college graduate and mom. "Like many GS students, I tried college straight out of high school," she shared, "but between having undiagnosed ADHD and no support system, I did not do well. I carried a sense of failure from not finishing college for decades. I decided to try again in January 2021, by taking a couple of classes at my local community college."
Childres sees GS as a significant step on her path to attending law school and hopes to practice civil rights law in the future. Meanwhile, Childres also wants to spend her time at Columbia meaningfully. "While I am at GS, I want to participate in outreach efforts and find ways to work towards equity for marginalized groups at Columbia, within GS, and in the community as a whole."
Her journey is made even more meaningful by the fact that she and her 21 year-old son are going through the experience of college in parallel. She also has plans to commemorate her GS graduation by adding to her collection of nine tattoos and counting: "When I graduate from Columbia, I will get the crown tattooed as a representation of that accomplishment." 
Reflecting on what experiences and wisdom she will carry with her in this new chapter, Childres said "the best advice that I have received and the biggest lesson that I have had to learn is to ask for help, and to accept help that is offered. Create a support system and understand that help only comes when the support system is aware that it is needed. I will continue to build my support system, and lean into the support that is offered by GS. I also want to be there for fellow students, to help as I am able."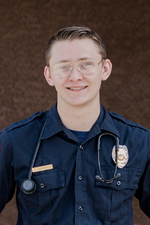 Chacen Carpenter
"After high school, a lack of experience and direction led to a failed initial attempt at university. Though devastated, when I moved back home I found purpose in serving disadvantaged youth as my parents began their journey with foster care. After some soul-searching, I decided to pursue a career in EMS where I had the privilege of running a 911 ambulance as an Advanced EMT for over 3 years; the most transformative years of my life. I can't express the gratitude I felt getting to serve the wonderful Las Vegas community as a first responder and medical professional throughout the COVID-19 pandemic. During this time my long-standing love of science turned into a burning passion for evidence-based medicine, leading me to pursue a career as a physician-scientist."
Chacen Carpenter '25GS comes to Columbia GS this spring after having successfully earned his associate's with high honors in biology from the College of Southern Nevada. His academic success at Southern Nevada, which included the opportunity to serve as a supplemental instructor in the chemistry department and induction into the Phi Theta Kappa Honor Society, sparked confidence and excitement within him. "The recognition I received for my hard work and achievement left me feeling incredibly empowered both personally and academically. I had dreams of continuing this streak of academic excellence at a world-class university, but because of my past failures, I thought these institutions were utterly out of reach for me; that was until I received an email from Columbia GS's admissions office asking to hear my story."
Carpenter started looking into GS and recalled that he was "astonished to see that an Ivy League university had been made accessible to nontraditional students like myself…and even more surprised when I received an acceptance letter." Three months later, with the help of a strong support network, Carpenter came to the East Coast for the first time in his life to join the GS community. 
Reflecting on his journey and GS dreams, Carpenter said "the best advice I received is to view failure not as a step backwards, but as a necessary step of redirection to get you back on the path to self actualization.I will accept my past failures as core parts of myself and my experience while using the valuable lessons I learned to further my goals at Columbia."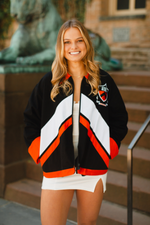 Tatum Gee
"The best advice I have ever received is find your passion in life, and once you do, pursue it with everything that you have, and surround yourself with people that love you and push you to be the best version of yourself."
Postbac student Tatum Gee '25PBPM pursued dual passions for science and sports as an undergraduate student at Princeton University. While majoring in Ecology and Evolutionary Biology, Tatum captained the Varsity Women's Soccer team for two years, and when the pandemic impacted Gee's senior season, she spent a gap year working as a medical assistant for Princeton Nassau Pediatrics. Post-graduation, she leaned fully into her sports pursuits, playing a season of professional soccer in Denmark. 
Now at GS, Tatum is excited to bring her medical dreams to fruition. "I decided to return to school because medicine has always been my passion. The route I have taken is not traditional but I am so thankful for all the opportunities that led me to this point. During my time here I want to prove to myself that I have what it takes to be a meaningful contributor in the field of medicine."