GS Celebrates the Class of 2020 at Class Day Ceremony
The School of General Studies celebrated the Class of 2020 on Monday, May 18 at GS Class Day via a pre-recorded virtual ceremony.
May 22, 2020
The School of General Studies celebrated the Class of 2020 on Monday, May 18 at GS Class Day via a pre-recorded virtual ceremony. The ninth Dean of the School of General Studies Lisa Rosen-Metsch welcomed more than 1,800 guests, who joined faculty and administrators in recognizing the accomplishments of the 683 members of the graduating class, 133 of whom were enrolled in GS's dual or joint degree programs, and 116 of whom are U.S. military veterans, more than all other Ivy League university graduates combined.

Dean Rosen-Metsch began the ceremony by welcoming University President Lee C. Bollinger, keynote speaker Michael Novak '09, and distinguished faculty and guests.

President Bollinger spoke next, expressing gratitude for the GS student body and emphasizing the value of the rich life experiences they bring to the Columbia undergraduate classroom.

"No matter what the surrounding circumstances are in this fraught present moment, the undeniable and unassailable fact is that you have reached a critical milestone in life. Your extraordinary efforts and talents have led you to this achievement," President Bollinger said.
I share my story with you to let you know that your GS education doesn't end today.
Dean Rosen-Metsch next welcomed keynote speaker Michael Novak '09, Artistic Director of the Paul Taylor Dance Foundation. In 2018, he became only the second person to hold this position in the history of the Foundation, having been appointed to the role by Founding Artistic Director Paul Taylor prior to his death. Michael has been a critically-acclaimed member of the Paul Taylor Dance Company since 2010, having performed 56 roles in 50 dances of its ever-expanding repertoire in 130 cities in 17 countries.

Novak described his duality of being an artist and an academic while struggling to fulfill his dream as a professional dancer.

"When I came to Columbia School of General Studies in 2005, I was 23 years old and, frankly, rather lost. My dream to have a professional dance career had - essentially - failed. Malnutrition, over-work, low-pay, and chronic injuries left my artistic spirit and my drive to persevere broken."

Novak went on to detail the transformative experience he had while at GS, and how he found a passion for dance history as well as bringing people together through art. Through perseverance and dedication, Novak worked his way up the ranks at the Paul Taylor Dance Company to be appointed the Artistic Director.

"I share my story with you to let you know that your GS education doesn't end today. Because in whatever you do - the political policies you create; the philosophical treatises you write; the communities you build; the scientific theories you develop; the students you teach; or the country you fight to protect; whether you are 19 or 71 - your education, your networks, and your experiences at the Columbia School of General Studies are the tools you have to build your future."
You embody in a spectacular way the mission and vision of GS and Columbia.
The graduating class heard remarks from Dean of Students, Marlyn Delva, "...What I have come to know is that this is a class full of determination; a class built on trust and relationships; a class that has lived through great and challenging moments and one that is ready for the next steps of your future. ...I ask that you keep your heads held high; focus on the goals you set forth for yourselves but open to the opportunities that await you – and most of all remain hopeful, that the future you desire is in sight and will be at hand sooner than you know."
Dean Rosen-Metsch went on to introduce the GS Class of 2020 Valedictorian, Sungtae Yoon, and Salutatorian, Alison (Ali) Block. The Dean then announced the Campbell Award recipient — Rachel Ballew, and the Alumni Key Award recipient — Jessica Krejcie.

Dean Rosen-Metsch closed the virtual ceremony by addressing the graduates, "Congratulations to the graduates of the class of 2020. You will always hold a special place in my heart. Some of you started your Columbia journey at the same time that I started as Dean. We have weathered great adversity together and I have been so proud to witness your resilience and grit in the most difficult moments. I am honored to be your Dean now and for years to come as you join our strong alumni community. You embody in a spectacular way the mission and vision of GS and Columbia."
The School of General Studies is committed to plans for a future in-person Class Day when it is safe to do so.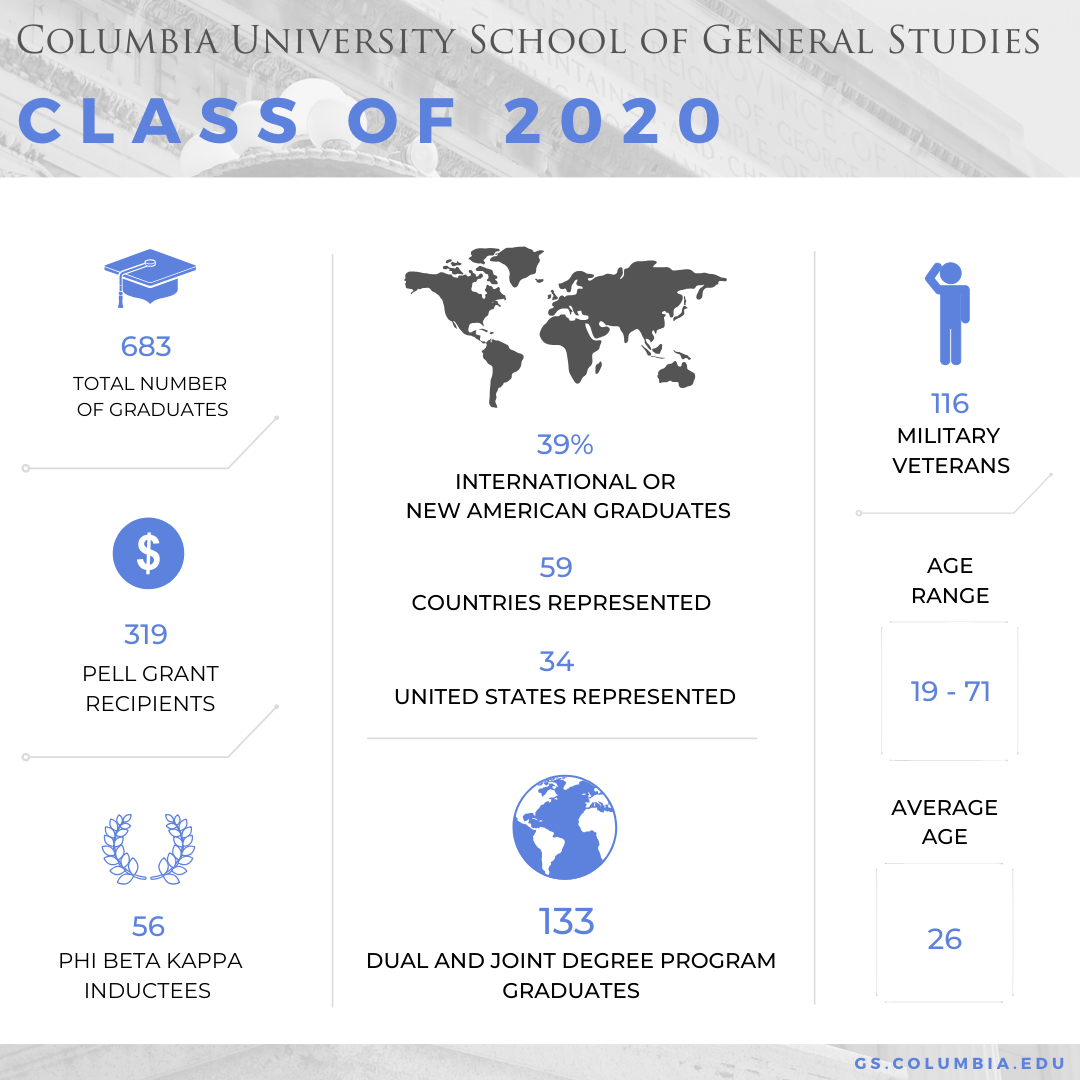 Meet the Columbia GS Class of 2020
The valedictorian of the Class of 2020 is Sungtae Yoon. Sungtae grew up in South Korea, and pursued a nontraditional path well before coming to GS, following the Korean adage: take a detour to find the way. While studying biotechnology at Korea University, Sungtae felt it was important to gain additional life experience before continuing his education, and paused college to pursue missionary work and complete his military service for the Republic of Korea as an Army Sergeant. During his service, he received ministerial commendation by the Minister of National Defense for his contribution to public relations. When Sungtae subsequently chose to return to college, he decided to continue his education in the United States.
During his time at GS, Sungtae worked as a research assistant in Dr. Xin Zhang's lab at the Columbia University Department of Ophthalmology, and was selected to participate in the Summer Undergraduate Research Fellowship program. Under the guidance of his mentors, he worked on in vitro and bioinformatic research, investigating FGF-induced transcription factors in murine lens and lacrimal gland development, which led to a first-authored poster presentation and co-authorship for articles published in peer-reviewed journals.
Outside of his research, Sungtae served as executive officer of the At Your Service volunteer program for the Terence Cardinal Cooke End-of-Life Care Hospital, as well as a student scholar for the Columbia Research Cluster for Science and Subjectivity. He was a student consultant for 180 Degrees Consulting, a worldwide non-profit consultancy, assisting clients from diverse sectors, and also volunteered as a Korean language medical interpreter for Mount Sinai Hospitals.
Sungtae was named to the dean's list, and was inducted into the GS Honor Society, Asimov Society, and Phi Beta Kappa with 21 A-pluses on his transcript. He graduates summa cum laude with a degree in biological sciences with departmental honors. After graduation, he will engage in clinical research and global health projects, and pursue medical school to become a physician. Sungtae lives in Monterey, California with his wife and 16-month-old child.
The salutatorian of the Class of 2020 is Alison (Ali) Block, a professional ballet dancer originally from Cleveland, Ohio. From an early age, Ali balanced the rigors of dance with a challenging academic schedule. She began her ballet training at the Cleveland School of Dance, and as she progressed, pursued more advanced training at North Carolina School of the Arts, with summers dedicated to completing intensives at Canada's National Ballet School, Chautauqua Institution, Jacob's Pillow, and BalletX. 
After graduating simultaneously from both high school and conservatory in 2008, Ali spent an additional year training at Miami City Ballet School before she was contracted by the Texas Ballet Theater in Dallas/Fort Worth. Her exceptional talent and work ethic afforded her the opportunity to spend the next six years dancing professionally for companies across the United States including the Eugene Ballet Company in Oregon and Terpsicorps Theatre of Dance in Asheville, North Carolina. She also performed as Clara in The Radio City Christmas Spectacular and was invited to be part of the national tour. Ali performed Balanchine's Serenade at the Hollywood Bowl Opening Night Gala, and is featured in Steve Childs's documentary And We Will Dance.
In 2014, Ali relocated to continue her professional ballet career as a freelance artist in New York City while pursuing her bachelor's degree at the School of General Studies. In New York, she has worked as a company member with Eglevsky Ballet, where she created the title role in Maurice Brandon Curry's Cinderella, and as a company member with Barry Kerollis's Movement Headquarters Ballet Company, Thomas/Ortiz Dance, Lydia Johnson Dance, and others. She has also performed as a principal guest artist around the country. At GS, Ali studied psychology while continuing to immerse herself in dance. She is an active member and leader in the on-campus student group, the Columbia Ballet Collaborative.
Aside from her involvement with dance, Ali has dedicated much of her time as an undergraduate student to research. She has completed four semesters of honors courses while developing her honors thesis, which examines the role of cultural norms in the workplace on women's use of voice and reporting of sexual harassment in the world of professional ballet, under the mentorship of Dr. Purdie-Greenaway. In addition to her own work, Ali is a research assistant for the Laboratory of Intergroup Relations and the Social Mind where her work focuses on work environments, work cultures, and the effects these have on company employees. Additionally, she served as a teacher's assistant in several cultural psychology courses.
On campus, Ali served as both the public relations director and as a mentor for the GS Mentorship Program. For two years, she served as managing editor, campus editor, and writer for Change Magazine, a college magazine across multiple campuses nationwide that discussed social and political issues. 
Ali was named to the dean's list, was inducted into the GS Honor Society and Phi Beta Kappa, and is a recipient of the GS Service Award for leadership and service within the GS community. She graduates summa cum laude with a degree in psychology. After graduation, Ali plans to continue her career dancing and teaching, while also staying active in the research community. Eventually, she plans to continue her education by pursuing graduate studies in pursuit of a clinical psychology or research role.
Having survived detention, torture, and political exile in his home country of Syria, Qutaiba Idlbi graduates from Columbia GS as a member of the first cohort of refugee students to benefit from Columbia's Scholarship for Displaced Students (CUSDS).

Earning a degree in political science, Qutaiba plans to continue his research fellowship with the International Center for Transitional Justice in New York City while preparing to apply to law school. When looking toward the future, he said: "In an ideal world, I imagine myself working internationally, making sure that people get the justice they deserve. My dream is someday to establish a small college in my home country where I can transfer my knowledge and experience to Syrians like me."
David Treatman used to wearing many different hats. A graduate of the dual degree program with the Jewish Theological Seminary and GS, during his time at Columbia, David has been involved with the Columbia sailing team and has produced or co-produced 14 plays in three years.

In 2016, he co-produced the off-Broadway play "Puffs, or: Seven Increasingly Eventful Years at a Certain School of Magic and Magic" with Columbia Engineering alumnus Alan Koolik '19. The success of "Puffs" led David many other projects, including the 2018 Tony Award-winning Broadway revival of Tony Kushner's "Angels in America". While the pandemic has postponed many of his upcoming projects, David sees a silver lining: "While it's tough and disappointing that things will likely never return to normal, I am also excited to be on the ground floor, trying to reinvent the industry. I'm already working on new projects to pioneer the post-pandemic landscape."

What will he miss the most about his time at Columbia? "Being in those libraries and sitting on the steps during sunset, absorbing the intellectual spirit in the air, questioning what is around me and having fellow curious minds I can engage at any given moment—I think those are the things I'm going to miss most."
Born and raised in Nixa, Missouri, Logan dreamed of becoming an actor. At 17, she moved to LA and signed with an agency. Hollywood, however, was not so glamorous. While she loved the craft of acting, she did not love the business. She valued the nuances of human connections and wanted to inspire an audience to connect with a story, which led her from acting to advocacy.
At GS, Logan has interned at several Congressional offices, including the office of Representative Jerry Nadler. She currently works at Dare2B, a non-profit that supports homeless children in NYC, and recently launched her own non-profit that helps transition young adults from homelessness to higher education.

Reflecting on her time at GS, she said: "The opportunities afforded by being a GS student are endless. Still, it is the education that is truly life-changing and a gift for which I will be forever grateful. Our stories may take us down many paths, but I find that they are often the result of a singular drive. When one path does not work, we redirect, and because we adapt and persevere, find our futures—my future lies in law school which I am attending this fall. It is an uncertain and scary time during which humanity is facing a universal threat. Yet, that threat is impacting each one of us in very different ways. Traditions such as our graduation ceremony have been interrupted by illness and isolation. Still, the incredible GS community has come together because we know what it is like to be nontraditional—you have to be adaptable, resilient, passionate, and determined, and this year's "nontraditional" graduation ceremony will be a celebration of just that. From veterans to dancers, frontline workers, parents, and business owners, GS is the embodiment of the non-traditional helping redefine the traditional, and I am proud to be a part of celebrating its story."
Rachel Ballew is a former U.S. Marine Corps Sergeant and graduates as the Director of Women Veteran Initiatives for MilVets, the President of MilVets, as well as the Campbell Award winner. 
She is also part of a team of student veterans working at Ryan Larkin Field Hospital at Columbia's Baker Athletics Complex at 218th Street in northern Manhattan that recently opened to treat patients with COVID-19. Teams are working 24/7 in 8-hour shifts to communicate with doctors inside the bubble and serve as the first point of interaction with patients. Rachel shared about her experience: "A month ago we were classmates and Milvets kicking cans and taking names at Columbia. Now we're sporting facemasks and working with the super hero doctors, nurses, SOF medics and our own Milvets to help those affflicted by COVID-19 at Ryan Larkin Field Hospital."