2022 Grad Profile: Jess Hobbs Pifer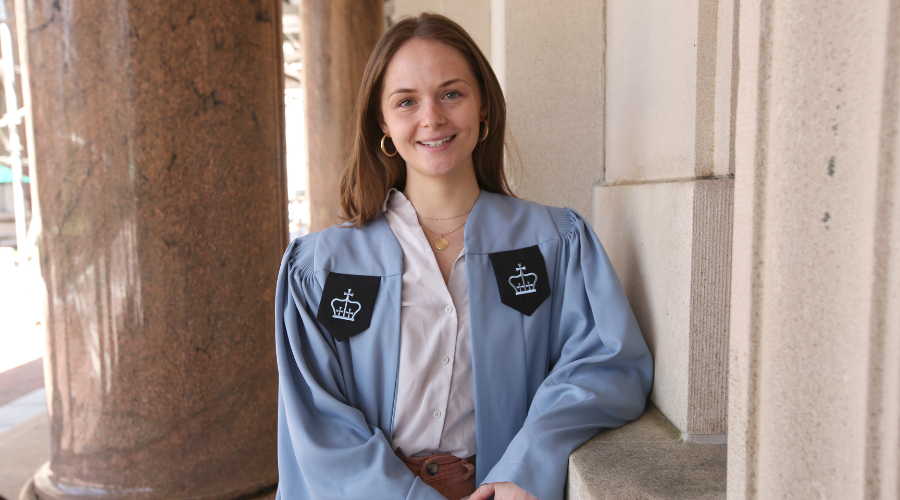 Jess Hobbs Pifer
Dual BA Program with Trinity College Dublin
Where are you from?
Philadelphia
Major: 
Religion (CU), Middle Eastern and European language and cultures (TCD)
Tell us about your path to GS!
I caught the travel bug pretty young after studying abroad in Scotland in 8th grade. After that, I took every opportunity I could to learn about other places, people, and cultures. This led me to study Arabic in Morocco in 2016 through the National Security Language Initiative for Youth (NSLI-Y) program, and eventually to the Dual BA Program where I continued my Arabic studies in addition to Russian and Hebrew.
What has been your proudest Columbia moment?
I moved to New York City in August 2020, which was still a pretty scary time because of COVID. I'm definitely most proud of the life I managed to build for myself here despite the pandemic. I worked at the Hungarian Pastry Shop during the summer of 2021 where I built relationships with many different people in the broader Morningside community and began to really feel connected to the community here. Before that, I developed really fabulous friendships with people across GS and Barnard. I'm really proud of how I managed to safely integrate myself in the community while balancing major transitions in COVID policies, school on and off of Zoom, and moving to a new city and school halfway through my undergraduate education.
Who are some people who have contributed the most to your Columbia experience?
Professor Courtney Bender, who in addition to being the Director of Undergraduate Studies for the religion department is a fabulous person and professor, has been instrumental to me during my time at GS. I met Professor Bender at a Zoom conversation on "The Question of Presence" hosted by the department back in July of 2020. I had no idea what I wanted to study at Columbia and was feeling nervous about my impending move to NYC. I remember feeling excited by the discussion that happened over Zoom and the excitement people in the department expressed at seeing one another again. Since then, Professor Bender has been a huge help in figuring out how classes transfer from Trinity, and I've loved every class I've taken with her. Most recently, she was incredibly supportive throughout the thesis process—even when a computer crash erased my whole thesis file on my final draft!
What advice would you give to a Columbia student starting their GS journey?
Just really immerse yourself in Columbia life: really try to build those relationships with your professors, find study buddies in your classes, and dive into social events, clubs, performances, and sporting events.