2022 Grad Profile: Jane Loughman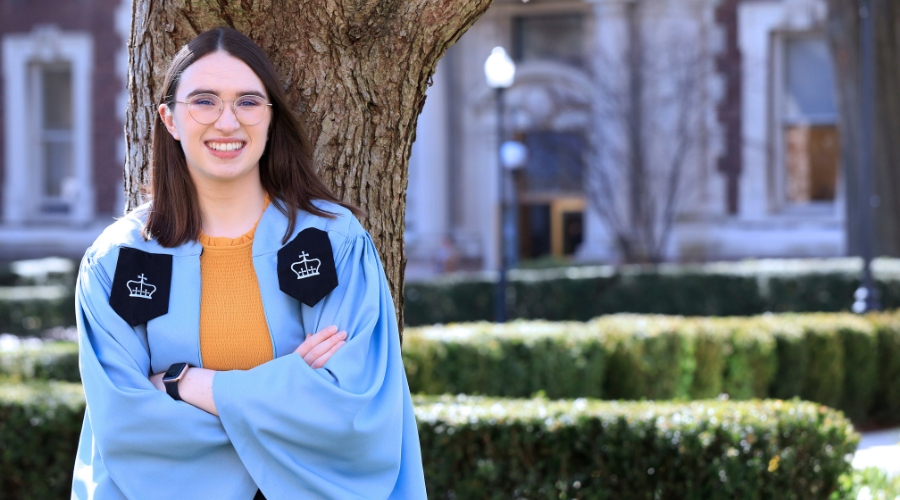 Jane Loughman
Dual BA Program with Trinity College Dublin
Where are you from?
Bray, County Wicklow, Ireland
Major: 
English
Tell us about your path to GS!
I found out about the Dual BA Program between Trinity College Dublin and Columbia quite late into the application process. Despite the short time span, and my Irish Leaving Certificate mock examinations looming, I went for it. I knew the program would be the perfect opportunity for me to study English literature in two cities with rich literary histories. 
I joined the inaugural cohort in 2018 and, although attending two different universities across four years is already an untraditional college experience, the pandemic interrupting my first year at Columbia GS made it even more so! While I enjoyed taking my classes online and at home in Ireland during my junior year, I couldn't wait to get to New York. I finally made it in the summer of 2021, and it's been the most fantastic year.
What has been your proudest Columbia moment?
One of my proudest moments at Columbia was receiving the Professor John Angus Burrell Memorial Prize for distinction in English and Comparative Literature. A few weeks before, I completed my Senior Essay, a 10,000-word dissertation on Joyce Carol Oates's retellings of Henry James' The Turn of the Screw. After all the hard work, it was rewarding to see it come to fruition, and I was very grateful to be recognized for my academic work along with my ambitious peers at last week's GS Student Leadership and Academic Prize Ceremony.
At both Trinity and Columbia, I've been involved in theater and in journalism: I produced and acted in plays with DU Players at Trinity and then with CU Players at Columbia, and I was a staff writer with Trinity News and then with the Columbia Daily Spectator. I have enjoyed documenting my unique college experience on my YouTube channel, Queen of Quirk, and I know I'll cherish looking back on my time at Trinity and Columbia; it really has been the most exciting, intellectually stimulating, and inspiring four years.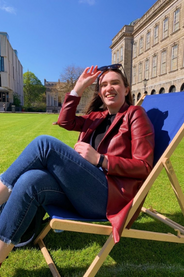 Who are some people who have contributed the most to your Columbia experience?
The English department at Columbia was instrumental to me. My classes and my work with many of the professors motivated and encouraged me in my decision to apply to postgraduate study. In particular, my thesis advisor Professor Aaron Ritzenberg was not only an ideal mentor, but he also helped me to further develop and enhance my academic writing skills this past year. I also would like to give a shout out to the wonderful friends I've made in my short time at Columbia, especially my GS peers; I'll miss hanging out in the lounge with them!
What are your plans for after graduation?
After spending some more time in the city and at home in Ireland this summer, I will be moving to the U.K. in October to begin a master's in modern and contemporary literature at Oxford University! I am very excited to continue my academic journey at Wolfson College, Oxford, beginning by researching the literary afterlives of texts, genres, and authors, and hope to pursue a career in academic research and teaching. 
What advice would you give to a Columbia student starting their GS journey?
I would give two pieces of advice. The first is to make the most of your time here; relish the classes, join clubs that (or find people who) both fulfill your passions and your social life, and take advantage of what GS has to offer. 
Because there are so many amazing things to do at Columbia, my second piece of advice is to prioritize: you can't do it all! I have to remind myself of this sometimes. It can be hard to achieve a balance, so the key to this is to prioritize what is important to you.