2022 Grad Profile: Daniel Harrich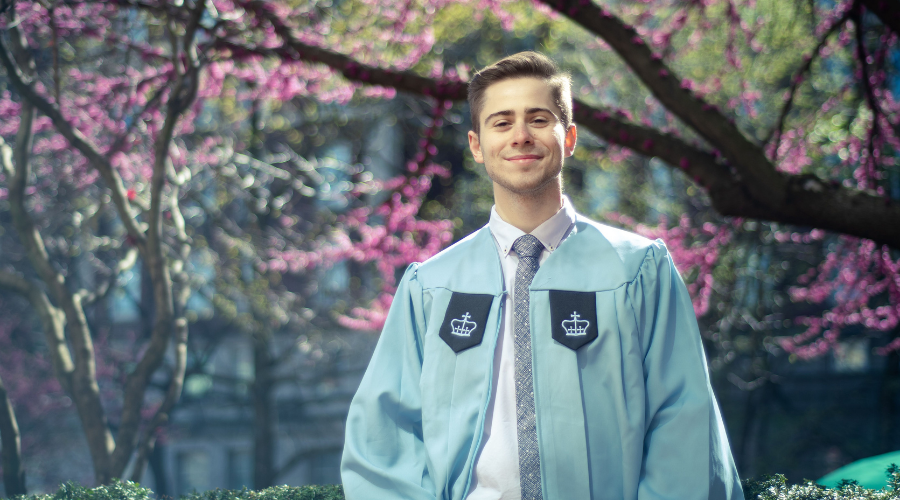 Daniel Harrich
Dual BA Program with Sciences Po
Where are you from?
Syria and Austria
Major: 
Financial economics
Tell us about your path to GS!
I remember applying to colleges during my senior year of high school in 2018. The decision I had to make involved not only weighing the academic offerings of a university and the knowledge I was hoping to get out of the classroom, but also the many non-academic parts of college life that come with living in a place for four years.
For me, the thought of living in a single place for four years was probably one of the most daunting challenges about college! Before I joined the Dual BA Program Between Columbia University and Sciences Po, I was used to moving countries around every two years. My dad's job took us all over the world: Kosovo, Sudan, Sri Lanka, Malaysia, Syria, and Lebanon.
I quickly realized that the Dual BA would be a perfect way for me to challenge myself not only academically, but also by virtue of having the chance to live in France and later in New York. As a Syrian-Austrian student, I knew I had to choose Sciences Po's Middle Eastern-focused campus in Menton.
As I look back at these four years, I would do it all over again if ever given the chance. The Dual BA program has been one of the most rewarding adventures I've ever had. I have learned so much about myself and the world around me, and above all made friendships that I know will last many years to come. 
What has been your proudest Columbia moment?
Without a doubt it has to be when my parents and sister visited me in December of this year. I'm sure their trip was even more special because it was my mom and my sister's first time in the U.S. I felt an indescribable sense of joy when we walked through the gates of College Walk on 116th Street together, and I am so thankful for all they've done to make it possible for me to be here. Without them, this wouldn't be possible.
Who are some people who have contributed the most to your Columbia experience?
The entire Dual BA community (across all partner universities) was my home-away-from-home. And the GS community at large, with all the support systems in place (from Deans, to advisors, and even alumni) have been the defining part of my college experience. When I think back to these four years, the people I've met really stand out the most.
What are your plans for after graduation?
I'm very fortunate to have accepted a position in consulting and will be starting next fall! I feel really lucky to be working in New York next year, so please reach out whenever for a coffee or a chat!
What advice would you give to a Columbia student starting their GS journey?
Take time for yourself! Go to that Broadway show, attend that dinner with friends, go out of state, and even sleep in sometimes if you feel like it! The work at Columbia will certainly keep you busy, and New York as a city will also keep you on your toes. However, when it's all said and done you won't remember the small assignments, quizzes, or anything else that might be getting you down in the moment. Cherish the immense value that comes from putting yourself first, and do all those things that make you happy!