Class Day Valedictorian and Salutatorian Announced
Today, Dean Rosen-Metsch announced the School of General Studies valedictorian and salutatorian of the Class of 2022. This year's valedictorian is Ashley Cullina. This year's salutatorian is Rose Kim.
April 28, 2022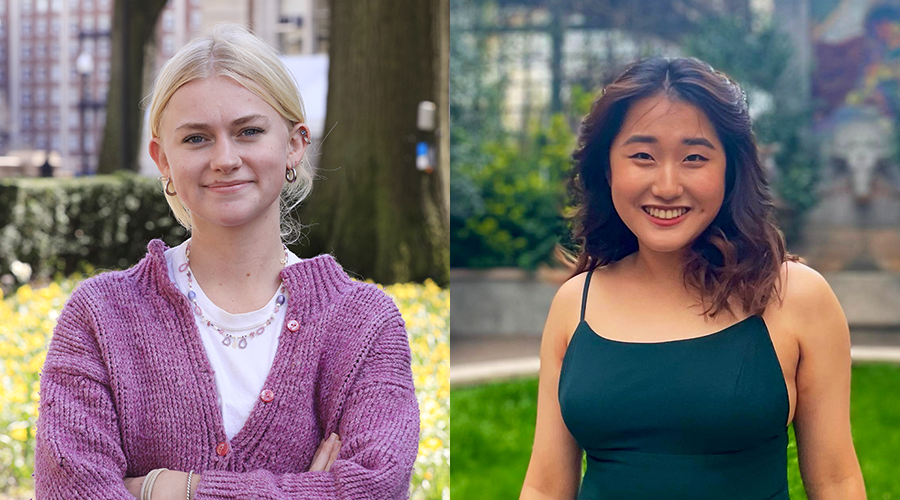 Valedictorian | Ashley Cullina
The valedictorian of the Class of 2022 is Ashley Cullina. Ashley is a graduate of the Dual BA Program between Trinity College Dublin and Columbia University, studying English literature at both institutions.
 
The diversity of Ashley's academic interests is as significant as her ability to pursue such interests at great depth. As a junior in high school, Ashley was awarded the Raiser Environmental Fellowship from the National Cathedral School, which allowed her to conduct independent research in Ireland on native mussel species and aquaculture at University College Cork—an experience that cemented her desire to continue her education in Ireland. As a student in the Dual BA Program, Ashley spent the first two years of her degree studying in Dublin where, among other things, she developed an interest in Irish experimental writing and Gothic fiction, topics she would later pursue in her research and public-facing criticism. She's authored reviews of the writers Claire Louise Bennett and Lucy Ives, and is currently working on an upcoming publication about Anakana Schofield. Outside of her literary endeavors, Ashley spent much of her time in Ireland employed in pubs, and now boasts semi-adequate skills as a bartender. 
Ashley matriculated at GS in 2018. Since her arrival in New York in 2020, Ashley has expanded upon her curricula in English by pursuing a course of study in the digital humanities. Her fluency in programming languages facilitated experiments in computational literary analysis, computational linguistics, and creative projects in e-poetry and mixed media. She assisted with digital humanities research in both Columbia's Department of Sociology and Barnard's Department of Computer Science. Over the pandemic, Ashley fostered a very large, formerly neglected rabbit, who did not like her very much. 
 
Last year, Ashley was selected for the Summer 2021 Kyoto University Program, a highly-selective short-term virtual study abroad program provided by the University's Institute for Liberal Arts and Sciences and Asian Studies units that aims to develop an understanding of issues facing Japan through Japanese language classes, academic lectures, cultural activities, and discussion. She also serves as digital editor of 4x4 Magazine, a student-run literary magazine at Columbia University, and lead editor at the Columbia Journal of Literary Criticism. 
Ashley was named to the Dean's List, is a member of the GS Honor Society and Phi Beta Kappa, and received departmental honors for her senior thesis on the short fiction of Anna Kavan. She graduates summa cum laude with two degrees, one from Trinity College Dublin and one from Columbia University. After graduation, Ashley plans to pursue work in the publishing sphere of the literary world in her role as a production assistant at Scribner Books. She's excited to learn more about the material dimensions of books-as-objects and the processes of commercial printing, and will continue to write. 
Salutatorian | Rose Kim
The salutatorian of the Class of 2022 is Rose Kim. Born in Philadelphia, she considers Berwyn, Pennsylvania and Seoul, South Korea her true homes. After high school, Rose enrolled at Pitzer College, where she worked as a student researcher for the Van Arnam Lab at the W.M. Keck Science Department, studying the properties of fungus-growing ants and their symbionts. Her accomplishments in the lab led directly to the discovery of a novel antibiotic. In exploring how to make her own research more accessible beyond the "ivory tower," Rose discovered her passion for sharing what she learned with the world, something she would carry through the rest of her college endeavors.
 
At Pitzer, Rose also served as co-president of the Asian Pacific American Coalition, fostering relationships with fellow students in the Asian Pacific Islander Desi American community. During this time, she was one of the few student representatives tasked with bringing student concerns to Pitzer College's five-year strategic planning process. These two responsibilities, combined with Rose's concurrent role as an academic guide for incoming first-year students, meant that she was helping shape Pitzer's future at the individual, community, and administrative levels. She then spent some time away from school working, traveling, and volunteering before enrolling at GS in the fall of 2020, where she found yet another home among the School's diverse student body.  
 
At GS, Rose chose to pursue a different academic interest—linguistics. Interested in the intersection between gender inequities and language, Rose wrote her senior thesis on aegyo, a Korean "baby-talk" register, arguing for its importance in conveying what she calls "polite intimacy." Outside of class, she worked as a teaching assistant in the Linguistics Department, continuing to realize her passion for improving accessibility by implementing systems to support students' academic success during the pandemic.   
Rose was named to the Dean's List, and is a member of the GS Honor Society and Phi Beta Kappa. She graduates summa cum laude with a degree in linguistics. After graduation, she hopes to combine her love for biology, linguistics, and helping others into a career in speech language pathology.