234 Students Inducted into GS Honor Society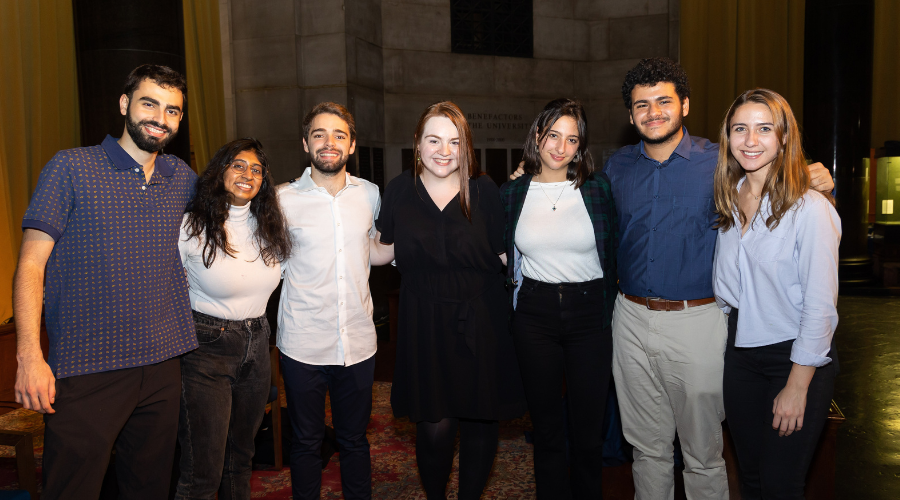 On Thursday, November 10, faculty, staff, friends, and family gathered at the Rotunda of Columbia University's Low Library to celebrate the induction of a record 234 students into the School of General Studies Honor Society. The ceremony was followed by a reception in the Faculty Room for inductees to mingle with their fellow GS Honor Society members, as well GS administrators and staff members.
The GS Honor Society was created in 1997 to recognize the exceptional academic achievements of GS students who have earned a cumulative GPA of at least 3.8 in more than 30 points of academic coursework at Columbia.
Dean Lisa Rosen-Metsch welcomed the attendees with opening remarks, reflecting on the exceptional academic achievements of the inductees. "You, among all of the very talented students we have at the School of General Studies, are the community that makes clear the fact that GS truly is a beacon for the future of highly selective higher education," she said. 
She spoke about the founding of the Honor Society as a way to bring together intellectually curious students outside of the classroom: "The Honor Society is an opportunity to celebrate you and your pursuit of intellectual life, a life that is concerned about issues that go beyond oneself, that seek to tackle our most daunting issues."  
"We know, as Martin Luther King Jr. stated, an individual has not started living until they can rise above the narrow confines of his or her, or their, individualistic concerns to the broader concerns of all humanity," she said.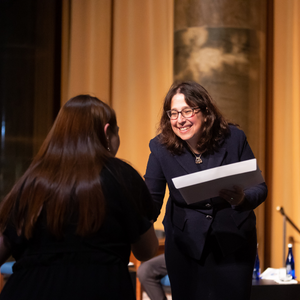 Dean Rosen-Metsch then introduced the keynote speaker, Robert LeDesma '14GS. LeDesma came to GS from Mesa Community College in Arizona and was dedicated to helping other GS students make the transition from community college. He was a co-founder of the Peer Advising Program and also served on the General Studies Student Council in various positions. After graduating in 2014 with a degree in neuroscience and behavior with a premedical concentration, he attended the Molecular Biology Doctoral Program at Princeton University. Currently, LeDesma works as a scientist in the Infectious Diseases Department at Regeneron Pharmaceuticals. As part of the Rapid Response Team, he addresses threats to human health in real time, including the COVID-19 pandemic. 
LeDesma spoke about "doorknob" moments in his career so far, when he knew he was making a decision that would change his life forever and open doors to future opportunities—such as attending an admissions information session for GS. 
"I discovered my passion for science here. I discovered my knack for being a tour guide here, and I discovered my passion for making the transition easier for people who follow in my footsteps here," he said. "You never know what you're going to learn from other people, what lessons they are going to impart on you, and how you might end up touching their lives in return," he continued. 
LeDesma concluded his remarks with a piece of advice he received from a GS admissions officer: "Don't forget; whatever it is that you want, or whatever it is that will make you feel fulfilled, you can, even if you don't think that you can."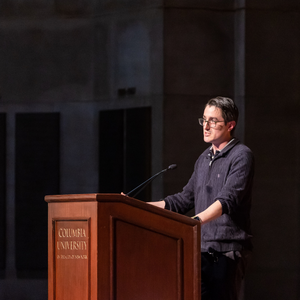 LeDesma's remarks were followed by the presentation of the new members by Caroline Marvin, the recently appointed Dean of Academic Affairs.
Dean Marvin remarked, "There's really nothing like the GS student body. You are dancers, artists, veterans, parents, career changers, entrepreneurs, journalists, engineers, world travelers, community organizers, and so so so much more," she said. "The beauty of GS, really, is that there is no prototypical GS student. You defy categorization, you blur boundaries, and you forge your own unique paths." 
"While your experiences are diverse, and the paths you've taken at GS are certainly unique, I noticed a common thread in your stories. Many of you spoke of a deep and abiding desire to learn, a restless curiosity," she added. 
"So while we rightly celebrate this extraordinary academic achievement, I want to celebrate as well this vital outlook on life and learning, and I hope that wherever your unique paths lead you next, that you keep finding that spark of curiosity and wonder." 
You never know what you're going to learn from other people, what lessons they are going to impart on you, and how you might end up touching their lives in return
Among those inducted this spring are 140 students enrolled in the School's dual-degree programs with List College of Jewish Theological Seminary, Sciences Po in France, City University of Hong Kong, and Trinity College Dublin, and 103 international students from countries all around the world, including Brazil, Canada, Lebanon, Morocco, Norway, and Taiwan. 8 US veterans and 18 students who served in the armed forces of other nations, 34 first-generation college students, and 6 students with children were also among those inducted.
The chief aim of the GS Honor Society is to cultivate interaction among those committed to intellectual discovery and academic excellence. The only group of its kind at the University, the Society offers opportunities throughout the year for its student and alumni members to interact with one another, as well as with the faculty who enjoy working with such outstanding scholars.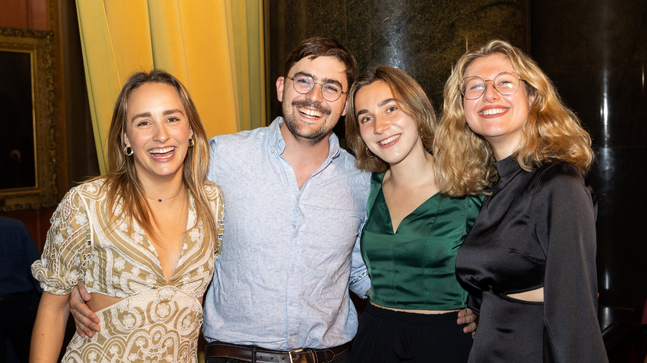 Inductees 
Ines Abi Mourad
Nikka Afshar
Lenny Aharon
Sigal Alcheck
Judah Altman
Lisa Anneys Cardoso Gomes Luci
Emanuel Arias-Goetzke
Khaidar Arshad
Thomas Auclair
Tom Autret
Melodie Aygoren
Juliet Aze
Carsten Barnes
Anna Bartoux
Jonathan Baumgarten
Noam Bechhofer
Jeff Becko
Junet Bedayn
Rachelle Benedict
Chase Black
Maya Blair
Rachel Bleau
Samantha Blumenfeld
Isabelle Bohn
Clara Bonin
Daniel Borovskiy
Mina Bourquin
Rose Boutboul
Candace Bowers
Pauline Bromberg
Taylor Bronson
Gregory Brook
Audrey Brown
Michelle Brucker
Erin Buckley
Guosheng Cai
Catherine Callahan
Matthew Capuano-Rizzo
Connor Carp
Lauren Carroll
Rodolphe Casabianca
Carla Cazals
Ching Tung Chan
Claire Chandon
Aditi Chatradhi
Peter Chen
Xi Chen
David Chen
Carol Chen
Gabriella Chioffi
Tattie Chitrakorn
Albert Cho
David Cho
Wesley Choi
Ian Kang Choo
Alice Chu
Charlotte Coats
Elise Combe
Edward Conklin
Lily-Frances Cosgrove
Rachel Costin
Viktoria Dauer
Isabella Dayani
Guglielmo De Rigo Piter
Clara Debono
Allegra Della Ragione
Ralph Diab
Tomas Dias Piva Imparato
Clare Donaldson
Wendy Du
Zoe Dupuis
Nour Elgoweili
Neta Elyahu
Aurelien Enthoven
Runnie Exuma
David Faes
Laura Fairlamb
Leah Fishman
Elena Flack
Olivia Flaherty-Lovy
Solomon Fox
Adam Frank
Matthew Friedman
Arielle Friedman
Gina Frisenda
Hana Gallagher
Marine Gapihan
Cassandra Garba
Schuyler Gardner
Ava Gartman
Brian Gephart
Niccolo Gismondi
Victor Gout
Aleksandra Gracheva
Emma Grungold
Chiara Guigou
Deeva Gupta
Tanvi Gupta
Yuval Hadari
Vida Han
Alan Han
Sophie Hanin
Clara Harrington
Najwa Haska
Liron Hayon
Madeleine Hearn
Julie Henaut
Alex Hill
Alexander Hiller
Quinn Houlahan
Ellie Houlihan
Madison Hu
Abigail Ilfeld
Mustafa Eren Isiktas
Matthew Jarosz
Olivia Jenkins
Tara Jovic
Soyoung Jung
Ryan Kalugdan
Marek Kampa
Aditi Kapoor
Patricia Katasi
Henry Kauth
Teddy Kennedy
Kristy Khan
Alison Kitchkommie
Jackson Knizhnik
Trevor Kodzis
Aaron Koshner
Audrey Kost
Abbie Krupnick
Salina Kuo
Augustin Lacroix
Laure Lambert
Maya Lameche
Michael Landis
Suzanna Lathrum
Emery LeCrone
Brian Lee
Sveta Lee
Solene Lesegretain
Cash Leung
Julia Leviev
Elan Levine
Ali Levontin
Holden Li
Maximilian Lim
Hannah Lipman
Bill Liu
Misa Lucyshyn
Moira Ma
Anna Maher
Angie Maldonado Rodriguez
Rivky Mandel
Hugh Mansfield
Macha Martin-Camus
Alexandre Mayor
Sebastian Mayor
Brett McStotts
Luyao Mi
Pierre Michel
Lucy Miller
Dongjae Min
Ariella Mitchell
Joseph Moussa
Sasha Newman-Oktan
Anne Nguyen
Maureen Nole
Isabella Noonen
Grayson Noyes
Nasser Odetallah
Marc Orriols Gimenez
Elise Otmani
Justas Pakasius
Latasha Palmer
Cynthia Parra
Pooja Patel
Antonia Perez
Emily Peterson
Rubaab Poonawala
Aida Ramos
Paul Rin
Marla Rinck
Evan Rork
Alessia Russo
Maya Saar
Angele Sahraoui
Natsumi Sasabe
Justin Schachter
Reagan Schweppe
Dallas Scott
Lily Sellei
Randall Setzer
Benjamin Sherbakov
Charles Shields
Samuel Shih
Alisa Shodiyev Kaff
Dylan Michael Shubert
Noa Siegel
Meredith Silfen
Noah Simon
Conor Spangfort
Krystal Sun
Shawn Tai
Maria Tamburro
Ashley Tan
Jonah Sheen Tan
Malaika Tayi
Lee Taylor
Nicolas Thiel
Ysabella Titi
Nicholas Tom
Andy Tran
Jason Trinh
Victor Trolet
Griffin Utz
Robbert van Batenburg
Alessandra Varnes
Jaeme Velez
Keyi Wang
Zifan Wang
Maris Welch
Maxwell Wilson
Qianyi Wu
Jiaxin Xu
Heyuan Yao
Clary Ye
Justin Yeo
Ra'ad Zeid
Lily Zerivitz
Olivia Zhang
Hanlin Zhang
Jeremy Zhang
Mengying Zhang