101 Students Inducted into GS Honor Society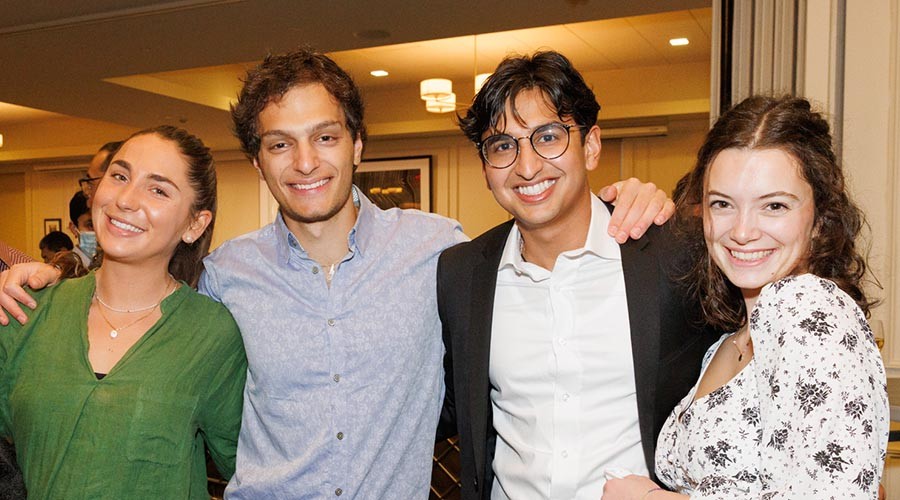 On Wednesday, March 9, faculty, staff, friends, and family gathered at Columbia University's Presidential Ballroom in the Faculty House (with some guests joining via a virtual livestream) to celebrate the induction of 101 students into the School of General Studies Honor Society. The ceremony was followed by a reception for inductees to mingle with their fellow GS Honor Society members, as well GS administrators and staff members.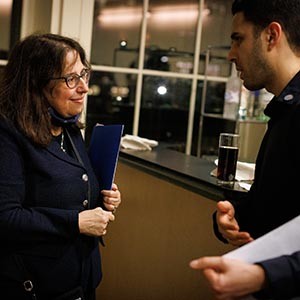 The GS Honor Society was created in 1997 to recognize the exceptional academic achievements of GS students who have earned a cumulative GPA of at least 3.8 in more than 30 points of academic coursework at Columbia.
Dean Lisa Rosen-Metsch welcomed the attendees with opening remarks, reflecting that, "This event celebrates the best of the best at our college and it brings me special joy that we are able to be here together tonight in-person to celebrate this happy and momentous occasion and the accomplishments of our students." Dean Rosen-Metsch went on to introduce the keynote speaker, Eli Casden '03GS, '03BUS.
Sitting here today, not only have you shown yourself to be life entrepreneurs, but that you are also amazingly good at it, top in a top school – future scientists, artists, economists, historians, and as I count three sustainable engineers and a Yiddish major, a lot of Chutzapah for a group of nontraditional students.
Eli Casdin earned a B.S. from Columbia University and an MBA from Columbia Business School. He founded Casdin Capital in 2011 and serves as Chief Investment Officer and Founder. Focused on emergent technologies in Life Sciences for more than two decades, Mr. Casdin has been active in both the private and public side of the capital markets, following a passion for analyzing and investing in new technologies and business models within the Life Sciences and healthcare industry. Additionally, he serves as a director or an observer on various boards for a number of public and private life sciences companies, trade groups, and academic institutes including Rockefeller University, the New York Genome Center Board, and the Columbia University School of General Studies Board of Visitors.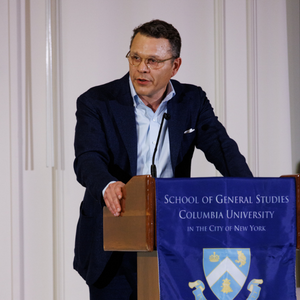 Eli reflected on the history of the School of General Studies saying, "While the GS origin begins with creating a way back for GI's coming home from the war, I like to imagine it was also a quiet way for Columbia to leave the admission door unlocked and ajar, wide enough to let society's interesting and impactful, nontraditional (code for different), access to knowledge and education. Close doors equal closed minds and Columbia somehow recognized that early and adjusted for it."

Eli's remarks were followed by the presentation of the new members by Victoria Rosner, Dean of Academic Affairs.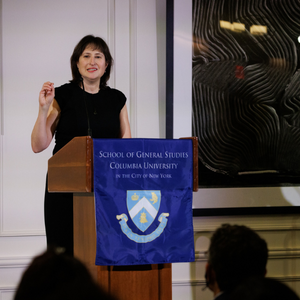 Dean Rosner remarked, "The GS student body, as you know well, is like no other in the Ivy League. Our students come from all walks of life, all parts of the world, and together collectively body forth an extraordinary diversity and a robust academic community. The students we honor today do, however, have one crucial thing in common – their academic excellence."
She added, "These students are not everyone's idea of 'typical American college students.' Many of them are international in their origins, and global in their outlook. They have a maturity derived from life experiences including military service, travel, parenthood, career, immigration, and artistic endeavor."
"As important as their preparation for study at GS has been, equally impressive are the plans these students have made for the future. Many are going on to graduate school, to fellowships, or to professional positions. I have great confidence in their future success, building on the records they have established at Columbia GS," she said.
The Honor Society is an opportunity for us to celebrate you and the pursuit of the intellectual life.
Among those inducted this spring are 25 students enrolled in the School's dual-degree programs with List College of Jewish Theological Seminary, Sciences Po in France, City University of Hong Kong, and Trinity College Dublin, and students from countries all around the world, including Bolivia, Taiwan, Italy, South Africa, Israel, and Ireland. 14 US veterans and 4 students who served in the armed forces of other nations, 25 first-generation college students, and 30 students who began their studies at community college were also inducted.

Dean Rosner said, "Diversity, as you know, is the hallmark of the GS student – diversity of age, experience, gender and sexual identity, national and ethnic origins, and every other axis of human definition; and the students gathered here today embody that fact. We acknowledge and value the fact that many of our Honor Society students have collected extensive life experiences before coming to Columbia GS."

The chief aim of the GS Honor Society is to cultivate interaction among those committed to intellectual discovery and academic excellence. The only group of its kind at the University, the Society offers opportunities throughout the year for its student and alumni members to interact with one another, as well as with the faculty who enjoy working with such outstanding scholars.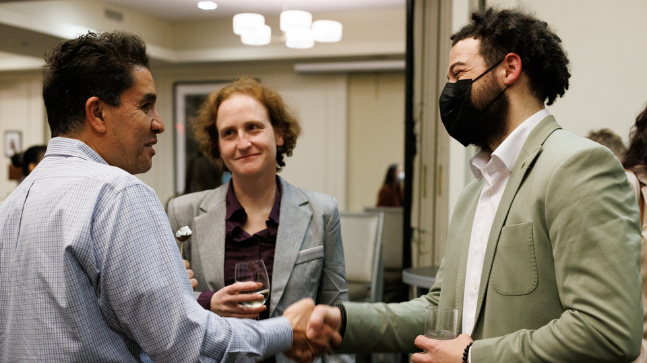 Inductees 
Kirstene Abe
Edinson Aguinaga
Shanzheng Ba
Daniel Barth
Laura Baruch
Lilah Beldner
Brennen Bickford
Juliana Bongiorno
Matthew Botros
Matt Braaten
Yasha Brudno
Katarina Bustoz
Chris Camp
Gwyneth Campbell
Khristina Cayetano
Ying-Tsun Chen
Jing Chen
Cheng Chen
Jin Cho
Soo Yeon Choi                     
Caroline Chouinard
Remy Chwae
Sean Conlon
Jeppe Damberg
Thomas Danziger
Ezra Dayanim
Aylin Demiralp
Claire Diao
Svetlana Doroshevich
Stephen Dowicz
Thomas Doyle
Gabriel Drill
James Elliott
Jeremiah Flom
Susan Foster
Orla Frenoy
Miriam Freund
Arielle Friedman                 
Wiebke Galal
Behrang Garakani
James Gasper
Michel Ge
Colby Gorog
Megan Groll
Alexandria Hall
Jungmin Han
Sophie Harrington
Rae Harris
James Ikeda
Clark Johnson
Mariclaire Joseph
Daniela Juarez
Joshua Kobusinski
Grant Koehler
Numan Koor
Raj Koshal
Paul Lamontanaro
Martha Lebron
Sangmin Lee
Yoojin Lee
Noa Liaudet
Bryce Liu
Driss Lonqueux
Anne Loustaunau
Nathaniel Lowe
Niki Manfredini
Helene Mbaye
Aundre Mignott
Ken Miura
Keila Morales
Jessie Morris
Monami Nagai
Alexis Nandalal
Blessing Osazuwa
Seoa Park
Zadig Perrot
Luke Reback
Pengfei Ren
Christian Rodriguez
Marie Samba
Julia Shaw
Yinon Shirazi
Frank Sipala
Jene Stefaniak
Cecilia Takacs
Luciana Talamas Steinbach
Hussain Taymuree
Romane Tholome
Mario Torres
Jiana Ugale
Amanda Van Dyck
Stella Vaso
Monica Victoria
Sarah Wilson
Charles Wohlers
Joshua Wong
Judy Wu
Qitian Xing
Amir Yogev
Christine Yoon
Chuqi Zhe