The Warrior-Scholar Project Boot Camp: Equipping Veterans With Tools for Success
Student and faculty participants in this July's sixth Columbia-hosted boot camp share how this unique resource empowers veterans pursuing higher education.
August 25, 2023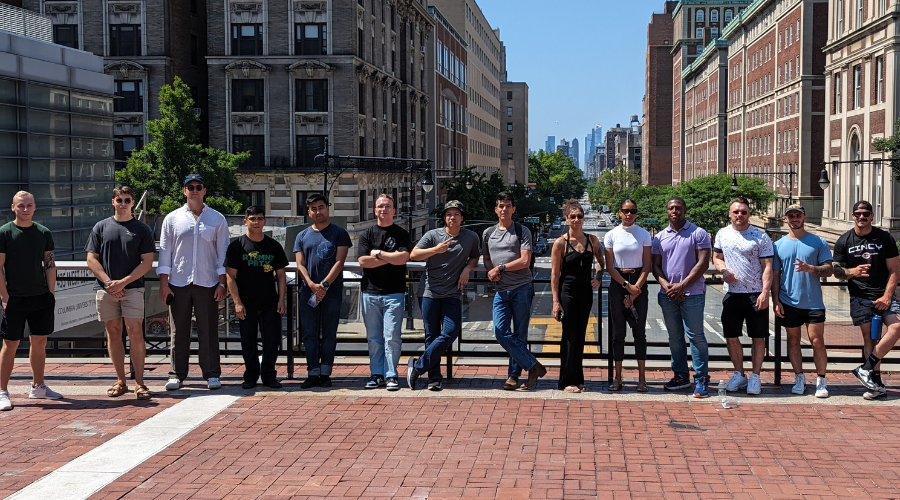 In partnership with national nonprofit Warrior-Scholar Project (WSP), Columbia University hosted its sixth Warrior-Scholar Project Humanities Academic Boot Camp from July 23-28, 2023. Helmed by faculty from Columbia and other New York City institutions of higher education, including team members from Columbia's Center for Veteran Transition and Integration (CVTI), the Boot Camp served as an invaluable gateway for veterans preparing to transition from service member to college student. Through an intensive curriculum filled with hands-on classroom experiences, and the camaraderie of peers and knowledgeable faculty, the program gives veterans the tools and confidence to succeed in their higher education pursuits.
"Getting off the train at Penn Station and hopping on the subway toward Morningside Heights, I was overcome with a sense that I had arrived," shared participant David Ulicki who served as a Corporal in the U.S. Marine Corps. This sentiment was echoed by fellow participant Alexandria Durrant, active duty service member in the U.S. Navy, who said, "to attend the boot camp at Columbia University felt unreal. Walking by the names of world-renowned philosophers inscribed on Butler Library and the statues of the Alma Mater and Alexander Hamilton, you really felt motivated to achieve excellence in any way you could, academically and personally. That energy is evident everywhere in New York City."
As motivating as the excitement of stepping on campus can be, it also comes with a fair bit of intimidation, a feeling common for many nontraditional students entering academic spaces. The Boot Camp tackles those doubts head-on by both whole-heartedly welcoming veterans into academia and giving them tangible tools they can apply long after the Boot Camp ends.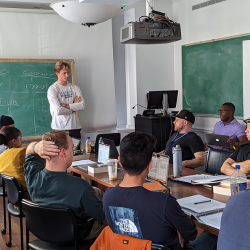 "As an active duty member with little to no college experience, I found myself developing imposter syndrome and questioning if I could really succeed at such a prestigious institution like Columbia," said Durrant. "Throughout the course, however, WSP gives you resources and helps you develop skills to make your dreams of higher education not seem unreachable." She specifically cited analytical experience and time management strategies as resources she walked away from the Boot Camp with. 
Both Durrant and Ulicki praised the Boot Camp's warm culture. "Simply put, my time at Columbia renewed my faith in humanity," said Ulicki. "The intersection of my fellow service members and PhDs was a beautiful sight to behold, and an even more beautiful community to interact with. Veterans often feel ostracized in society due to their extreme experiences while serving and have a hard time opening up about that experience as a result; my Marines, for example, are of the belief that the average American is intimidated by them, that they aren't understood. However, when put in a classroom with a Columbia professor, you could easily see who was intimidated by whom!" 
Ulicki highlighted the positive energy of the Boot Camp faculty, saying "the grace and candor the professors utilized when interacting with the cohort allowed us to open up to them, to trust them, and to believe them when they reassured us 'you, too, can do this, and I'll help you.'"
 "This was one of the best decisions I've made for getting myself ready for higher education and bettering myself as an individual. I wish that every military personnel wanting to go to college, active duty or veteran, knew about this amazing opportunity!"

 
"It is important for young people of all backgrounds to see what happens in college-level humanities classes, and to think about how those classes might be useful to them as professionals and citizens," shared Boot Camp faculty member Professor Hannah Farber of Columbia's Department of History of her motivation for being part of this unique academic program. 
"The Warrior-Scholar Boot Camps are a win-win," said fellow faculty member Professor Fiore Sireci, a specialist in social history, philosophy, and literature at Eugene Lang College of Liberal Arts, as well as a writing consultant for the Warrior-Scholar Project. "They introduce vets and active duty service members to academic life, inspiring them to make an often difficult transition by giving them an opportunity to shine, to realize their intellectual strengths. But the Boot Camps are also a win for institutions like Columbia, where future veteran students will bring a level of diverse experience and commitment that enriches everyone in the classroom, including the professor."
The Warrior-Scholar Boot Camp's combination of practical training and community building creates a truly one-of-a-kind experience. Coming at the start of many participants' academic journeys, the Boot Camp sets student veterans up for success in transformative ways. "I will carry this life-changing week with me for the rest of my days," said Ulicki, expressing interest in coming next to Columbia as a GS student.
"This was one of the best decisions I've made for getting myself ready for higher education and bettering myself as an individual," said Durrant of her experience. "I wish that every military personnel wanting to go to college, active duty or veteran, knew about this amazing opportunity!"