Taking Your Future Into Your Own Hands: First-Gen Veteran on the Importance of Persistence and Community
Leslie Blanco '24GS, a veteran and first-generation college student, shares what she's learned working as an undergraduate researcher this summer.
August 08, 2022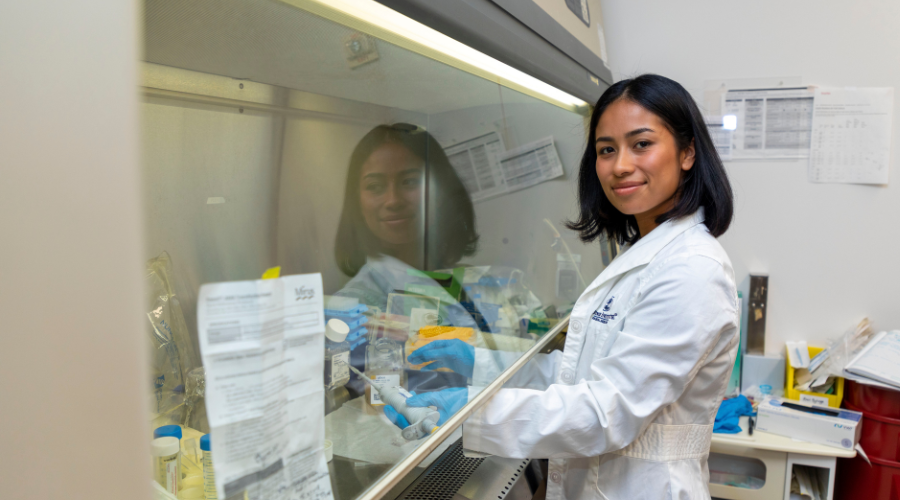 Leslie Blanco '24GS had two big goals for the summer: learning and networking. After spending four years in the Marine Corps, she returned from her station in Hawaii and jumped into college applications, setting her sights on Columbia. As a first-generation college student and the daughter of Colombian immigrants, her journey so far has held significant meaning. "This has been a huge feat for our family. Me going into the military was the first time our last name was on an American uniform, and now our last name is at an American Ivy League school," she said. "Even though I'm the one that's doing all of these things, it's really my family—and all of us are in it together."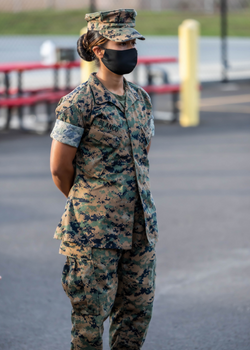 This summer, Blanco is working as an undergraduate researcher in the lab of Columbia alumnus Dr. Ron Yu '96GSAS at the Stowers Institute in Kansas City, Missouri. The Yu Lab's research focuses on how the olfactory senses—the system responsible for our sense of smell, and the only mammalian system that is regenerative—interact with perception and memory. By studying olfactory neurons, the lab hopes to gain an understanding of neural regeneration to uncover information that could help treat or prevent diseases associated with degenerating neurons, such as Alzheimer's. 
Through her role at the Yu lab, Blanco has learned an enormous amount, not only about the olfactory system, but the research process as well. At weekly journal clubs led by Dr. Yu, for example, lab members present a journal article to the group and receive in-depth questions and feedback. "It's not a question of 'how well did you read it?'—it's 'how well did you analyze what you are reading to make sure that it's accurate?" Blanco said. She hopes to apply these analytical strategies to her work next semester and beyond. 
The lab also provides opportunities to attend lectures, network at open mics, and learn from professional mentors. In fact, Blanco's postgraduate mentor has been one of the most essential parts of her experience so far. "I think that's the best thing I have seen from Stowers—that the mentors here are so eager to teach," she said. Blanco and one other undergraduate researcher work with Dr. Jaehyoun Seiler, a postdoc in the lab, as a smaller unit within the lab performing experiments.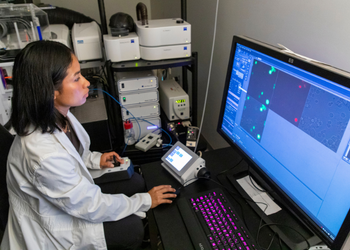 A typical day for Blanco often involves arriving at the lab early to review her notes and set up for the day. She performs PCR daily for site-directed mutagenesis, with which she performs cloning to make a plasmid with desired mutations. Blanco also enjoys performing Förster (or Fluorescence) Resonance Energy Transfer (FRET) imaging, which measures the interaction between the mutant protein and a protein of interest, each tagged with a different fluorescent protein, under a microscope. After imaging, the signals from red and green fluorescent proteins are analyzed to determine how strong the interaction is between the mutant and the target. "I definitely like seeing the end product and seeing that there is something we can work with and go onto the next step," she said. 
The active role Blanco has in the lab has helped her bridge the gap between her military service, the classroom, and the practical experience. "Being up to speed for someone who is still very young in their academic journey, that's really exciting for me," she said.
Biology and public health both carry a strong interest for Blanco right now, as well as the prospect of going to medical school. "Because I'm still a bit undecided, I think just having hands-on experience is so much more valuable than what I've been able to apply in the classroom. I always tell my veteran friends when they have their first semester, it's rough. This decompression phase after not using your brain mathematically or scientifically for four to five years, it's a big gap." 
You have to take your future in your own hands, and if you really want something, email them, and if they don't answer, email them again, and if they still don't answer, do it again!
Her time in the military still impacts the way she approaches her work, as it instilled in her the importance of perseverance in the face of adversity. "I've learned and I've failed in so many different ways when I was in the military that now, facing a shortcoming or something that I didn't expect, I definitely take it in stride and I see it as a lesson," she said.
She encourages other first-generation students and veterans not to get discouraged simply because they feel a little behind the curve or are a bit older than other students at Columbia. As this past semester came to a close, Blanco admitted she had difficulty finding a summer position that didn't require years of previous experience. Her peers in Columbia's MilVet community encouraged her to reach out through email, complete online applications, and ask around. "I emailed probably 12 different PIs [Principal Investigators] and doctors from different hospitals and research centers and I ended up getting two back," she said. 
In her quest for opportunities, she applied the mindset that persistence pays off. "You have to take your future in your own hands, and if you really want something, email them, and if they don't answer, email them again, and if they still don't answer, do it again!" she said. 
Outside of the lab and academics, Blanco has found community through her interest in competitive powerlifting. Blanco and her brother compete with a team in New Jersey, and she is also part of CU Barbell, an emerging campus club founded by GS'er Josh Park. "They are some of the best people I've met at Columbia because we all share this thirst for grit and pushing ourselves physically. Those are my people," she said.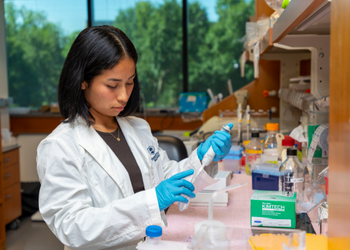 For the rest of the summer, Blanco will continue to work with her team at the Yu Lab and grow both professionally and academically. When asked about advice she'd give to fellow students or veterans looking to get involved in research and gain experience, she said: "At the end of the day you have to do what's best for you and if that means sending an email every day until you get an answer, then so be it."
But, perhaps most importantly, "You have to take the initiative," she said.