Profiles of the Spring 2020 Incoming Class
The incoming Spring 2020 class comprises a diverse group of students, boasting 52 U.S. military veterans, 19 veterans from foreign militaries, and international students representing 25 countries. It also includes teachers, designers, entrepreneurs, dancers, venture capitalists, musicians, real estate investors, and workers in the nonprofit, healthcare, global affairs, government, law, hospitality, technology, and securities industries.
Below, a few incoming students share their stories from their experiences before coming to GS to now—all of it culminating in their enrollment at Columbia University.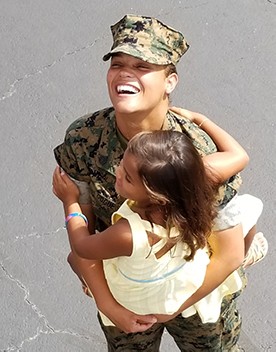 Alaura Gogue
After serving as one of the few women in the Marine Corps for more than 11 years, first as a flautist and later as a combat instructor, Alaura Gogue was accepted into the Marine Corps Enlisted Commissioning Education Program. Through the Program, she joins the School of General Studies this spring as a first-generation student, and a married mother of two children.
"I had the honor of playing at many different venues, parades, and ceremonies across the United States in the Marine Corps, and after six years as a flautist, I was given the opportunity to assume a special duty assignment as a combat instructor. For three years, I trained entry-level Marines in basic infantry and weapons tactics," Gogue said.
In addition to her desire to serve her country, the primary reason she joined the military years ago was to pursue higher education, and the Marine Corps Enlisted Commissioning Education Program allows her to attend Columbia as a full-time student, complete her degree, and commission in the Marine Corps as an officer.
"I chose GS because I wanted the rigorous Ivy League education, and as a mother, spouse, and Marine, I was enticed by the prospect of receiving my education alongside other nontraditional students," she said.
After her graduation and commissioning, Gogue plans to continue serving both the United States and the Marines placed under her charge.
"I truly believe the exceptional education I will receive from Columbia will strengthen my leadership capabilities, and I'm excited to become a part of the GS community and fully involve myself with my peers both academically and socially," Gogue said.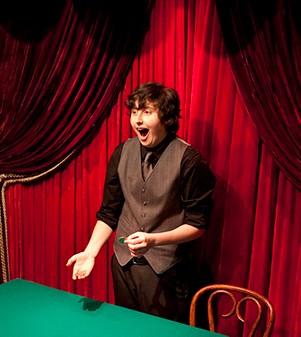 Oliver Harris
At 16, Oliver Harris dropped out of high school to pursue a full-time career as a performing magician. Years later, he decided to pursue higher education and enrolled in community college. As a GS student, Harris plans to continue his research and develop a thesis on the Big Five, taking full advantage of the resources available at Columbia University.
"Before coming to GS, I was a professional magician at the Magic Castle in Hollywood. During my teenage years as a regular close-up performer, I saw (and did) some inexplicable things—magician's pro tip: never put flash paper in your fire wallet," Harris said.
During his high school years, Harris would sometimes skip class in favor of going to the downtown library, where he taught himself anything and everything that interested him. At 16, he dropped out of school, focusing on performing magic and writing fiction novels as a hobby. Eventually, he enrolled at Santa Monica College, where he discovered a fascination with personality psychology and its measurements.
"I found that I had a keen eye for invisible systems, thanks to my training in magic, and a wider perspective on psychology in general, thanks to my auxiliary studies in shamanism, Greek mythology, religion, and affective neuroscience. In my second year, I conducted original research and took a job as a supplemental statistics instructor," he said. 
During this time, Harris learned about GS, and knew that it would be the best home for him, and specifically, his research.
"As a GS student, I'm aiming to take my pilot study, which linked Five-Factor Model personality traits to systematic reactive emotions, and beef it up; I hope to have a finished thesis by the end of my junior year." 
His end goal is to create a more precise measurement of trait personality, which looks into the mind without invasive machinery, producing a higher-resolution image for all applications from therapy and assertiveness training to psychopharmacology and diagnosis.
"Even more so, I'd like to be a teacher and see if I can reach that kid who ditches class to stay in school," Harris said.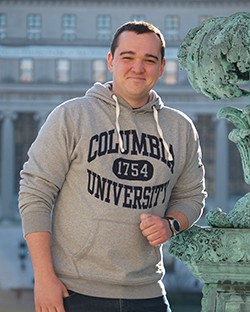 Joshua Petitt
Joshua Petitt joined the U.S. Navy at 20 years old, working first as an airman recruit and later becoming an aircraft electrician. While he excelled during his service, during his final deployment Petitt discovered a passion for literature and writing. He joins the School of General Studies this spring to pursue a creative writing degree, a passion that was born during his final deployment after experiencing a memorable night aboard an aircraft carrier that led him to sink deep into fiction and its writing.
"The mere act of shifting thoughts—to words, to worlds—exhilarated and fulfilled me. One night on the ocean, with still water stretched to every horizon and a cloudless sphere of stars about the ship, I decided to make a career in storycraft my long-term goal," Petitt said.
He would go on to enroll in community college, where he put forth the same level of hard work and commitment that allowed him to excel in the military directly into his studies. That determination, coupled with his clearly defined goals, resulted in not only a successful, but extremely enjoyable, return to academia.
"I approached every course with literary intent, taking what pieces I could use to better my craft," he said
Petitt learned about GS from a postcard invitation to an information session in Seattle, and after visiting the website to learn more, discovered that the creative writing program fit his goals perfectly.
"At first, I laughed at the idea that I had been placed on the School's mailing list. Me? Really? Just to satisfy my curiosity, I ended up attending the session. As the presenter spoke, I felt a sudden swell of hope and fear. A thought entered my head and refused to leave—this might actually be possible."
As a self-described high school dropout, Navy aircraft electrician, home renovator, winery cellar-master, and apprentice vintner, Petitt has worn several hats throughout his life. According to him, the one that brought him to GS is one he's still trying to fit properly: fiction writer.
"While hope and fear remain ever-present, they must now contest with a monster of excitement. Excitement at the chance to dive deep into a rigorous and challenging academic environment. Excitement at being a part of a student body that encompasses all manner of backgrounds, belief systems, ideologies, and passionate career goals. Excitement at the number opportunities for expression and adventure throughout the city. However this all turns out, I'm glad I attended that information session," Petitt said.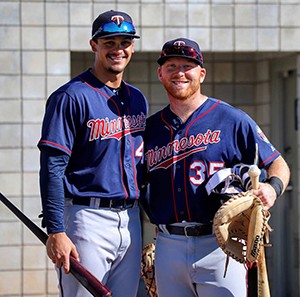 Benjamin Rodriguez
Benjamin Rodriguez, former first baseman and catcher in the Major Leagues, decided to trade in the ball field he was used to for the medical field, joining the Postbac Premed Program this spring. He was inspired by his family's dedication to service and plans to dedicate his own life to serving others through medicine. 
After graduating from Pepperdine University in 2017, Rodriguez was drafted by the Minnesota Twins to play professional baseball.
"Knowing I was stepping onto a plate that had been shared by the greats of the game was such a humbling experience. Baseball taught me a number of things—discipline and dedication to a craft, but also that my passion for my future was actually in another field. I am blessed to have been involved in a sport that many grow up dreaming of playing professionally, but I am excited for where my true passion lies," Rodriguez said.
His family has always been dedicated to service. His mother joined the Peace Corps after college and was stationed in the Dominican Republic, where she met his father. His sister joined Teach for America after college, and subsequently earned a master's degree in education from Columbia before becoming dean of an elementary school in Bedford–Stuyvesant, Brooklyn.
"More than anyone else, however, I am most impacted by my dad's commitment to serving others as a physician and an immigrant to America. The amount of love that he spreads through healing is something that I will always strive to emulate. Like the other members of my family, I am committed to serving others and I intend to follow in their footsteps by making as great of an impact as I can in the medical field," Rodriguez said.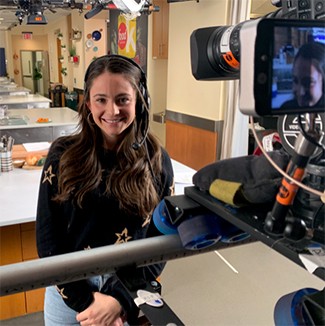 Grace O'Doherty
At the onset of a successful TV production career, Grace O'Doherty began to experience strange health symptoms. She visited several different doctors and specialists, but it was not until she encountered a doctor of functional and integrative medicine that she received the correct diagnosis and developed an effective, holistic approach to managing it. O'Doherty's personal experience with illness has inspired her to change careers and enroll in the Postbac Premed Program in pursuit of an eventual application to medical school.
"On paper, it makes no sense for me to pursue a career in medicine. As an undergrad at UC Berkeley, I took one science class called Physics for Future Presidents. Quick to say I was not a "numbers person," I used this class to tiptoe around the hard science requirement. Interested in becoming a producer, I created my own major called psychocinematics: a blend of cognitive science, psychology, and film. I set out to climb the TV production ladder, and found myself on the sets of The Tonight Show Starring Jimmy Fallon, Saturday Night Live, MTV's reboot of TRL, a sketch comedy show in Provo, Utah, and the Food Network. From writing dialogue for characters like Bigfoot to asking Rachael Ray how to properly season a burger, my only medical experience included a sketch I helped produce about Frankenstein refuting his medical bills," O'Doherty said.
Up until her last year of college, O'Doherty visited her doctor on an annual basis, and had no issues with her health. However, as she pursued her new career, she began experiencing strange and inexplicable symptoms like vertigo and muscle weakness.
"I sat in countless waiting rooms and visited specialists with the frequency of an avid speed dater. From diagnoses from labyrinthitis to cervicogenic dizziness, I had a hard time getting a diagnosis and felt trapped in a cycle of taking pills and putting bandages over my symptoms. Finally and whimsically, I visited a doctor of functional and integrative medicine, who determined I had Lyme disease and put me on a protocol that tackled my root illness."
O'Doherty's new doctor helped her embrace nutrition as medicine, implement lifestyle changes, and blend eastern and western healing modalities. As she began feeling better, she understood the "magic pill" she thought she wanted did not exist. Instead, she found a holistic approach to wellness that didn't depend on prescription medicine.
 
"I wrote off the idea of becoming a doctor pretty early on. Nevertheless, my personal journey has encouraged me to be a part of the new wave of innovative, tech-driven, and open-minded medicine. My case was not simple to solve, but the marriage of facts and ingenuity helped me get answers. I hope to follow in the footsteps of other trailblazing Columbia graduates like Dr. Robin Berzin of Parsley Health, and use my creative background to keep energizing this field. As I start my journey to medical school, I'm thankful for learning how to carry six cups of coffee at once during my production assistant days. I think I'll be needing lots of it," O'Doherty said.