Profiles of the Fall 2021 Incoming Class
The Fall 2021 incoming class comprises a diverse group of students. Below, a few of them share their stories, highlighting their experiences and backgrounds before coming to GS to now—all of it culminating in their enrollment at Columbia University. 
August 16, 2021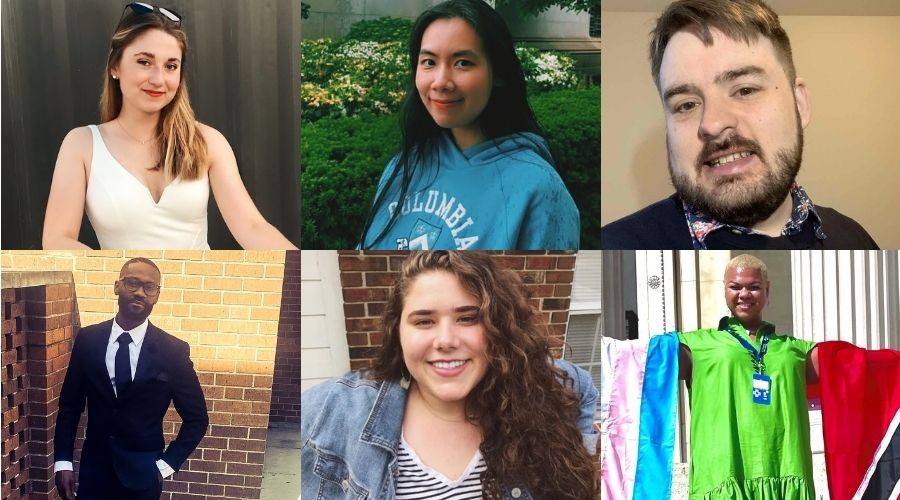 Undergraduate
Postbac Premed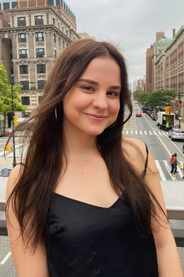 Sarah Noon
"Watching people close to me suffer from flawed social policies sparked my interest in better understanding the bureaucratic process so I can advocate for legislation that increases social mobility. 
My socioeconomic status changed dramatically, forcing me to confront the realities of American inequality at a young age. I moved from poverty in Utah into a beautiful home in the Michigan suburbs. Overnight, without having to work for them, I had a cell phone, two parents, and my own room. I became deeply conscious of the role that class plays in each person's life. Education means more than getting a degree. To me, it also means having a clear understanding of my own position in life and using my experiences and education to work on behalf of those who go unheard.
At 16 I was removed from my regular high school and into an alternative school. I developed chronic migraines and fell behind. I remember thinking I would never make it out; that all doors were closed. At the same time, I began to see the world differently. I witnessed other struggling students up close—some with substance abuse disorders, health issues, and many struggling to leave the juvenile justice system—other nontraditional students. This gave me insight into the realities of the criminal justice system, harsh sentencing, and policies that I passionately advocate to dismantle today. 
While attending Oakland Community College, I found my passion for academics, civic engagement and political issues—and began to take action. I started realizing my full potential as a student leader and activist, seeing opportunities I thought were closed to me within reach.
A friend from Phi Theta Kappa encouraged me to apply to GS—without them, I'd never have foreseen myself attending a university like Columbia University due to the perceived stigma that surrounds poverty, alternative high schools, and community colleges—I'm eager to bring my experience and passion for increasing social mobility to work in collaboration with my education. My experiences have given me the confidence to thrive as a Columbia University student. I look forward to connecting what I'm learning in the classroom to my activism outside of campus."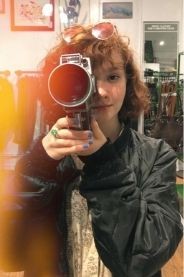 Taylor Richardson
"My coming of age story is nontraditional. When I was ten years old, I was cast in the 2012 Broadway revival of Annie. My entire life was uprooted, moving from middle-of-nowhere Virginia to New York City. I grew up on film sets and backstage at Broadway theaters, soaking up as much knowledge and experience as I could. As I got older, I realized I wanted a hand in creating the stories being told. So, I decided to pursue filmmaking. The film studies program at Columbia University is exactly what I wanted to combine my practical knowledge of filmmaking with an academic understanding.
Acting professionally from a young age gave me a unique perspective on life and education. Throughout high school, I worked on multiple film, tv, and theater projects. I participated in online schooling and was homeschooled in order to balance my work and academics. After graduating in 2019, I took two gap years to pursue various acting and filmmaking projects including HBO's The Gilded Age and Netflix's All Together Now. When considering college, I feared that balancing my career and seeking higher education would be impossible. Then, I discovered Columbia GS. The rigorous curriculum paired with an understanding of nontraditional students gave me the flexibility to further my studies while continuing to work professionally in the film industry. I am beyond excited to start my journey at GS this fall!"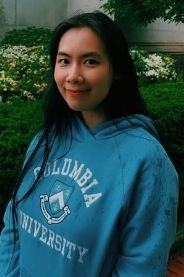 Thinn Nandar Soe
"I am from Burma/ Myanmar, a third-world country where education is used as a tool of political indoctrination. As I write this, the military junta is seizing total power from our fledgling civilian government. My parents, with bitter decades of suffering under this junta, sacrificed their apartment so I could attend secondary school in Singapore. I was just an average student, no matter how hard I tried. I wanted to make my parents proud, but constantly struggled with society's expectations and exam pressure. I often faced failures—my math teacher told me I would not get into a prestigious university. Nevertheless, I earned my Singapore-Cambridge O-Level Certificate with decent grades. Without realizing my parents' financial situation, I pressured them to send me to school in a western country and enrolled at the University of New South Wales in Australia. My life changed drastically when I had to drop out as my parents' business fell into turmoil. I felt vulnerable to others' judgments about pausing my studies to cope with my family's situation. The feeling of being a 'drop-out' and a failure intimidated me. But I did not give up. My formal education was interrupted for four years, but I gained invaluable experiences, like finding constructive ways to help my parents' business while teaching English. I moved to NYC in 2018 to resume my education at Borough of Manhattan Community College.
I never would have thought that I would get admitted to an Ivy League school due to the negative perception of attending a community college. But I would not be here if I doubted myself. Instead, I grasped the opportunity and challenged myself to apply. This was an important step.
I chose Columbia University GS because I believe that a liberal arts background is an asset in today's diverse world. I trust that the core curriculum will empower me to develop convictions and reach my full social and academic potential.
Without all those failures, I would not have become the strong, outspoken woman I am today. Even though my life has taken a path that I never imagined, I overcame the obstacles, and I am ready to continue the hard work of reaching my dream."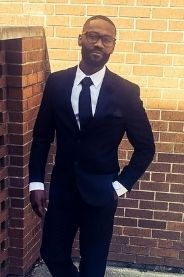 Eric D. Townsend
"Being from the Southside of Chicago, there was a greater chance of me being shot and killed than making it to GS. That may be extreme, but I've had more friends die from gun violence than make it to college, let alone finish a bachelor's degree. After high school, my wife and I started our family; at 19, with two kids, and abundant financial hardships, it was easier to bring home a paycheck in two weeks than a degree in four years. One lost enterprise after another and underemployment led to the usual pitfalls of living paycheck-to-paycheck—substandard housing, food insecurity, no healthcare—that eventually led to eviction and homelessness. Sleeping in my in-laws basement with a pregnant wife was reason enough for me to go back to school and pursue a dream that would put my family in a better situation for generations to come.
I returned to school simply to give my family a better life than what we were living, and I have an audacious goal of becoming a lawyer, while challenging myself at the best schools possible. I enrolled in a paralegal program at my local community college and pushed myself to be the A-student I knew I always could be. As I researched elite programs for nontraditional students, Columbia's School of General Studies made its way down my timeline. GS presented an opportunity to challenge myself academically while uniquely positioning me in an environment to gain invaluable legal experience in a world-class city like New York. Ironically, I spent the latter half of 2020 telling my family I was taking them to Colombia when the pandemic was over, not realizing I manifested the Ivy League university and not the South American country.
Being accepted to Columbia is a dream come true; moreover, I realized my story at GS wouldn't just be for me, but to inspire others that they too, can chase their dreams at GS."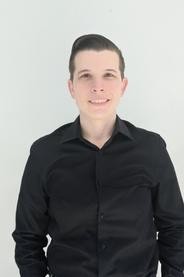 Alyssa Hill
"Growing up, I was always a loner; my mom frequently moved us from place to place as she tried to outrun her problems. So when my high school graduation rolled around, I hadn't thought about attending college. Instead, I joined the military and contemplated enrolling at a technical school for motorcycle mechanics. However, as my training finished, my plans for becoming a motorcycle mechanic never came to fruition, so I began working in the retail industry. A few companies I've worked for are Publix, Walmart, Eataly, and Trader Joe's. Currently, I'm a barista at Irving Farm but will be reducing my hours to focus on my education. Some hobbies of mine are riding my motorcycle, exercising, reading, and cooking. My life has taught me that life's too short to stress about deviations from the plan; everyone's path is different as long as you don't lose sight of your goal, you'll achieve it. The path just might look a little different than you thought.
I spent roughly 10 years working minimum wage jobs, trying to find something that inspired me to be better, to do better. However, it seemed that I was never satisfied with my job, no matter where I went. So finally, my journey in life brought me to NYC in 2015. The city gave me space from my immediate family and removed me from the Midwest; it taught me so much about myself and allowed me to reflect on my past. Four years after moving here, I determined that I wanted to go back to school and pursue a degree that will allow me to help people. One of the biggest struggles for families and individuals is money, so I chose to pursue a degree in economics and finance. My dad taught me to leave things better than how I found them, so I plan to use my degree to better people's lives through financial understanding and security.
Two of my Borough of Manhattan Community College professors suggested that I apply to GS. After looking into the college's history and understanding its stance on bettering our future, I knew that Columbia University's community would be some place I could help make a difference." - AlexHill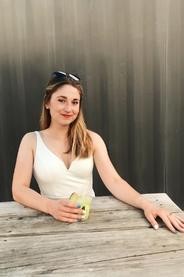 Katherine Kuckhoff
"Desperate to stop me from bouncing off the walls, my parents enrolled me in my first dance class when I was 5 years old. Throughout middle school I danced daily and was part of a local, traveling dance team. In high school I wanted to focus more on my technique and entered a ballet competition to help solidify this goal. By the time the performance was over, I'd fallen in love with the precision of classical ballet. I relocated to ATL Academy of Ballet & Dance and later joined their daytime professional training program. The summer before my senior year, I accepted a trainee position with Philadelphia Ballet and completed my last year of high school remotely from Mount Paran Christian School, long before remote learning was normal. A year later, I joined the Nashville Ballet company and danced professionally for the next 2 years while studying at Belmont University.
When the pandemic hit in 2020, I'd been dancing professionally for a year and loved every minute of it. However, as the months of Zoom ballet wore on, I began to feel weary. Performing felt hollow without the energetic air of a packed theater. I decided it was time to apply to college and pursue my dream of becoming a medical doctor. I was loathing the application process though. Six prior college applications taught me that universities often shied away from my career as a professional dancer as well as my gap year from education. I Googled 'colleges for nontraditional students' and came across GS for the first time. The mission statement was such a stark contrast to what I had experienced thus far in education; I thought I was dreaming. For the first time I felt like my ballet career wasn't going to be seen as a villain (as it often was) in the eyes of academia. Feeling liberated, I told my nontraditional journey in great detail (including every B- and blister), and when I received my acceptance letter I felt like I was finally being valued based on my whole story and not just my high school GPA. GS has opened a door for me that I thought my ballet career had shut forever. I am eternally grateful for the opportunity to attend an Ivy League University and can't wait to step onto campus this fall." - Katherine Kuckhoff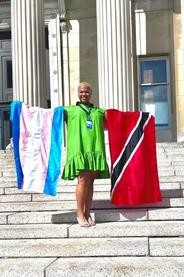 Xoë Stanley
"My path to GS has been very winding and unexpected, laden with jubilation, trauma, and a whole lot of grit. I've been living in Trinidad and Tobago for the past 5 years and have continuously used my platforms to further the rights and visibility of the LGBT+ community, with a focus on my trans and gender non-conforming siblings. Through leading various demonstrations and marches, as well as media engagement with local organizations Pride Trinidad & Tobago and the Trinidad and Tobago Transgender Coalition, I've been able to create safe spaces for queer bodies to exist unpoliced in Trinidad, while seeing themselves represented in the spotlight. I've also paired my activism with cultural influence through performances as the Queen Mizz Jinnay! Mizz Jinnay has given me a creative outlet to ensure contemporary queer representation in all forms of media. 

I had no intentions of returning to school or applying to GS. After being in Trinidad and experiencing the repeated repudiation of my queer identity as well as creative brilliance, I've spent most of my time trying to escape. I convinced myself that filing for asylum in another country would be the best way out, but my latest attempt fell through in January 2021. I planted my roots in Trinidad and simply showed up to life, no matter how tumultuous, unsafe or unsettled I felt. A friend of mine who's a GS student reached out suggesting I apply. Having just been rendered homeless because of my gender identity, I didn't feel like I had it in me to consider such a possibility or even to 'dream' anymore. My immediate focus was literally securing a roof over my head. Nevertheless, I listened to all the possibilities that were inherent in this opportunity and decided to give it my best shot. I felt like if this prestigious institution had already made an opening for people with such nontraditional pathways, then surely I fell into that category and would have a chance at this inconceivable opportunity. Now, eight months later, as I type this from my campus housing room, just one block away from Columbia, I'm still in awe that the rest is truly history and my future shines brighter than I could have ever imagined." - Xoë Stanley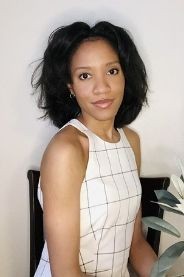 Anastasia Cuff
"My desire to enter medicine was sparked a few years ago. I was 20 years old when I heard three words that jolted me: 'You have cancer'.
I was terrified. But upon learning this, my curiosity took over. At the start of treatment, I told my oncologist that I had a LOT of questions. Armed with a notepad and pen at every visit, I dove into the world of cancer. I learned about cancer cells, drugs, and their biochemical components—in real-time. My oncologists at Memorial Sloan Kettering Cancer Center fed my curiosities and wide-eyed enthusiasm with stimulating conversation and journal recommendations, which meant so much to me during this vulnerable time.
At the end of treatment, I knew I had to help the cancer population, and I have not looked back. I became a leader-in-training at a camp for pediatric cancer patients and survivors and worked for CraftJam, an NYC-based startup led by a passionate founder who's dedicated to creating classes that serve to make crafting fun and social while teaching new skills. Her mission spoke to me as art was my therapy during treatment.
I spent two summers assisting with research at a biopharmaceutical company whose drug therapy uses a laser-activated dye to target and destroy cancer cells while preserving patients' vision. I was proud to be on a team with such a strong desire to transform lives.
Recently I joined the advisory board of a cancer-related organization, where I'm able to create diverse and inclusive programming for adult patients and survivors. Our goal is to provide a greater sense of community and emotional support, addressing aspects of cancer that are often overlooked.
From being a former patient to joining a drug research team to becoming an expert and specialist in the future—I hope to contribute a unique perspective to medicine and I am beyond excited for the path ahead. I chose GS because I knew I'd receive the support, encouragement, and rigorous coursework needed to prepare for the journey to become a physician. I wanted to be in an enriching environment with incredible students and faculty I could learn from. It's safe to say that my curiosity is still insatiable."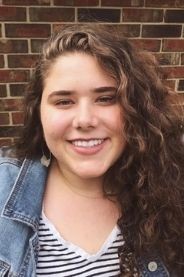 Sara Sigel
"My path to GS has been an indirect one. At the age of 15, I went to Columbia University for a summer medical program where I learned about genetics and got to explore the field of medicine. After the program, I was passionate about going to medical school. Upon entering college, the intensity of premed courses scared me away from pursuing a medical degree. Since the age of 6, my passion has always been dancing. I've been on many competitive dance teams from a young age and was always othered for the size of my body. Throughout my teenage life, I developed many undiagnosed illnesses that brought me to seeing many physicians who all told me the same thing: to lose weight. My chronic illnesses took years to be diagnosed. Now, I plan to be a physician that stands behind the Health at Every Size (HAES) principles and uses the most updated research to treat my patients. I will continue to fight against weight discrimination in the medical field to push for equal access to medical care for all people.
I have held jobs in nonprofits working with houseless pregnant people. I've worked on a University campus advocating for the health of students, including LGBTQIA+ health, sex education, nutrition education aligned with HAES principles, and more. Throughout my public health career, I have assisted with dental education and created films for the county to present in elementary schools.
I finished my Master of Public Health and knew my drive to be a physician was still strong. In my day-to-day life, I educate on many topics surrounding weight discrimination, HAES, and fat phobia. I am passionate about fighting weight discrimination and creating equal access to healthcare. I know I can combine my public health degree with my medical degree to make the greatest impact.
The path to medical school, and medical school itself, will include biases around weight and body size. This will impact me personally, but I am ready to go through it and become a physician! I live with multiple chronic illnesses that can make this path all the more challenging - however, I am ready to tackle medical school!"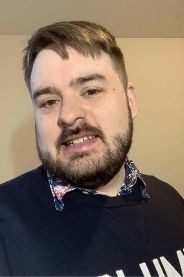 Steven Losco
"During the first week of COVID, I lost the luxury retail position that I'd recently been promoted in when the store closed permanently. I had been working in luxury retail after moving to New York in 2017, a few years after graduate school, where I had been studying the social implications of HIV stigma among gay and bisexual men on Grindr. Having the opportunity to rethink my life this past year without getting caught up in the 'glamour' of fashion, I discovered I was really more satisfied pursuing something related to my degree and research—and also because I kept finding myself reading academic monographs.
I started to pursue PhD programs, but was distinctly lukewarm about an academic career. Becoming a doctor was something I briefly considered at the end of graduate school, but largely downplayed since 'I'm not a science or math person'. As I reflected on my time in retail, I realized that I have more math skills than I thought (I just hadn't really used them). And, truthfully, I've enjoyed the science classes I've taken; I just didn't take the traditional classes to fulfill my requirements. I chose Columbia University because of the preparatory classes available in the summer for physics, chemistry, and calculus—which I am now taking so I can perform successfully in the fall—as well as the extracurricular leadership opportunities, exclusive clinical opportunities for Postbacs, and the linkages with prestigious medical schools around the country and the world.
I want to become a doctor to serve the queer community by being a knowledgeable, culturally-competent clinician. I also want to do research on queer care and create evidence-based knowledge that can find its way into insurance coding schemes and be taught in medical schools, so competent care is widespread and not a luxury."