GS Student Leaders on the Rewarding Work of Bolstering Campus Community
Student Body President Emily Glenn Robinson '23GS, Postbac Premed Student Council (PPSC) President Hannah Ressinger '23PBPM, and GS University Senator and GS Alliance President Bruce Goumain '25GS reflect on the joys of student leadership and share tips for their peers looking to get more involved in campus community. 
October 24, 2022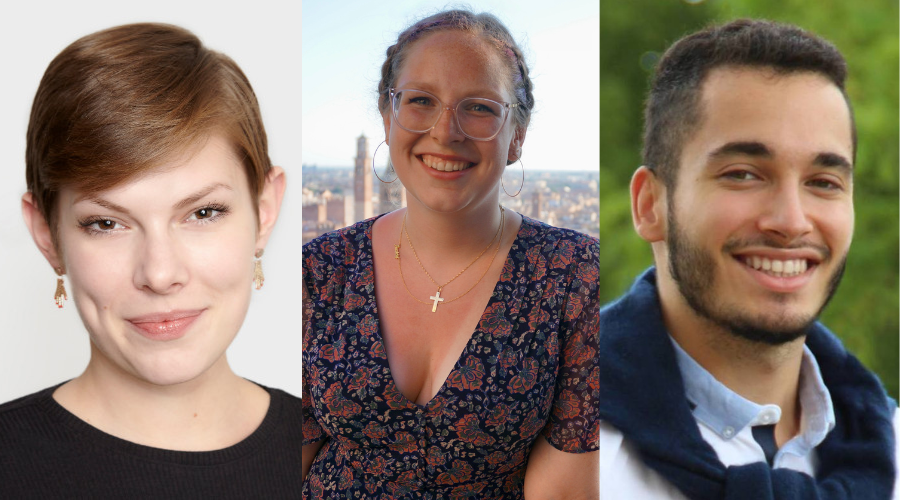 One of the most invaluable parts of the Columbia GS experience is found beyond the classroom, in GS's vibrant and diverse student community. Whether accessed through involvement in student groups, attending campus events, or just hanging out in the GS Lounge, GS student life empowers students to connect with, learn from, and support each other through their GS tenure and beyond.
One of the reasons GS has such a robust community is because of the dedication of student leaders—GS students who give their time and energy to advocating for their peers' interests and building community spaces that bring GS'ers together. We spoke with three current student leaders, Student Body President Emily Glenn Robinson '23GS, Postbac Premed Student Council (PPSC) President Hannah Ressinger '23PBPM, and GS University Senator and GS Alliance President Bruce Goumain '25GS about what drew them to get involved in student leadership roles, the challenges and triumphs of supporting student community during the pandemic, the transition back to in-person activities, and their advice for GS'ers looking to deepen their engagement with campus community.
Before we dive into your student leadership experience, what is your GS story?
Emily: I moved a lot as a kid, went to a minimum of eight schools, and in high school I came incredibly close to dropping out. I struggled with mental health growing up and in school I didn't struggle with grades per se, but I was wildly truant—I just didn't go to school. So, when it came time to apply for colleges I hadn't because in my senior year I really focused on graduating high school, something that I thought was unattainable for myself. I went to school every single day my senior year, took a bunch of online classes to make up for stuff that I had missed, and I graduated and was really proud of it. 
After that, I took a gap year and began working at the 92nd Street Y, first for their camps, then for an after school program during the school year. Eventually, I was accepted to SUNY Stonybrook as a math major, but I didn't do well, it just wasn't the right fit for me. So I went back to work at the 92nd Street Y, eventually moving to an education department that provides arts education for underfunded New York City public schools, and there I helped write grants, develop arts curriculum, all sorts of really cool stuff. I had this career starting, but I had a moment where I realized I'd always regret it if I didn't try to get my education. I started taking non-matriculating courses at CUNY Hunter and did really well, and then I heard of Columbia GS from a longtime friend of mine who graduated from the Joint Program with JTS (Jewish Theological Seminary) and said let's go for it. Now, I'm an art history major, graduating this spring!
Hannah: I got my undergraduate degree at NYU where I studied music as well as Spanish and business of entertainment. I had a great time, graduated, and then shortly after graduating I was diagnosed with cancer. I'm all better now, but it kind of changed my course. I started working in cancer research and after thinking about it for a long time, I decided that I wanted to work in healthcare and become a physician. I did some research into different Post-Baccalaureate programs and Columbia is world-renowned, so I'm very happy to be here. I started the program in the fall of 2020 and I am in my third year, graduating this spring. Three years is a bit longer than normal, but I'm on an extended course because I also work full-time as an executive assistant at a healthcare data startup. I think that's one of the beautiful things about GS and Columbia in general is that there's a way to work it out, to be able to do both of those things at the same time.
Bruce: Right after high school, I wanted to serve a purpose that was greater than myself, which is why I decided to apply for the French Air Force. I was deployed to the Middle East and all over France, had incredible experiences, made life-long friends, and grew so much as a person. However, I always knew that I wanted to go back to school later on. After my six years of service, I applied to numerous schools in the U.S., very unsure if any would admit someone who had been out of the academic system for more than half a decade. I was mainly looking for leading programs in neuroscience, political science, and computer science, and when I received my letter of admission from Columbia, I immediately knew that it was the right place.
Why did you want to get involved in student leadership? What was the process like for getting involved and in what different roles have you been involved?
Emily: I was a commuter for my first two years at GS and finding a campus community had been really difficult. Serving as an orientation leader (including being the GS NSOP chair in 2020 and 2022), helping to usher new students in while also getting to know fellow orientation leaders, was a really good way for me to meet more people and start to build the support systems on campus I hadn't had in my first year. Junior Marshall, which is something I've done every year there has been an in-person Class Day and I've been a student, was motivated by amazing interactions I had with GS Seniors in my first year, especially peer advisors. Because they had given so much to me, I felt the urge to do something for them as well, to make their special day a little easier. 
For the General Studies Student Council (GSSC), I served as a member of the Elections Commission in the Spring of 2020 which made me ineligible to serve on the council the next year, but last year I joined GSSC as the Chief of Campus Life and then in April 2022 was elected as Student Body President (GSSC President)! With my level of involvement, I feel like I know almost every single student in GS because I've interacted with them in some space. I like being able to be a friendly face that people can feel they can come to because I remember how overwhelmed I was. Knowing I can be that person that others were for me is really nice: It feels good to give back. 
"I like being able to be a friendly face that people can feel they can come to because I remember how overwhelmed I was. Knowing I can be that person that others were for me is really nice: It feels good to give back."
Hannah: When I got here in the fall of 2020, I started looking for ways to get involved and meet other people, which was notoriously hard during Covid, of course. I got involved in the Medical School Fair, which is a huge event that our Postbac Premed Program puts on every year for not only Columbia students, but students around the city. I got involved as a volunteer the first year, then last year I was the Vice President of the Medical School Fair, so I planned and put on the whole thing virtually which was excellent and so fun. And luckily enough this year, I was elected President of the PPSC!
Bruce: In order to find my "Columbia Family," I knew that I wanted to meet a wide variety of individuals who were passionate about their own field and environment in order to also help me find my way through this vibrant society. I am still exploring a lot in classes and in extracurriculars, but the clubs that I have worked for so far are: the GSSC as Health and Wellness Representative and recently elected University Senator, GS Alliance as Treasurer last year and President this year, Zeta Beta Tau as a member of the Academic Committee last year and Vice President this year, the Society for the Advancement of Chicanos/Hispanics & Native Americans in Science at Columbia as a founding member, the Columbia Cinema Circle, and Columbia Democrats. 
Being a part of these groups is extremely energizing. I love working at different organizational levels, getting to know people from various backgrounds, and helping them out with their projects. I would say that I dedicate around 25 hours per week to club organization and 50 hours to classes and classwork which does not leave much time for other activities but I would never say no to a trip to the museum, to the opera, or to see a musical! On top of classes I am learning something new every day about Columbia, the university system in the United States, on what students want and need; I just feel like I'm growing so much every day from interacting with so many accomplished students.
What role does the organization(s) you are part of play in campus life? 
Emily: The main purpose of GSSC is to advocate for and support the General Studies student body. Our Campus Life Committee puts on a variety of events that we're going to be able to really ramp up this year as Covid restrictions continue to lift. Our Policy Committee designs initiatives and works with the GS administration and other student leadership, like working with the Columbia College Student Council last fall to advocate for an easing of PDF policies to account for the continuing difficulties of returning to in-person classes. Our Finance Committee manages our budget, helping to fund student clubs and making sure we are spending responsibly for our own events and initiatives as well. And our Communications Committee keeps the student body informed of events and initiatives and also works on communications with the administration. I'm proud to lead this amazing team, to support them in accomplishing their goals, and to continue to foster GS—this really wonderful place that's given so much to me. 
"We're really here to help our students learn the things they want to learn, thrive at Columbia, and make sure students are getting the experiences they feel are important to them."
Hannah: The PPSC is basically the overarching extracurricular organization for all of the Postbac Premed Program. So any activities, clubs, events that the program hosts or that any of our students host fall under us. We're really here to help our students learn the things they want to learn, thrive at Columbia, and make sure students are getting the experiences they feel are important to them, whether that's hearing doctors in different specialities speak, finding volunteer and research opportunities, or just making sure they have a solid network for when they go to medical school.
Bruce: GS Alliance is an LGBTQ+ club that was created by GS students, initially for students with nontraditional backgrounds, but it is open to all students. Our role is to provide our members with a safe space and activities where they can freely interact with others and express themselves as individuals in a way that is not always possible in alternative environments. We organize movie nights, arts and crafts evenings such as painting or pumpkin carving, game nights, and any event where you can get to meet new people. We supply our events with free food weekly in order to make sure that students don't skip meals and to allow them to take a quick break from studying while making new friends. GS Alliance has been an integral part of my Columbia experience and is where I made a lot of my closest friends.
As University Senator for one of Columbia's 21 schools and affiliated institutions, my role is to represent GS and to advocate for it in correlation with the other schools while sitting on the University Senate Plenary Meetings once a month. These Plenaries are intended to represent the culmination of a Senator's work in collaboration with their own Student Council, if necessary, but most importantly in collaboration with the Senate Committees that they are a part of. Student Senators are automatically a part of the Student Affairs Committee in which they work in collaboration with other student Senators to present finalized projects at Plenary Meetings to improve the University as a whole. You can also elect to be a part of a second Committee, and the one that I chose is the Information and Communications Technology Committee, where we are working on creating a cohesive structure for registration and a centralized website to gather student, class, and university information in one place.
What is your favorite part of being in student leadership?
Emily: I think it's definitely the ability to make a tangible difference. And maybe even more than the big moments, the policy initiatives and events, it's the little moments where you are able to make a student's day just a bit easier by making them feel seen and heard, by answering a question about printing, registration, the ID center, etc., taking in all of those and seeing how even in just the span of a day these sort of small positive impacts can build up to big ones.
Hannah: I think it's being able to take the things that I hear from my fellow students that they're interested in and expand on them, bring them to life. For example, in the past two or three years, diversity, equity, and inclusion (DEI) has been something that's at the top of our minds all the time. And so, this past year at the Medical School Fair, I was able to put together in partnership with many of my fellow students as well as some of our Deans and Deans from medical schools, a panel on DEI in medical education and care. We had some top tier doctors from Columbia, Weill Cornell, and Mount Sinai come in and talk about what we should all be striving for in the DEI realm for both learning and becoming healthcare providers and also as we take care of our patients. It was just an absolute treat to be able to take what I hear is important to my fellow students and bring them additional rich information and content. 
Bruce: I would say that my favorite part, after meeting people with similar interests, is being able to give back. I love sharing with others and making sure that they are thriving in their respective environments. The most important part is writing down feedback, being flexible, and making sure that every voice is being heard.
What advice would you have for GS'ers, generally or specifically for students looking to get more involved in campus community? 
Emily: This might seem like a basic piece of advice, but I'd say just ask questions: of your student leaders, your advisors, your deans, your professors, and your fellow students. You'll never quite be ready for the answers you will get, they'll surprise you and really broaden your understanding of so many things. There's this pressure of being an Ivy League student where you can feel like you need to have all the answers, but nobody has all the answers. I think when you take a step back and realize that, this opens up so many doors where you can reach out. When we work together, there are so many things we can learn and accomplish. 
"Life on campus cannot exist without you! It is up to all of us to create the community that we desire to find."
Hannah: Just give it a shot, take one small step first, like I can be there that one day, I can help coordinate this panel, whatever it is just one small step and see how it feels. Even if it was just that one time you did it, you are still an invaluable piece of that moment. You can always stay at that low key level, offering a bit of time when you can. I think going at your own pace is really important. That being said, I think most of the time, student leadership is not as difficult or taxing as people think it's going to be. It's often very enriching and it builds fantastic relationships. I would highly recommend it to anyone who was looking to get involved!
Bruce: Life on campus cannot exist without you! It is up to all of us to create the community that we desire to find. If you feel like you have not met your people yet, do not be afraid to create situations in which you will meet new individuals. It is not easy, it might be uncomfortable at times, but in the end, the rewards and experience you will get from putting yourself out there are very much worth the effort; and this is coming from someone who is fighting the fear of public speaking. Do not forget that we are all here for a very limited time, so make the most of it!