Undergraduate Research Experiences: From the Lab, To the Library, and Far Beyond
Five GS students share their experiences participating in undergraduate research projects across a wide array of academic disciplines, plus advice for fellow GSers interested in research opportunities.
February 27, 2023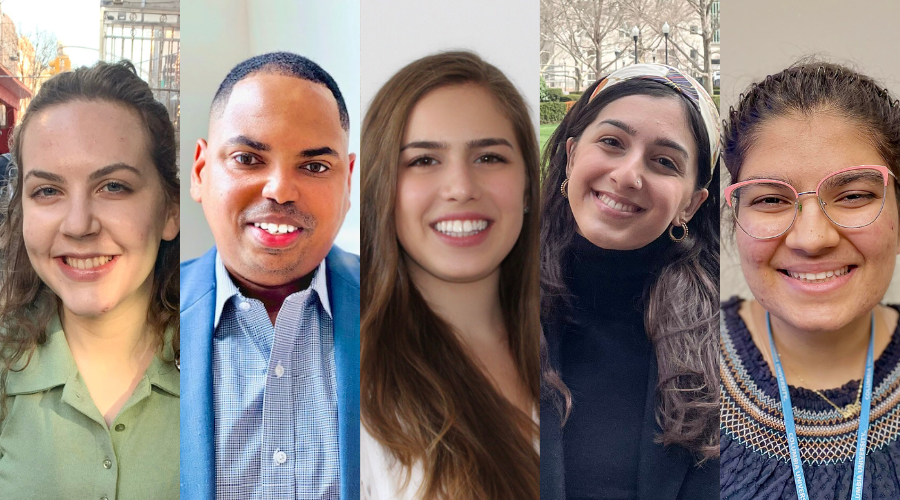 At last fall's Columbia Undergraduate Research Symposium, nearly a dozen GS students joined fellow Columbia undergraduate colleagues to present their research to peers, mentors, and distinguished guests. The range of their projects, from solo and small team endeavors to large collaborative efforts, from STEM to social sciences and humanities, from New York-based investigations to worldwide inquiries, is demonstrative of the vast array of exciting research opportunities available to Columbia undergraduates. 
We spoke with five GS symposium participants about how they got involved in research, the process of working on their projects, the impact of research on their overall academic and career goals, and what advice they would offer to fellow GSers looking to dive into research on campus and beyond!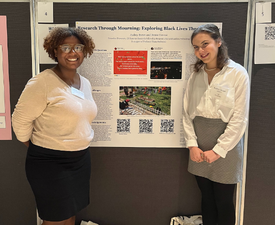 Audrey Brown '23GS
Dual BA with Trinity College Dublin, English
What was the research project you worked on and how did you get involved?
The project was called "The Last Time We Danced: Musical Life Before Mourning," and I worked on it with Denise Taveras '25CC. It was about victims of police violence, but more specifically about their livelihoods rather than their deaths, which is what is often focused on in the media. It was about their lives and the things they enjoyed doing and listening to, music and dancing. A lot of the research was based on social media of them, their friends, and family members, with particular attention to how sound and music was portrayed in both their lives and their deaths. We also made some calls to police stations looking for documentation of events. It was very hands-on and I appreciated that. Looking at people's Facebooks and Instagrams was different than reading a page with words and no face attached to it. It was really moving to be able to see the impact these people had on the world. 
I applied to the project after finding it on the GS Fellowships website. The website has preexisting opportunities, and also the ability to submit your own topic. I went for one that was an existing topic that I was interested in, and I was a student researcher in support of Professor Shana Redmond (Department of English and Comparative Literature, and the Center for the Study of Ethnicity & Race (CSER)) over the summer. She was really inspiring and gave us a lot of support. She's ultimately working on a creative non-fiction piece, but while we were helping her in this regard, it was also for our own enrichment, and the project that we presented at the Symposium was completely our own work.
What was it like participating in the Undergraduate Research Symposium?
The Symposium was a great opportunity—the first time I'd ever done anything like that in college. The two of us created a board together, a physical presentation, and then we presented our research. It was also great to see all the students who had proposed interesting topics, to be able to look around at all the other intellectual pursuits people had made throughout the year. 
What advice would you have for other students interested in research experiences?
I would just say go for it! I didn't necessarily expect to get this opportunity, but I applied for it anyway and it ended up being really fulfilling. I'm happy to have had the experience so it can inform future things I do.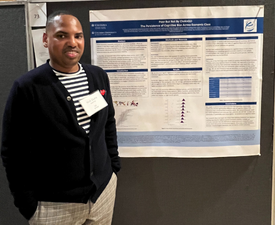 Nick Dutra '24GS
Undergraduate, Neuroscience and Behavior
What was the research project you worked on and how did you get involved?
The research project I presented at the Symposium was "Poor but not by choice(s): The persistence of cognitive biases across economic groups." I did the project during a study abroad program, the Columbia Summer Research Practicum in Global Behavioral Science (GLOBES) which was in Cambridge, UK at the University of Cambridge. It was run by Dr. Kai Ruggeri who is at the Mailman School of Public Health. It was myself, around 16 other students from Columbia, and then about 15 other students and early career behavioral scientists from the Junior Researcher Programme (JRP) which Dr. Ruggeri also runs. We spent about five weeks working on a research study about human behavior and financial decision making, essentially trying to determine what decides if someone is low income, how they overcome those barriers, and if it's a "choice." We actually ended up doing two different studies. The first one was based on previous data that was collected during COVID-19, and the second was based on the data we collected from 30 different countries. I personally worked on Ireland. 
I think a lot of research is done on a smaller scale, where you have some collaborators and maybe a principal investigator, but actually working with a large group of people from all different backgrounds, from public health to STEM and lots of non-STEM too, was cool. You find what you're strong at, which for me was focusing on the writing aspect of both papers. Collaborating with others to compile and collect data, and then turn it into manuscripts to publish, was quite interesting. You build your teamwork skills, including communication and leadership development. 
Why did you want to pursue a research opportunity? How has it enriched your undergraduate experience?
I chose to do the program because I had not done research before and I thought it was a great opportunity to do something in behavioral studies. I want to be a physician, and I think it's important to have a duality of doing both hands-on clinical work and also research. I want to create a holistic approach to becoming a better physician and gaining knowledge to create strong healthcare and public health policies.
What advice would you have for other students interested in research experiences?
I would say don't be afraid to reach out to professors and program directors, even if you don't feel like you have the necessary background or skill set. I think the best way to improve those skills or get that experience is to just start off, and there are lots of programs and opportunities where you can have minimal experience. Have the passion and determination to want to try and learn something new.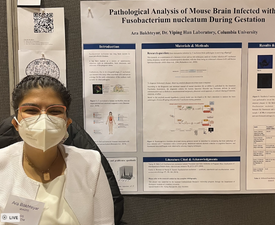 Ara Bakhteyar '24GS
Undergraduate, Biophysics
What was the research project you worked on and how did you get involved?
I took Intro to Biology two years ago and during the end of class they introduced us to the Summer Undergraduate Research Fellowships (SURF). I applied and ended up at Columbia Dental School. My research project, "Pathological Analysis of Mouse Brain Infected With Fusobacterium nucleatum During Gestation," was in microbiology, looking at the potential effect of different dental infections in pregnant women on the health of the fetus, and specifically any links to Autism Spectrum disorders and Alzheimer's disease. 
As part of SURF, we worked full-time, received a stipend, and had weekly discussion sections on conducting research with other participants and graduate student TAs. It was great to find a supportive community and have access to people you could ask questions about your career and research goals. SURF also counts as one of the biology lab requirements for the biology major, so that's how I fulfilled my lab requirement. 
You also have experience working on labs on campus. How did you get those opportunities?
Honestly, I got one job by cold-emailing people! I might have sent more than a hundred emails, and this specific professor got back to me. I connected with him because I was watching a random science lecture, and there was a female professor talking about her research and she mentioned her previous PhD students at Columbia. I realized that he was one of them, so because I liked her research, I reached out to him. 
The project lab I'm working at right now is in biomedical and mechanical engineering, and that was through a structured program. The Department of Biology sends emails with a list of the available projects and you apply to individual labs. 
What advice would you have for other students interested in research experiences?
At first, I was very intimidated. I didn't think of myself as hypothetically qualified. I think at Columbia there's a lot of imposter syndrome; you might think that everyone else is smarter than you. But the truth is that everyone is having a hard time, so don't be intimidated. Just go for it.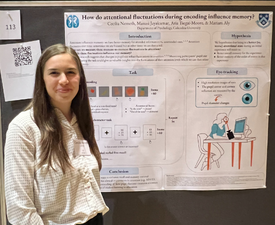 Cecilia Nemeth '26GS
Undergraduate, Psychology
What was the research project you worked on and how did you get involved?
Last spring, I applied to and was awarded the GS Summer Research Fellowship. Through the fellowship, I got connected to the Aly Lab in the Psychology Department and I started working there as a research assistant in May. The study that I have been helping with is mainly about attention and memory. At the lab, I have also helped with various tasks throughout the summer and this academic year, including the selection of the images, transcription of free recall data, and data organization. I additionally had the opportunity to run participants on my own. I learned how to set up the experiment on the computers and how to handle the eye-tracker. In addition to this work, I also participated in the Summer Internship Program in Psychological Science (SIPPS) last summer, which is a psychology internship program organized and run by the graduate students in the Psychology Department. During that program, I participated in weekly workshops about coding, research skills, journal clubs, and professional development. I also created and worked on an independent project on semantic clustering and memory.
At the Undergraduate Research Symposium, I presented the research project that I was working on through the GS Summer Research Fellowship. This project, "Cooperation and Competition in Attention, Perception and Memory," was the one I mentioned above about attention and memory. Participants were shown a long set of images and while they were looking at the images, they had to decide whether the image they just saw was a food item or a non-food item and they had to press the correct key on the keyboard or withhold the response accordingly. During this part, we measured and followed their eye movements using an eye-tracker device. After this, participants were asked to look at some simple math problems and decide whether the answer was correct. Lastly, participants were asked to talk into a microphone and recall as many of the images as possible.
Through tracking participants' eye movements, we might be able to conclude certain things about their attention. Therefore, based on the eye-tracking data we can make a connection between attention and memory. The project is still in the works and we just finished collecting data, so we do not have a final conclusion yet.
Why did you want to pursue a research opportunity? How has it enriched your undergraduate experience?
I think conducting research is invaluable as an undergraduate student because you get to see what goes on behind the scenes and you get to contribute to science, even if it is only in the smallest way for now. I learned a lot throughout these past few months, and now I definitely approach scientific papers and research with a completely renewed lens and interest. If you are planning to apply to graduate school in the future, this is a great opportunity to try your hand at research and see if this is something you would like to pursue later on. You can create meaningful relationships with graduate students and other research assistants, who are also able to tell you what research actually entails, and therefore, you gain valuable insight into the world of science and research.
What advice would you have for other students interested in research experiences?
As a GS student, it can be daunting and difficult to get started with research, as it is hard to find funded opportunities. If you are in need of funding, sign up for departmental newsletters, make an appointment for fellowship advising, or ask your academic advisor - they might be able to help you. You can also apply to the GS Summer Research Fellowship. If you are able to volunteer your time to become a research assistant, then don't be afraid to email graduate students several times. I believe that if you are persistent, they will eventually get in touch with you and it will work out. You can also reach out to several graduate students and labs at the same time and see which one has the capacity to take in an undergraduate research assistant the earliest. Good luck!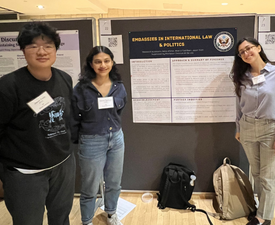 Nikka Afshar '23GS
Dual BA with Sciences Po, Philosophy
What was the research project you worked on and how did you get involved?
I had a part-time internship over the summer and I wanted to fill the rest of my time with something worthwhile. I was interested in research because I'd never done research before, so I met with Dean Novarr and spoke with him about my different options. He told me about the Undergraduate Research and Fellowships website, so I went there and looked at the different projects. I saw a few that I found interesting, including the one I ended up working on, and applied. 
This particular project, "Embassies in International Law,"  interested me because of the law and international relations elements. I also liked our advisor, Dr. Christian De Vos (Department of Political Science, and the Institute for the Study of Human Rights), immediately, and knew he was someone I'd work really well with. Together with two other undergraduate students (Meeral Tashfeen '25CC and Jason Trinh '23GS), we looked at the role of embassies in different world regions. The project revolved around thinking about how embassies are historically known as sites of sanctuary, but also secrecy and conflict, and they are places with special legal protections. I focused on Iran, and used the hostage crisis as a case study to look at the difficulties associated with holding Western embassies accountable for their violations of domestic and international law during a crisis like that. I feel I didn't have time to delve into it as much as it deserves and needs, but it was such an interesting project. 
Why did you want to pursue a research opportunity? How has it enriched your undergraduate experience?
It was always something I'd wanted to do, especially to try out research in more of a professional capacity outside of just researching for a paper. I wanted to see how I liked it in terms of post-grad plans and job prospects. I felt it ended up being a really rewarding use of my time, and I enjoyed the freedom we were given in the project. It was great to explore this idea that our advisor had given us but then be able to engage with it in a way relating to my interests. 
What advice would you have for other students interested in research experiences?
Take advantage of the facilities and opportunities that Columbia gives you, especially the faculty and advisors at GS. After you've decided you want to do research, the hardest part can be figuring out what to do next, where to start, and how to narrow down options. So, reach out: everyone at GS is rooting for you and wants you to follow your passions and do well.