In Their Own Words | Soaring High, From Community College to Columbia
Raysa Schumacher '24GS shares her journey from Palm Beach State College to Columbia—and the lessons she learned along the way that have helped her succeed. 
October 22, 2021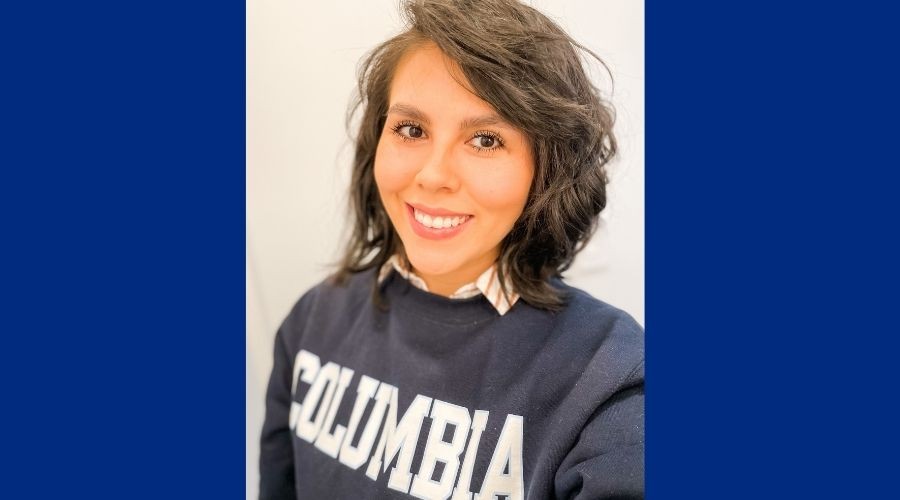 Growing up in a single parent home meant that I had more responsibilities than the average teenager. As the eldest, it was expected of me to help contribute to the household. My senior year of high school was spent working and trying to do well in school to graduate. I was admitted to a local university because that was the only place I was allowed to apply. My father depended on me, and so I felt like I had to settle. 
During my freshman year, I was trying to balance a full course load and work. You can imagine how that went. My grades started to suffer because of work, so I lost my scholarships. All of this culminated in me leaving school and just focusing on work. I worked many jobs in customer service (server, front desk associate, retail, etc.). Eventually, I applied for the opportunity to become a flight attendant and was hired. Starting pay was low, and I still needed to supplement my income, so I started bartending part-time. I also went to Aveda Institute to become a licensed esthetician. Long story short, I worked three jobs and was still not sure what I wanted to do with my life. I applied for internal jobs within my airline and was rejected for not having a college degree. This rejection fueled my desire to finally go back to college.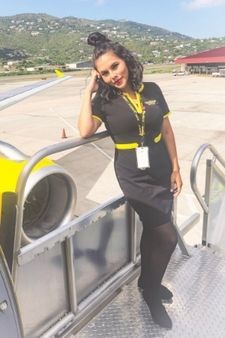 When I started community college in the spring of 2019, my first goal was to do well in my first semester. It had been five years since I was in school, so it was a big adjustment. I had to learn how to be a student again. My second goal was to become stronger in the areas where I had fallen short back when I was first in college. This required a lot of self-teaching. But the most important goal out of all was to properly manage my time between school and work. I didn't want this time in school to be a repeat of my freshman year.
I graduated from Palm Beach State College in Lake Worth, FL. During my first semester, I only enrolled in  two classes. This was purposely done to help me transition back to school smoothly—it was important to be realistic about my limits. I started to find ways to balance my school obligations with my work obligations; I would study and do homework during my flights. I would work red-eye flights so that I could go to school during the day. Most times, I would drive straight to campus right after my red-eye flights. Then, I'd take a power nap in my car before the start of my school day. All of this paid off and I earned a 4.00 gpa in my first semester. All the subsequent semesters were full time, and every semester I managed to get a 4.00 gpa. It is due to these achievements that one of my math professors recommended me for a paid position at the college as a tutor. I tutored every day in-between my classes. I was also extended an invitation to join PTK, which I gratefully accepted. I made the President's List and earned scholarships. Being realistic with my goals and the amount of work that I needed to put in really helped shape my experience at PBSC. This is not to say that it was all great-- there were days where I was overworked, overwhelmed with assignments, and running on no sleep. I'd be lying if I said it was easy, but it was certainly worth it. I graduated in May of 2020 with my associate's degree at the start of the pandemic with an offer of admission to Columbia University.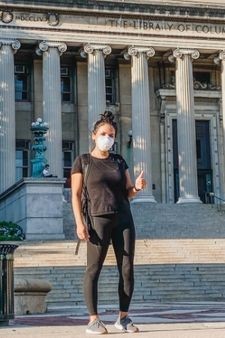 Originally, I didn't consider pursuing a bachelor's degree. I thought just getting an associate's degree would be enough to help me be considered for higher positions within my company. However, in my second-to-last semester, I realized that I wanted to pursue an undergraduate degree that would help me transition into a new career. I started to research universities that would offer my major of interest and be open to nontraditional students like me. I found out that PBSC was hosting GS for an admissions presentation. I jumped at the chance to learn more about GS and went. After the presentation I spoke to the admissions manager, Kari Razdow, and she helped me solidify my decision to apply to GS. She explained how the nontraditional student added value to the Columbia community and that GS was made for students like me.
I believe that community college helped me find the confidence to apply to Columbia. Before community college, I would have never thought that I had the skills and qualities needed to attend an Ivy League university. My professors at PBSC helped me build the foundational skills needed to excel in classes. They encouraged me to take chances, helped me accept the outcomes, and helped me learn from my mistakes. My professors didn't expect less of me as a student because I was nontraditional—in fact, they expected more of me because of that. I'm so grateful to them for all of their support. All of their guidance prepared me personally and academically to continue my journey at Columbia. 
What was really helpful to me during the transfer process was reflecting on the things I was good at and acknowledging my shortcomings. I know I worked really hard during my time at PBSC, but my hard work was not the only thing that defined who I was and what I had to offer as a prospective student. My successes and my failures shaped me. I started to excel when I accepted my weaknesses and worked to improve them every day. So, my best advice is to really give thought to these things when writing the essay. Don't only talk about your wins, talk about your failures, too! There's more to you than academics—that's why you're nontraditional! 
---
Raysa Schumacher '24GS is an undergraduate student majoring in astrophysics. In Their Own Words highlights Columbia GS students' unique voices, perspectives, and experiences during their time at Columbia and beyond.