Sourcing Water in Ilguiloda: A Marine's Mission in Rural Morocco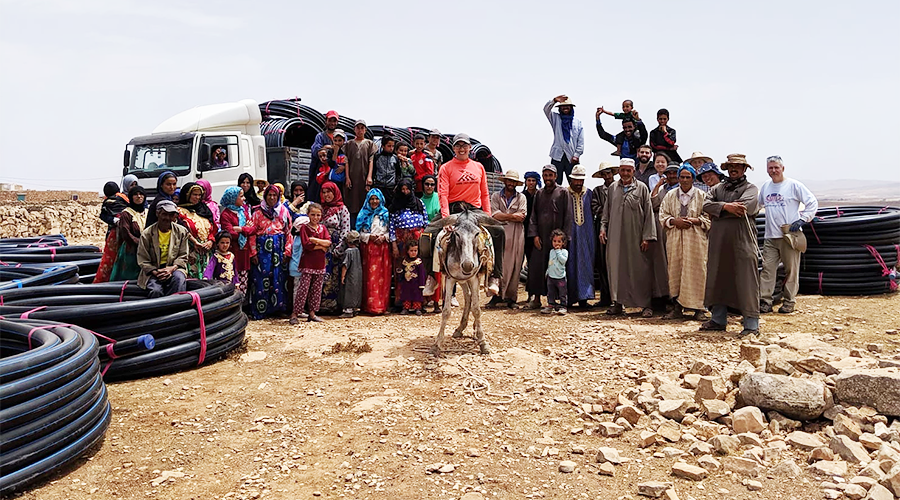 "I just really wanted to go dig a ditch for the summer because I needed to settle my mind," said Rachel Ballew '20GS. "I wanted to go out in the middle of nowhere and work and that's it."
Ballew is no stranger to manual labor or arduous conditions, having served in the U.S. Marine Corps for nearly ten years. While at a group workout with fellow students and alumni one weekend last spring, a GS alumnus started talking with her about a water infrastructure project in Morocco with the Columbia chapter of Engineers Without Borders. The group's mission was to provide a sustainable, accessible water source for two of the most remote douars in the region—Izgouaren and Ilguiloda.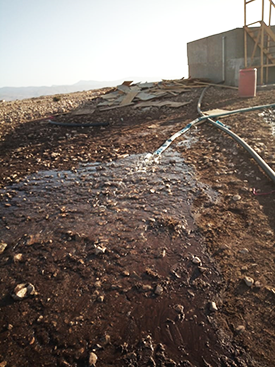 The sustainability aspect and community impact of this project piqued Ballew's interest. While in the Marines, Ballew spent time as a female engagement team specialist—a group that was designed for and trained to be aware of cultural sensitivities in Afghanistan—and was part of the information gathering process, engaging with Afghan women and children during patrols.
In Morocco, she was able to use her experience from the Marines to engage with the people of Ilguiloda through surveying, which would help determine the project's community impact as well as help Ballew implement a hygiene initiative in conjunction with the new water source.
"I wanted to build a data set, so I went out and surveyed every person who lived there, every household, and I sat with them, drank chai, played music, sang songs—you name it, we did it. I really wanted to be a part of this because it's what I know from my military experience; that information process. I wanted to see the information we gathered actually come to fruition in a real project that was going to provide for and sustain the community," Ballew said.
Over the past eight years, the Columbia chapter of Engineers Without Borders (EWB) has collaborated on various projects around the rural Moroccan community Ait Bayoud. In 2013, the Columbia team completed work on a bridge connecting the North and South communities and then began to assess the area's water distribution system. This past summer, the team—consisting of 12 Columbia students and mentors as well as three Moroccan linguists—was based in Ilguiloda, a remote village where women and children often average two to four miles a day walking between other villages to collect water. The goals of this project—the largest that EWB at Columbia has taken on—were to:
Build a reinforced concrete tank, which would hold 25 liters of water a day for 137 people;
Lay four kilometers of locally-sourced piping;
Fuse pipes together and to the well, which was drilled several years ago by the EWB team, and fix the well's pump;
Design and create tap stands for villagers, as well as washing livestock;
Ensure that the water from all of these sources was potable.
Working on infrastructure projects intended to help rural communities doesn't come without its challenges. It wasn't until the team started work on the piping in Ilguiloda that they realized the seven weeks allocated for this project would not be enough to complete the work in Izgouaren. Funding resources for extending the piping path to Izgouaren were also not available, nor was there enough time to source the necessary materials, which the team did locally.
What often seems to be lost is the sustainability and the impact to the community. In some areas, you bring water and now you've started an internal strife because everyone wants water, but you only plan to give water to one place.
"I was really interested in how we were going to problem solve the impact that this new water system would have on the villages," said Ballew. "What often seems to be lost is the sustainability and the impact to the community. In some areas, you bring water and now you've started an internal strife because everyone wants water, but you only plan to give water to one place. This can be extremely harmful."
As the summer came to an end, the team successfully built the reinforced concrete tank, fixed the pump and the well, and laid the piping system in such a way that it can be expanded next summer when EWB returns.
Ballew reflected that this experience gave her a lot to ponder, not only going into her final year at GS, but also as she was about to embark on her upcoming term as President of The U.S. Military Veterans of Columbia University (MilVets). She is the first female to take on the role in the organization's 17-year history.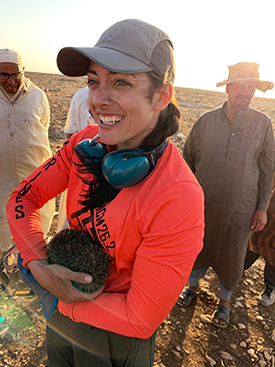 Upon returning to New York, Ballew brought with her a renewed sense of teamwork; a more honest mindset; and the realization that how she structures her days can positively impact her, and everyone around her, and help with everyday stressors that many students feel.
"This experience has helped me take the practical steps to actually be grounded and not just say it. There are a lot of different ways that you will go through struggle in your life as an adult, as a GS student, as a Columbia student, and especially working on a project like this where—maybe you're out in the desert—you get very stripped bare and you get to struggle in a very real sense. Sometimes there's no water, sometimes it's electricity, you start to actually live this life that we read about. You get to have your character develop, you get to actually experience it and make that your own, and then take those invaluable qualities and put them to your job; those characteristics now become yours. But you've also given yourself the chance to struggle and be refined by it. And you have a great time because you actually get to give back something tangible to a community who's in need. There's nothing like it. It feels so good to know you actually built something with your own hands and people are using it."
Learn more about the water project in Morocco by visiting the Columbia Engineers Without Borders website.