Q&A with Kraft Global Fellow Celeste Abourjeili '24GS
A Sciences Po Dual BA student, Abourjeili shares her experience traveling to Jordan as part of a Columbia interfaith research cohort.
August 01, 2023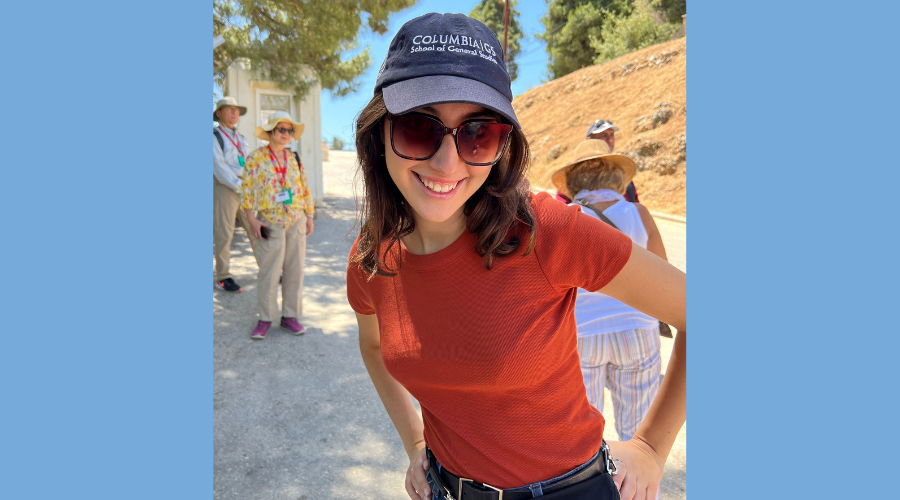 Celeste Abourjeili '24GS was drawn to the Dual BA Program Between Columbia University and Sciences Po because of its international scope. "I come from a Lebanese background, was raised speaking French, and knew I wanted to study political science," said Abourjeili, who concentrated in Middle Eastern affairs at Sciences Po's Menton campus. "For so long I had put my culture on the backburner to focus on succeeding academically. This program gave me the opportunity to reconnect with my origins, practice my language, and explore the world—all while receiving a Columbia education. It was a win-win on every level." 
At Columbia, Abourjeili has continued to pursue global opportunities, most recently as a 2023 Kraft Global Fellow. A joint venture from the Kraft Family Fund for Intercultural and Interfaith Awareness and the Columbia University Office of the University Chaplain (OUC), the Kraft Global Fellows Program annually selects a cohort of students to travel to one of Columbia's Global Centers while engaging in interfaith and intercultural research. The multi-week program is filled with visits to historical sites and meetings with community and religious leaders, all centering cultural immersion and intellectual curiosity. Abourjeili reflected on her trip to Jordan this May as a Kraft Fellow, from the application process, to the most memorable moments of the trip, to its lasting impact on her future goals.
How did you find out about the Kraft Global Fellows Program, and what was the application process like? 
Believe it or not, I found out about the Kraft Global Fellows Program by reading my emails! From there, the application was pretty intensive. I had to submit many documents, including a letter of intent, writing sample, list of extracurricular activities and leadership positions at Columbia, and a letter of recommendation. After that, I was invited to interview with University Chaplain Jewelnel Davis. The program is quite competitive since spots are limited, so my advice to anyone applying is to be authentic about their passion when explaining their interest in the trip.
What was your overall itinerary in Jordan, and what experiences stood out the most?

In Jordan, our itinerary contained a mix of cultural events, visits to important sites, and meetings with local organizations. We kicked off our trip with a visit to the Columbia Global Center in Amman and met with social enterprises and NGOs that do work in Jordan. From there, we continued to have meeting-centric days with touristic days sprinkled throughout our itinerary. My personal favorites were the Dead Sea, the ancient city of Petra, and the desert of Wadi Rum where we met with Bedouins and rode camels.
Tell us about the research you conducted as a Fellow!
I decided to focus on womanhood and Christianity in the Arab world, as well as cultural and political factors that shape Jordanian society. Being Lebanese, I took a very comparative angle in my research. I also worked on producing social media content for the Kraft Global Fellows program.
The Kraft Global Fellows Program is all about building an interfaith learning cohort. What was it like being part of such a diverse group?

The Fellows were an incredibly collaborative team, even as we worked each night to write our individual reflections. At our daily lunches, the Chaplain would lead a discussion and we'd take turns sharing our responses. Hearing the thoughts of my peers was always eye-opening. The farther their thinking was from mine, the more I learned. In our free time and during activities, we would speak and joke together, constantly learning from each other's diverse backgrounds. Even in the dull moments in the hotel, my roommate and I would have deep conversations where she would share theories of scholars who I had never heard of before. My peers were all highly fascinated with the world and had a unique angle to share, making every moment of the trip enriching. 
What are your takeaways from the fellowship experience and how do you see them influencing your future endeavors?

Until now, my trajectory has been focused on international affairs. I am still unsure what exactly I will do after graduating, but my passion lies in social impact and international development. My experience in Jordan complemented those goals by allowing me to experience an environment that I could very well end up working in, a highly stable Arab country that holds some of the world's most unique sites, shares borders with highly unstable countries, and hosts so many refugees that many organizations claim to have stopped counting. 
Not only has this trip helped me understand my region of interest, but it also helped me build connections with people who work in Jordan at NGOs, start-ups, and businesses with high social impact. Those connections will allow me to maintain a relationship with the country, even after I have left. Most importantly, I learned valuable lessons in faith and humanity from Elmer Barcenes (Administrative Manager of the OUC), Chaplain Davis, and my cohort that I would not have learned anywhere else.
---
To learn more about fellowship opportunities, GS students are encouraged to visit the Fellowships section of the website, and to reach out to the GS Fellowships Office and Undergraduate Research & Fellowships.