2022 Grad Profile: Anne Cordova O'Connell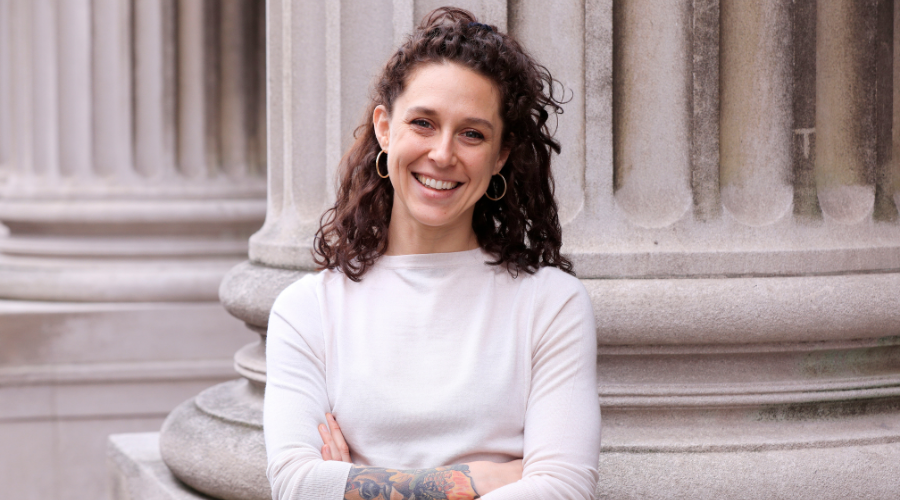 Anne Cordova O'Connell
Undergraduate
Where are you from?
Connecticut
Major: 
English and history
Tell us about your path to GS!
The large windows, potted plants, and colorful books of the library were my sanctuary, giving me one place that still felt like real life. I had lost so much time, but simultaneously had a seemingly-infinite amount of it, so I read. Obsessed with escaping these walls to the world outside, I read everything from classic novels to math textbooks: I spent my time in prison reading as much as possible, and using the library as my only place of respite from the sadness, hopelessness, and loneliness of life behind bars. 
I am indebted to Mr. Joseph Lea, the prison library correctional officer, who offered me the job of inmate librarian. The library was a window through which I could glimpse into intellectual life and academia, a world that had been inaccessible to me due to the suffocating grip of my opiate addiction. Though my world had physically become so small—my jail cell, the chow hall, and the library—my mind had begun to expand again. No amount of drugs or prison time could erase the fact that I had always loved learning.
Years down the road, I was nannying for a family and used to fold and put their clothes away. They had a bunch of Columbia t-shirts. I thought it was the country! I had no idea Columbia was even a university. Then one day I saw someone I used to be locked up with in a taco joint in Stamford, CT. We got to talking, and she introduced me to the Justice-in-Education Initiative. It is a program through Columbia that helps people who are formerly incarcerated gain access to higher education. I went through the program and eventually applied to GS. I couldn't believe I got in! I am still in shock!
What has been your proudest Columbia moment?
My first class at GS was University Writing and I was so lost and confused. I would go to office hours again and again, feeling so hopeless about my writing. One time I walked up to the door, put my hand on the door knob, and turned around and walked out of the building. I couldn't bring myself to walk into office hours one more time and leave confused and hopeless. But when I was halfway out the door, I turned around and forced myself back into that room. I am so grateful I did. Even though University Writing is still the lowest grade on my transcript, I learned the most from that course—to unapologetically ask for help, to go to the Writing Center as much as possible, and to be patient, work hard, and eventually get good results.
Who are some people who have contributed the most to your Columbia experience?
Professor Edward Mendelson's course on Virginia Woolf taught me to not only be a better writer, but also a better reader. He reads literature and teaches it in a way that makes everyone identify a piece of themselves in each text.
What are your plans for after graduation?
I am going to be working as a legal assistant for a criminal defense attorney and then heading off to law school.
What advice would you give to a Columbia student starting their GS journey?
Ask for a lot of help: talk to other GS students, ask questions, go to office hours, do not be ashamed to say "I don't know what the heck you're talking about!"