Class of 2021 Seniors Inducted into Phi Beta Kappa Honor Society
On Monday, April 26, the New York Delta Chapter of the Phi Beta Kappa Society virtually initiated 51 GS seniors at its annual Induction Ceremony. 
April 30, 2021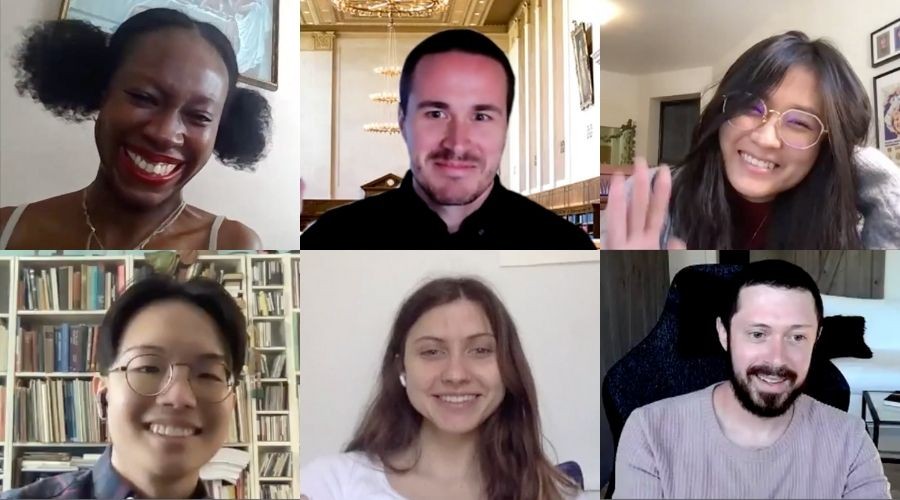 On Monday, April 26, 51 seniors from the School of General Studies (GS) were inducted to the New York Delta Chapter of the Phi Beta Kappa Society (PBK) during its annual Induction Ceremony. Professor Patricia Lindemann, President of the Delta Chapter, began the ceremony by welcoming the candidates, as well as faculty, families, and fellow new members of PBK, who came together from all over the world to virtually commemorate this achievement. 
"Each one of you has worked incredibly hard to get to this moment. Each one of you has put in long, lonely hours of study. Each one of you has had to take your subject, whether it be philosophy, or anthropology, or biology, and sit with it, and work out the problems just for yourself," said Dean Lisa Rosen-Metsch, Vice President of the Delta Chapter. "Dedication, idealism, courage. Each of you has been working alone, first in Butler Library or the GS lounge, more recently in your own bedroom hundreds or thousands of miles away—but all of you have also been working together to make these values come to life at Columbia University."
Taking into consideration a students' academic performance—with grade point averages above 4.0, they are among the top in their class— as well as, their unique strength of character, integrity, and determination, GS elects no more than 10 percent of its graduating class to Phi Beta Kappa each year.
"The academic accomplishments of today's inductees are astonishing. And yet, many of these students—in true GS tradition—have come to embrace their scholarly nature at a relatively late point in life. To get to where they are today, some of today's inductees have had to overcome some serious obstacles—whether that be physical or mental illness, poverty, unemployment, harassment, incarceration, or addiction," said Victoria Rosner, Secretary of the Delta Chapter and Dean of Academic Affairs at GS. "Less determined individuals would have given up and settled for lives without a college degree. Our PBK inductees, by contrast, held onto their dreams."
"Among those who are honored today, we have a chef, an international model, several veterans, actors, musicians, farmers, athletes, avionics technicians, carpenters, grocers, perfumers, designers, retailers, photographers, baristas, teachers, writers, and more. And should you fear a dearth of conversation on our hypothetical PBK planet, rest assured: among our inductees are those who can speak Mandarin and Cantonese; French and Spanish; Ukrainian and Turkish; Hebrew and Arabic; and Portuguese and Greek." 
Inductees include students from the Joint Degree Program with List College of the Jewish Theological Seminary, the Dual BA Program Between Columbia University and Sciences Po, the Dual BA between Columbia and Trinity College Dublin, and the Joint Bachelor's Degree Program between City University of Hong Kong and Columbia University, in addition to students who began their undergraduate educations in community college before transferring to Columbia.
Upon pledging to "be true and faithful to Phi Beta Kappa, uphold its standards, obey its laws and seek to reflect credit upon [their] affiliation with this venerable fellowship of learners," the exceptional candidates became full-fledged members of Phi Beta Kappa.
Class of 2021 Phi Beta Kappa Inductees
Hacer Akcan
Eitan Arrmon
Anna Ballan
Charlotte Taomi Behrens
Kaiwen Bi
Julie Bishop
Luisa Bridi Dacroce
Grace Corton
Andrew Creed
Sabrina Delafield
Yuqian Deng
Blythe Edwards
Abigail Edwards
Philipp Eibl
Kristina Elhauge
Virginie Feist
Tze Han Foo
Heloise Garry
Anna Gergen
Rachel Gordon
Griffin Jones
Aviva Kamens
Julia Kepczynska
Carolina Lacs
Lorenzo Lamo
Aedan Macdonald
Brandon Marco
Javier Moraleda
Heide Morris
Rachel Oaks-Leaf
Marlon Paine
Lori Paulson
Sarah Perez
Victoria Pozzi Rocco Belforti
Deirdre Radigan
Mathilde Renaudie
Foster Salpeter
Qimeng Shi
Zoe Solomon
Safia Southey
Linda Berenice Sylverain
Salvatore Taibi
Rhe-Anne Tan
Christopher Thompson
Thu Phuong To
Patrick Verheyden
Geordy Wang
Zheng Zhang
Fan Zheng
Jieyan Zhu
Romy Zilkha
---
Founded in 1776, Phi Beta Kappa is the nation's oldest academic honor society, and its initials represent the society's motto: "love of learning is the guide of life." Roughly 10 percent of U.S. institutions of higher learning have Phi Beta Kappa chapters, and among those institutions, only about 10 percent of arts and sciences graduates are selected for membership, making it one of the highest academic honors for undergraduate students in the nation. Today, the Society has more than 500,000 living members.
To be inducted into the Phi Beta Kappa Society, students must be recommended by faculty who work closely with them and are members of the Phi Beta Kappa Society. Recommendations are based on the students' academic programs and their ability to support the society's ideals of academic, social, and community-based programs.