Alumnus Named English Language Fellow by the U.S. Department of State
One of only 200 individuals selected, Eytan Penn '19GS will spend 10 months teaching English at the Hanoi University of Science and Technology.
September 20, 2022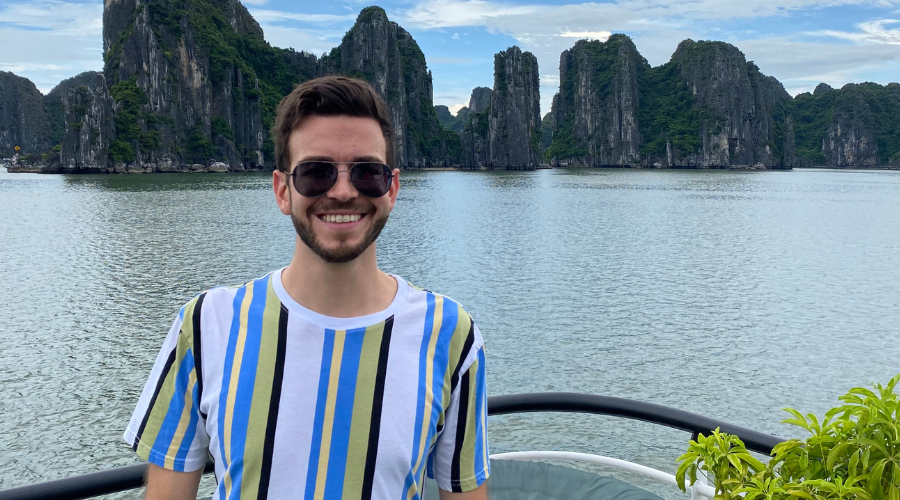 Alumnus Eytan Penn '19GS was recently selected by the U.S. Department of State to participate in the highly-selective English Language Fellow Program in Vietnam. One of only 200 individuals selected for this fellowship, Penn will spend 10 months teaching English at the Hanoi University of Science and Technology as well as working alongside other educators and students to improve English language instruction and engagement abroad.
Penn recently completed a full year of teaching in Israel as part of TALMA, the Israel Program for Excellence in English, and previously spent two years working with Teach for America in Oklahoma. Embarking on a new journey with the English Language Fellow Program, Penn will have the opportunity to connect with like-minded individuals and broaden his knowledge of international English instruction while building a stronger base for his TESOL (Teachers of English to Speakers of Other Languages) education efforts.
We spoke with him about these opportunities and his experiences in the Joint Program with List College of the Jewish Theological Seminary (JTS).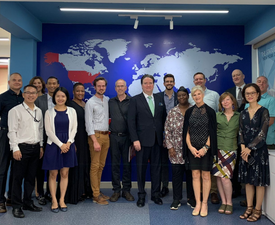 In what ways did your time as a student in the Joint Program prepare you for this experience?
I'm thrilled to share that I have moved to Hanoi, Vietnam to teach English as a Second Language and American Studies at the Hanoi University of Science and Technology (HUST) as an English Language Fellow through the U.S. Department of State's Bureau of Educational and Cultural Affairs. The Joint Program between Columbia and JTS allowed me to develop in three ways: professionally, intellectually, and personally.
Professionally, the Joint Program taught me to navigate two different worlds: taking classes at each school and participating in each community. Similarly, in my new position, I work both with the U.S. Embassy's Regional English Language Office and HUST.
Intellectually, at Columbia I majored in Middle Eastern, South Asian, and African studies and learned about the history, politics, and culture of this part of the world. While I focused primarily on the Middle East, the legacy of colonialism remains a common thread across the region, and I'm excited to learn more about Vietnamese culture and history.
Personally, working at Columbia's Office of the University Chaplain (under the direction of Chaplain Jewelnel Davis) enabled me to invest in my interest in cultural diversity by planning and executing intercultural and interfaith events as well as traveling internationally.
How does the English Language Fellow Program align with the work that you have done in the past and hope/plan to do in the future?
Since graduating from Columbia and JTS, I have been teaching and plan to continue teaching after finishing this position. I strongly believe that every student deserves a quality education, that mastery of the English language is important in today's world, and that intercultural exchange is a mutually enriching experience. In Oklahoma City, I taught middle school math in a primarily immigrant community. Although my position was as a math teacher, I soon realized that I could enrich lessons with English language skills, as most of my students were English Language Learners who fell below grade level. I incorporated word problems into every lesson and led "Drop Everything And Read" programs. In Israel, I taught English as a foreign language in a community with both Jewish and Arab high school students. My current position at the HUST is an exciting transition from K-12 to higher education. After completing this position, I hope to continue teaching English abroad and ultimately to further my graduate studies and secure a position in higher education.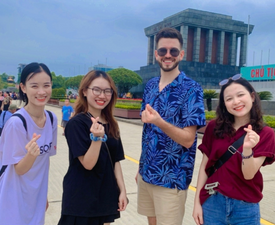 What goals have you set for yourself both as an educator and as a fellow during your time in Vietnam?
While in Vietnam, I have set many goals for myself. First and foremost, I hope to make a meaningful contribution to the English language department at my university, positively impacting the lives of the students and faculty. Being from the U.S., I will be serving as both a cultural representative within my university and the larger Vietnamese community. In the process, I hope to build lifelong connections. As a teacher, I am set on sharpening my English as a Foreign Language and pedagogical skills by learning from a foreign educational system. Having the opportunity at a young age to teach at a university and be employed by the government, I hope to test the waters for a career in higher education or possibly even foreign service. On a personal level, I aspire to immerse myself in Vietnamese culture and learn more about the Vietnamese language and history.
What advice would you give to current students looking to get involved in English teaching programs?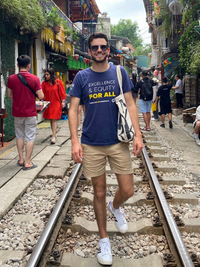 Never give up on your dreams! I applied twice for the English Language Fellow Program before being selected. Even though I was disappointed when I wasn't matched with a project in the first cycle, I was determined to reapply. In the year between, I focused on bettering my application with more experience and found a job teaching abroad.
Stay true to yourself. Determine what your goals and values are, and then find the program that is best suited for you. There are tons of English teaching programs available! While at first I was interested in working in a Spanish-speaking country, I found that the English Language Fellow Program, which could send me anywhere in the world, was a better fit since it aligned with my values of intercultural exchange.