Alumnus and Military Veteran Fights Spread of Political Misinformation
Editor's note:
Content Warning: This article contains mention of mental health conditions and self-harm, as well as descriptions of traumatic health care experiences and military combat.
October 30, 2020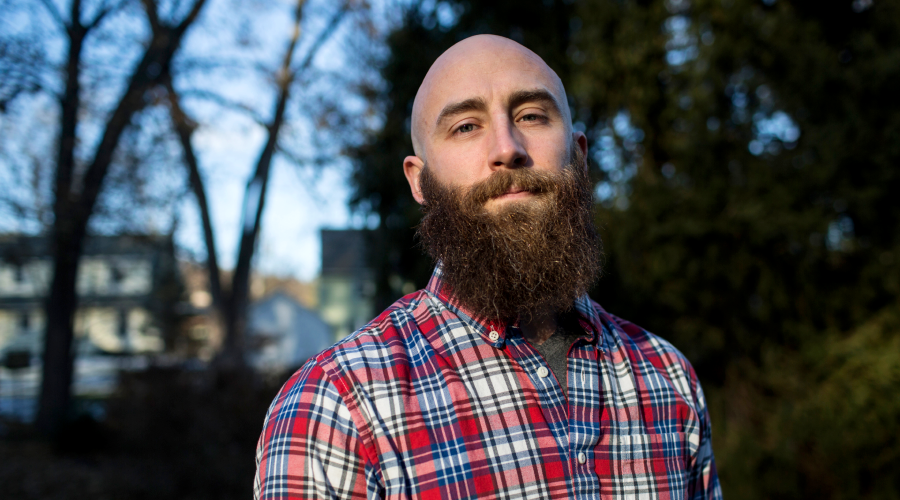 For more than a decade, United States Army veteran Kristofer Goldsmith '20 has been championing veterans' rights after experiencing shortcomings in the system, testifying before the United States Congress and advocating for several bills to protect veterans that became law. Most recently, his efforts have been focused on combating online disinformation campaigns designed to influence political opinions within veteran communities.
A native Long Islander, Goldsmith had idolized people in uniforms as long as he can remember, and he settled on a military career at a very young age. A few months after graduating from high school, he signed his contract with the Army, and two years later, was deployed to Sadr City, Baghdad.
He became an on-the-ground intelligence reporter, documenting everything his platoon did with a notepad and camera, from mundane patrols to the worst parts of war: mass graves, mutilated corpses, and more. At just 19 years old, Goldsmith immediately began struggling to cope. Over time, he developed and dealt with post-traumatic stress disorder (PTSD), which eventually led to a suicide attempt.
"Afterward, from the moment I woke up in the hospital I went from being the golden boy to being treated like a criminal," remembered Goldsmith. "Just months later I was kicked out of the Army with what's called a less-than-honorable—or 'bad paper'—discharge, which meant I no longer qualified for the GI Bill, which was how I had been planning to pay for college."
With his prospects gone and all he'd experienced utterly misunderstood by those in whom he'd put his trust, Goldsmith underwent a few dark years. Eventually, he began a journey toward healing, starting classes at Nassau Community College (NCC) thanks to a vocational rehabilitation program he entered and getting involved with a veterans' center on campus.
"Over the course of a single semester, I went from being the guy in the back of the classroom with his hoodie over his head to being elected as the president of my Student Veterans of America (SVA) chapter," said Goldsmith.
It was through this relationship that Goldsmith began his advocacy, starting first with aiming to acquire a bigger center to accommodate the campus' 250 veterans. Within two years, he had spearheaded a project that allowed the school to donate a million-dollar facility to the veterans' club, providing much-needed space for work, socializing, and more.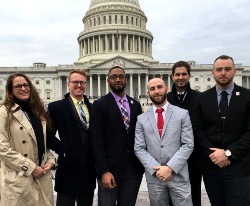 Taking it to Washington
Through his work on the veterans' center at NCC, Goldsmith met Chuck Cutolo '76LAW, general counsel for the college, and together they began to tackle an even larger hurdle: trying to change the law so that more veterans with less-than-honorable discharges who suffered from PTSD could appeal and qualify for benefits.
"Chuck helped me navigate and plan my first trip to Washington, D.C. in January 2014, where I would work with members of Congress and congressional staff and try to come up with solutions to make the military discharge appeals process more fair for veterans with PTSD and related conditions, and to ensure that more veterans with less-than-honorable discharges gain access to healthcare through Veterans Affairs," said Goldsmith.
By December 2014, Goldsmith's first bill, the Military Mental Health Review Board Improvement Act, became a law—coincidentally on the same day he received his acceptance email to Columbia's School of General Studies.
Goldsmith had already fallen in love with veteran advocacy by this point and in his second semester enrolled in a policy making seminar with Judith Russell, Adjunct Associate Professor of Political Science.
"By the end of that semester, I had written a policy paper with something like 14 legislative suggestions for things that could go into the National Defense Authorization Act, the VA budget, and more," said Goldsmith. "After making another trip to D.C. with my 14 suggestions, nine of them became law within two years."
Each of these reforms were passed as part of the National Defense Appropriations Act (NDAA) and the Military Construction, Veterans Affairs, and Related Agencies (MilCon-VA) Appropriations Bill. Notable reforms include the Fairness for Veterans Act and the Honor Our Commitment Act, which were part of the fiscal year 2018 NDAA and 2019 MilCon-VA bills, respectively.
Inspiring Advocacy for Veterans
Goldsmith's trips to Washington to meet with policymakers became an annual sojourn, and one year he brought along fellow GS students David Anderson '15 and Alexander McCoy '18.
"I basically took the policy-making lessons that my mentor, Chuck, had taught me, and I taught them," said Goldsmith. "That's when the idea for High Ground Veterans Advocacy (HGVA) was sparked with the mission of training the next generation of veteran advocates, because it's something that doesn't exist. There's no training path for that kind of career, so we built one from scratch."
HGVA trains servicemembers and veterans as Fellows to educate government officials and the general public on a variety of issues that improve the lives of servicemembers, veterans, and their families. After training, many organization Fellows have gotten laws passed in their own home states; through his work, Thomas Burke, one of the group's cofounders, helped Connecticut become the first state in the union to not exclude veterans with other-than-honorable discharges from state benefits.
"High Ground has also been really successful in helping veterans land jobs at veteran advocacy organizations like the Vietnam Veterans of America, who I also used to work for," said Goldsmith. "It's tremendously rewarding, and my experience at GS and my affiliation with Columbia and Professor Russell have been invaluable towards professionalizing what I was doing."
The Fight Against Foreign-Borne Misinformation Campaigns Targeting Veterans
In addition to his work with HGVA, Goldsmith has also been a consistent and reliable voice on the threat of online misinformation being directed at veterans, primarily via social media. During the four years he worked for Vietnam Veterans of America—first as assistant director of policy and government affairs, and later in a dual role as chief investigator and associate director for policy and government affairs—he worked relentlessly to uncover misinformation campaigns and spread the word about the threat of these campaigns widely within the veteran community by employing open source intelligence techniques, analyzing data freely available to the public.
As chief investigator, Goldsmith was charged with seeking out and exposing foreign entities who target troops, veterans, and their families online with a range of malicious activity, in order to help the nation understand that there are massive coordinated efforts from criminals and governments overseas that seek to take advantage of the veteran community.
"Taking information included in the Mueller Report and data released by the House Permanent Select Committee on Intelligence, I was able to show how veterans service organizations, including the one I worked for, had been specifically targeted by Russia's infamous Internet Research Agency during and for months after the 2016 campaign season. While this administration has been slow to respond to the threats that I identified, my report gained enough attention from congress and the press that the Department of Homeland Security was motivated to launch the #Protect2020 campaign to educate veterans on how to spot and mitigate online disinformation campaigns."
While the campaign was delayed until just a week before the 2020 election, Goldsmith believes the work is still critical, as these types of threats are only becoming more frequent as more and more of people's activities take place online.
And he's not stopping there. In fact, he's just getting started. Since graduating from GS this past May, Goldsmith testified before Congress over the summer on behalf of HGVA about how regulatory policies prevent veterans with bad paper discharges from accessing critical healthcare benefits.
"This was a hearing I'd been waiting 13 years for," said Goldsmith. "The issue of veterans being excluded from benefits has felt stuck for more than a decade, and it feels great to simply have general support from veterans' organizations. My hope is that this hearing is the first of many, and that the half-million veterans with bad paper discharges who are alive today are no longer avoided by politicians and receive what they are owed."
Goldsmith and his co-founders look forward to continuing the mission of HGVA next year when in-person training intensives can begin again.