42 GS Students Named as 2022-23 Fellows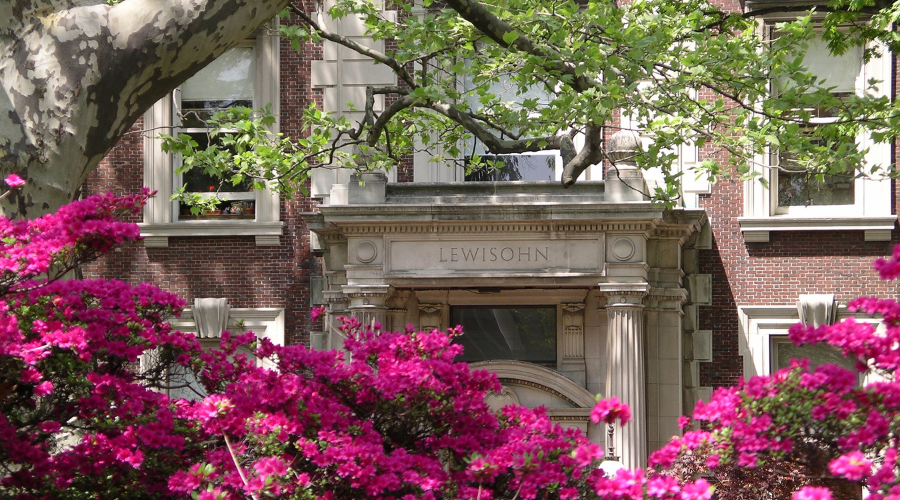 Over the course of the 2022-23 academic year, 42 GS students have received extraordinary awards through fellowship programs, including the fifth Columbia GS Tillman Scholar and three members of Columbia World Projects' Social Impact Fellows.
Gregory Brook '24GS is one of only 60 individuals from around the country to be named as a Tillman Scholar this year. The Tillman Scholars program is specifically designed to support U.S. active duty service members, veterans and military spouses in their academic pursuits and continued professional development. Tillman Scholars are part of a growing community of leaders that aspire to make a difference on a global scale.
Majoring in neuroscience and behavior at GS, Brook's mission is to end the veteran suicide epidemic. Having served as an Air Force Combat Photojournalist, Brook recognises the lack of preventative action surrounding veteran suicide and aims to change the way that the medical field treats patients with post-traumatic stress disorder and military population-specific mental health concerns.
Peter Brown '23, Julian Melo '23, and Machaela Parkin '24 have also set their sights on helping their communities through the Columbia World Projects Social Impact Fellowship. As fellowship recipients, they have the opportunity to participate in a six-week summer intensive at the Manhattanville Campus and engage with varying social issues at the local, national, and global level.
Brown, Melo, and Parkin have a shared interest in reforming public policy and advocating for the rights of minority groups in the United States. Brown's work has led him to seek opportunities to aid those impacted by poverty, increasing accessibility to key public resources.  Melo and Parkin aim to change the way immigration is handled in the U.S., working with immigration advocacy organizations to simplify and restructure the path to citizenship.
Fellowships are fantastic opportunities for students to receive funding for personal and professional projects that extend beyond Columbia's laboratories, lecture halls, and libraries. Each fellowship grants students access to new knowledge and helps them to better engage with the world around them. This year's fellowship winners are the embodiment of the hard work, dedication, and well-deserved success that is a hallmark of the GS Community.
---
International Awards
Schwarzman Scholarship
David Chen '23,  Political Science
Clarendon Scholarship
Elisa Ellen Sisto '19, Human Rights
Boustany Cambridge Pembroke Scholarship in Philosophy
Elena Flack '23, Political Science and Philosophy
Yenching Academy Scholarship
Samuel Yuen Shih '23, Economics and Political Science
Top National Awards
Fulbright English Teaching Award
Megan Goldberg '22, Ethnicity and Race Studies [Spain]
Jose Esquer '21, Human Rights [Colombia]
Fulbright Study Award
Vinzent Wesselmann '21, History, [Austria]
Boren Scholarship
Audrey Kost '23, History [Arabic, Jordan]
Kathryn Davis Fellowship for Peace
Audrey Kost '23, History [Beirut, Lebanon]
Rinor Jani, '24, Human Rights [Tirana, Albania]
Daniel Mansour, Philosophy [Tel Aviv]

U.S. State Department English Language Fellow
Eytan (Ethan) Penn '19, MESAAS [Hanoi, Vietnam]
U.S. Department of State Fellow
Gabrielle (Gigi) Hodes '24, Sociology [Montevideo, Uruguay]
Gaither Junior Fellows Program, Carnegie Endowment for Peace
Anna Bartoux '23, Political Science
Obama Voyager Fellowship
Aun Raza '27, Biochemistry
Foreign Language and Area Studies Fellowship
Dean Wilson Gelling '24, Environmental Science [Persian]
Kambi John Gathesha '24 History [Swahili] 
Caleb Berer '25, Creative Writing [Istanbul]
Critical Learning Scholarship Spark
Valerie Pires '27, Film and Media Studies [Arabic]
Israel on Campus Coalition
Adam Frank '26, History and Political Science
U.S. Department of State Foreign Affairs Information Technology (FAIT) Fellow
Othello Herbert '28
Top Fellowships at Other Universities
University of Pennsylvania 
Paul-Angelo dell'Isola '19, Economics, Math, Political Science, Franklin Scholar, University of Pennsylvania Law School
University of Chicago
Emma Fromont '22, Film and Media Studies, Graduate Success Scholarship
Center for Ballet and the Arts at New York University and Juilliard Fellowship
Aaron Sanders Loux '27
University of California Los Angeles
Christopher Thompson '20, Anthropology, The Eugene V. Cota-Robles Fellowship
Harvard University
Noam Alon '19, Political Science, Belfer Young Leaders Student Fellowship, Harvard Kennedy School, Israel Policy Fellowship, BrainGain Israel
Hunter Scott Rhoades '23, Human Rights, Dean's Fellowship, Harvard School of Divinity
University of Albany
Michelle Brose '23, Biological Sciences, Summer Fellow, RNA Institute
Trinity College Dublin
Sinziana Stanciu '24, History, Foundation Scholarship
Columbia University Awards
Columbia World Projects Social Impact Fellowship 
Peter Brown '24, Political Science
Julian Melo '23, Political Science
Machaela Parkin '24, Latin American and Caribbean Studies
West Point, U.S. Military Academy 
Adam Frank '26, Political Science, McDonald Conference for Leaders of Character (Columbia Delegate)
Guggenheim Fellowship in Criminal Justice
Charlotte Biocchi '24, Political Science
Sakip Sabanci Center for Turkish Studies Summer Fellowship
Caleb Berer '25, Creative Writing
Columbia University Center for Global Engagement
Valerie Pires 27, Film and Media Studies, Global Learning Scholarship [Venice]
Columbia University History Department European Archives Fellowship
Kambi John Gathesha '24, History
Societe de Chimie Industrielle and Guthikonda Summer Research Fellowship
Augustine Adda '23, Chemistry
Research in European Archives Fellowship
Sinziana Stanciu '24, History
Harriman Institute Undergraduate Research Fellowship
Sinziana Stanciu '24, History
Theodore de Bary Language Study Fellowship
Colombe Marguerite Tricaud '24, Economics [Arabic]
Harriman Institute Summer Language Study Fellowship 
Dean Wilson Gelling '24, Environmental Science [Tajikistan, Persian]
Catherine Medalia Johannet Summer Internship Prize
Davey Liu '24, Medical Humanities, Comparative Literature and Society
Columbia Business School Tamer Center for Social Enterprise Fellowship
Asher Dayanim '24, Economics [Tadjikistan]