Q&A with Sciences Po Dual BA Student Charmaine Ko '24GS
Ko shares how the Dual BA program has made her brave, from pursuing a late-blooming passion for climate science, to seizing a bold opportunity at the United Nations.
November 15, 2023
Charmaine Ko '24GS is cultivating an intersectional, international education through the Dual BA Program Between Columbia University and Sciences Po, something which compliments her globe-trotting childhood and thirst to make a wide-ranging impact. Ko shares her journey from government and politics major to aspiring environmentalist, and her experience working at the United Nations to facilitate affordable and clean energy projects on a worldwide scale. 
What is your GS story, and what led you to the Dual BA?
I'm originally from Hong Kong, but my family moved around a lot because of my dad's job. Eventually, my parents decided it would be better for my twin sister and I to go to boarding school in the U.S., so we went to Concord Academy which is in Massachusetts.
Interestingly, it was when I moved to the U.S. that I really felt my Hong Kong identity. I realized I was from Hong Kong in the way you don't realize you're from somewhere, don't think about it, until you leave. At the time, Hong Kong was going through a lot of protests, so one of the biggest memories I have is the political situation happening in Hong Kong. Curious about politics and how it shapes the world, I participated in a program called the School for Ethics and Global Leadership, which is a semester exchange for high school students where we live in Washington D.C. and focus on the political scene. 
Heading into college applications, I knew I wanted to study politics for how it teaches me to think about the world but not in the U.S. solely. I wanted a more multitrack view of the world. At the same time, I wanted to stay connected to the U.S. because my background was in American education. So, when I found the Dual BA, it was like it was handcrafted for me.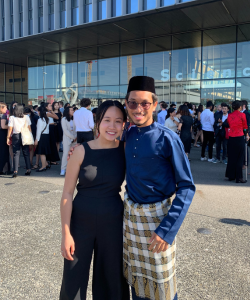 The Dual BA is a program that centers on uniqueness, but even with that, you've built a particularly one-of-a-kind path through the program. For one, you switched majors halfway through! What prompted this decision, and how has it been navigating the transition? 
I went into the program believing politics was the only way to change the world, but that all changed in my second year at Sciences Po when Russia invaded Ukraine. All the things I had learned about the cornerstones of international law Russia broke, and then a lot of international institutions weren't prepared to stop Russia because it's a P5 power, a permanent member of the United Nations Security Council. 
Honestly, I was frustrated and disheartened, and I didn't want to spend the rest of my degree studying something that felt ineffectual for me. I had always been interested in the environment, taking a lot of environmental science classes in high school and being part of the environmental science club at Sciences Po, so that's where I shifted my focus. I also knew I wanted to do a natural science, to do something super tangible with real-world applications, so that's how I landed on climate science as a major. 
There's no sugar-coating it, the transition has been challenging. Physics is hard! The requirements for the major are also strict, so it's difficult to make substitutions. On the flip side though, because it's a small program, the professors at the Department of Earth and Environmental Sciences really get to know you, and the community among students across all Columbia's undergraduate colleges is close too. Ultimately, I feel like the ability to change my mind and switch majors is another reason the Dual BA is a perfect fit for me. Looking back, I would have always chosen this path.
Another unique thing you've done is to take a semester off, but for a very good cause: working a full-time position at the United Nations! What was that experience like?
I spent last spring at the United Nations working under the UN Development Programme. Different teams work on different aspects of the United Nations' sustainable development goals and our team was working on SDG Goal 7: Affordable and Clean Energy. We were split, half of us in New York and half in Copenhagen. Day-to-day, I did project management, and we had around sixty projects total, focusing on implementing solar energy around the world to UN Development Programme offices and adjacent agencies that had sought our help. For example, one of our biggest projects was in the Sahel region in Africa, working on implementing solar panels in refugee camps with the UN Refugee Agency (UNHCR). These solar panels would provide electricity, not just for cooking and heat, but also enabling the ability to have internet access, to learn and to do business. 
On a day-to-day basis, I worked a lot with our engineers, talking to them to see what was up, how could I help them? I also kept track of finances, and one of the biggest projects I did at the UN was to create an app within our team for project management. I worked in collaboration with another intern, and the default setting for the app is our first name and our last name combined! 
"The Dual BA has made me brave, brave enough to apply to a competitive role like the UN internship, and brave enough to pick up and move across the world for an internship, and take a semester off to pursue this opportunity."
The internship was six months long, January to June, and I spent the first half in New York. Midway through my internship, the main French-speaker on our team left, and that left me with a lot of extra responsibilities as the only remaining French speaker. It became quite tough because so many of our French-speaking projects were in Africa, so the time zone navigation was terrible; I was waking up at five in the morning for meetings. I ended up relocating to Copenhagen, which was incredible. 
I think that my being part of the Dual BA played a big role in me getting the opportunity as the team tends to look for people who have a mixture of political science and environmental experience. My language skills in French, which I really grew while in Le Havre, also played a big part in the role. The Dual BA has truly helped me hit so many of my bucket list things, like working at the UN. I don't mean that just academically, but also because of the mindset the program has given me. The Dual BA has made me brave, brave enough to apply to a competitive role like the UN internship, and brave enough to pick up and move across the world for an internship, and take a semester off to pursue this opportunity. 
At Columbia, you're also involved in campus life, especially with the Hong Kong Students & Scholars Society at Columbia University (HKSSS), which you are currently Co-President of. What do you do with HKSSS?
When I came to Columbia, I actually knew a few of the current board members of HKSSS, we were close friends who spent a lot of the pandemic in Hong Kong together. My first semester, HKSSS was having trouble finding more board members, so I joined, and now I'm co-president! What we really provide is an ease of transition for students, both undergraduate and graduate, from Hong Kong coming to Columbia. There's a social aspect, with mixers and general body meetings, creating a familial feel so students have friends they can connect with immediately. We also have professional networking, connecting students with the Hong Kong Alumni Association which is really strong and active. 
Going forward, what are you working towards academically and professionally? 
This might sound really cheesy, but I'm so serious when I say that I want to be a leader in sustainability. What that looks like is more in-progress, but one of my closest friends is someone I met through HKSSS, a School of Engineering mechanical engineering student, and the two of us have a pact together that one day, we're going to build a climate tech startup. That's my ultimate goal.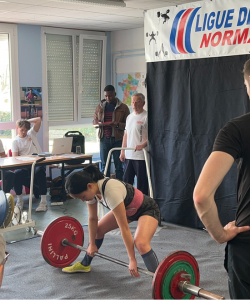 If you had to summarize the impact the Dual BA has had on you so far, what would you say?
I'm so grateful that this program exists to allow me to think differently. I will always be grateful for the ability to see things with multifaceted lenses. And I mentioned this before, but I'm really grateful that it has allowed me to be brave, even spontaneous, both through the literal flexibility of the program and through giving me the confidence to take risks. For example, the UN internship and taking time off, but also when I was in France I participated in a powerlifting competition, something I always wanted to do, but I needed to hype myself up for it. And it ended up being so cool! That mindset, almost a "I want it, I get it" kinda thing, that's my favorite thing I've taken from this experience.