Profiles of the Spring 2021 Incoming Class
The incoming Spring 2021 class comprises a diverse group of students. Below, a few incoming students share their stories from their experiences before coming to GS to now—all of it culminating in their enrollment at Columbia University. 
January 15, 2021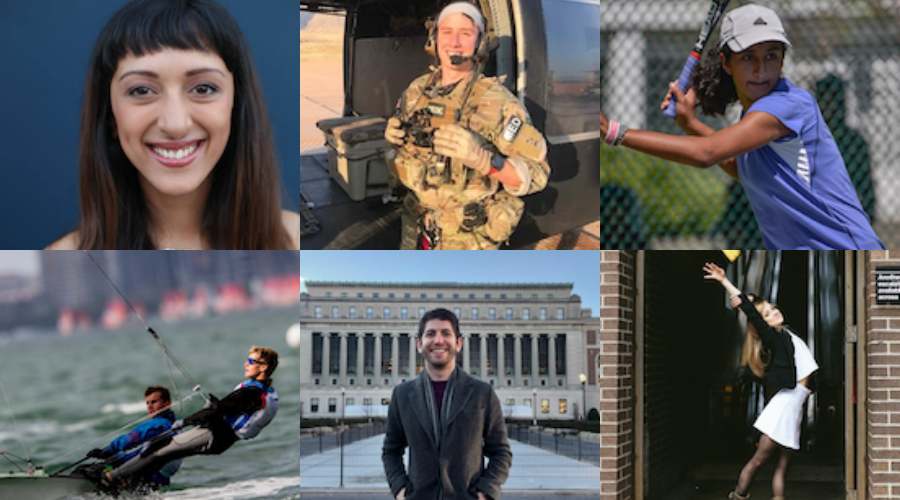 The incoming Spring 2021 class comprises a diverse group of students. Below, a few incoming students share their stories from their experiences before coming to GS to now—all of it culminating in their enrollment at Columbia University. 
Undergraduate
Postbac Premed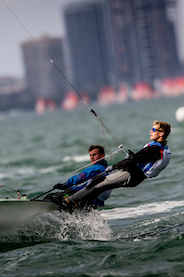 Leopold Brandl
"Hi, I'm Leo and I'm kinda into sailing. I started sailing at the age of five, competed in my first regatta at six, and started my first Olympic campaign at 16. The ocean is where I feel at home. As a kid, every day after school, I would bike out to the marina, rig my little sail-boat, and race around the bay with my buddies. Over time, it got more professional, and now I am competing at events all around the world.
Olympic sailing is more than just a sport, it's a lifestyle. I spend hours every day, optimizing the boat, testing new equipment, and managing the financial side. The community is amazing and my international training mates are family to me. I couldn't imagine doing it without them.
When you don't find me in, on, or by the water, I am probably sitting in a lecture or a lab. My other passion is science, especially physics. I attended a high school program for gifted students in science, competed in science competitions, and used my breaks in high school to read books on theoretical physics. I currently work for CAESES on a research project that perfectly unites my interests. I program aero- and hydrodynamic models for boats, cars, and planes, which brings the perfect balance between my excitement for science and my real-life experience from sailing.
I always knew that I didn't want to be an athlete forever and that, someday, I wanted to pursue a 'serious' job in science. When looking at colleges, I wanted to get the best education possible while still being able to compete on the Olympic circuit. It didn't take long until I had made my pick. Columbia was no foreign name to me as Professor Brian Greene's books were what first got me interested in physics as a kid.
There is hardly any other place where you can meet as many interesting people with such diverse experiences, backgrounds, and insights as at Columbia, especially Columbia GS. I can't wait to get to know my classmates and thrive and evolve in a community full of amazing people who all have their fair share of wisdom to bring to the table and to exchange that wisdom and grow as a family."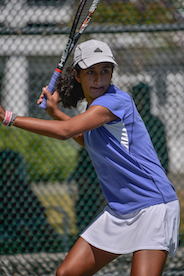 Zia Kara
"Since the age of seven, I have been an avid tennis player with a goal of competitively pursuing tennis. In order to provide more flexibility in my schedule and so that I could dedicate enough time to tennis, I completed much of my education via online schooling. Through tennis, I have been able to learn and grow as a person, and gain many skills such as determination, hard work, and persistence. I have been able to take these skills and translate them to not only my academics but also my career. 
Though throughout my tennis journey, I have unfortunately suffered some injuries. In 2017, around my high school graduation, I suffered a debilitating setback when I injured my wrist. This eventually led to me getting wrist surgery in late 2018 and going through a slow and arduous rehab process for the past two years. While I have been waiting for my wrist to recover, I was able to start and create a medical spa from the ground up. Becoming an entrepreneur and running my own business has been such an exciting journey over the past few years.
I always knew I wanted to pursue higher education, and after I heard about Columbia GS inadvertently on Google, I knew I had to apply. After looking into GS more, I felt as though I would be a great fit, and bring my experiences from my tennis and entrepreneurial journey. COVID also forced me to take a look at my business and my career. At this point in my life, I knew that pursuing higher education would allow me to grow as an individual, and gain skills that would translate to my life and any businesses I choose to grow in the future."
Brian Luna
"I am a classic example of a nontraditional student. I have encountered a number of setbacks throughout the years that have led me to postpone my college education, yet each time, I figured out how to overcome my adversities. I have been a non-native, English-speaking immigrant and a low-income student; I have had to overcome a medical emergency and a learning disability. I consider each of these experiences invaluable as they have taught me to get back up and try again. My past has generated a solid foundation of resilience and pragmatism thanks to my ability to adapt. I possess a unique and unconventional background that will be an asset and help me to succeed at Columbia.
I recently received my citizenship after over a decade in the country. While still young, I already view myself as the quintessential example of the American Dream: a young, low-income immigrant who struggled through the ups and downs of life but always found a way to work hard to get myself to the next level. GS is my next major milestone on my journey for academic and personal development.
I decided to transfer to GS because it is considered the finest liberal arts college in the U.S. specifically created for nontraditional students like myself. GS touts the diversity of its incoming class, which brings together students of all backgrounds, ethnicities, interests, and experiences. Columbia has many of the world's leading scholars and I look forward to engaging with both my professors and fellow students. I envision a state of intellectual osmosis, where I am constantly absorbing new ideas and information. I am especially excited about the Core Curriculum, which has been the backbone of Columbia's long-standing tradition of providing its students with a well-rounded liberal arts education. I am a believer that the peers and colleagues you surround yourself with are just as important as the faculty and the curriculum at the school. A strong community of like-minded, driven individuals cements a holistic academic experience."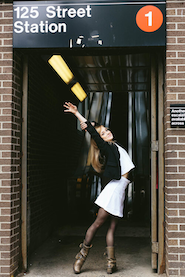 Angela Palladini
"The stage is where I'm most at home. I've been dancing since I was 5 years old and have never looked back. It's strange to reflect back on those times and know that at 9 years old I knew exactly what I wanted to do in my life.
I moved from LA to Chicago when I was 18 to pursue my career with Hubbard Street Dance Chicago while attending DePaul University part-time. When my dream of being a dancer came true, I put my collegiate life on hold. I danced in professional ballet companies throughout my late teens and early twenties and worked on shows, like The Marvelous Mrs. Maisel and Divorce. I'm actually fresh off of the Charlie and the Chocolate Factory National Tour, where I portrayed Veruca Salt. COVID-19, unfortunately, forced us to cut our tour short, but we're hopeful and excited to continue when it's safe to reopen! I have been blessed with such a beautiful, bright (and as life goes, sometimes dark) journey.
Show biz might sound glamorous or like a walk in the park, but nothing about it, or life for that matter, has ever come easy to me. I was extremely bullied growing up (I'm a very tiny human!), and struggle with generalized anxiety disorder and depression (2020 didn't help that!). As I've grown older, I've realized that asking for help isn't a weakness, but a strength. In this industry, we're rejected multiple times on a daily basis—we are a product—and even 1/4 inch deviation in either direction could prevent you from landing your dream gig. That is our reality and a reality that, as hard as it is, I cannot fathom doing anything else. I simply love what I do! 
One of my favorite quotes is by Robin Williams, an actor whose legacy continues to live on: 'You're only given a little spark of madness. You mustn't lose it.' I have vowed to myself to never lose that spark, which in 2020 alone has been even more challenging. But one thing about me is this—no matter what—I will never give up. I love art more than words will ever be able to adequately express, and I want to continue spending the rest of my life giving art back to the community—in whatever capacity that might be."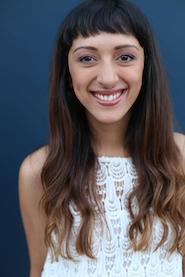 Monisha Dixit
"I have worked just about every job there is, from Disney Princess to waitress, the weekly cleaner (me and Lady Di), paper girl, cafeteria lunch lady, baker, actor, model, retail sales associate, barista, kitten foster mom, and on and on. I am grateful for every experience and every person that's come into my life!
I was entering a new phase of life that collided with the pandemic. It forced me to slow down and gave me time to consider my inner purpose. I saw the devastation COVID-19 was creating among my local community and couldn't help but feel for the children of those families. I am very passionate about children's rights and I felt compelled to do something for them. 
This is why I aim to become a child psychiatrist. Columbia has always been a dream of mine and now I have the opportunity to educate myself at one of the oldest and most prestigious institutions in America. My hope is to mitigate the trauma that children will experience in the years to come from the pandemic as a physician.
I'm excited to be on campus (eventually) and soak in the history. There's something powerful about being on the same ground as so many others that had the drive and talent to create lasting change in the world. I find it very inspiring. 
I am so excited to call NYC my new home!"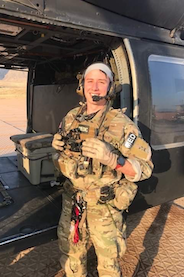 Ricky Ditzel, Jr.
"I grew up in Fort Lauderdale, Florida with my mother and older brother, and sister. We moved around a lot and came from humble beginnings. My brother has special needs (cerebral palsy), and my sister served as an example of what it means to be resilient. She and I are both first-generation college students and took different paths to get there.
Thirty days after graduating high school I left for U.S Army basic training to help facilitate a better life and future for myself and also serve my country. I served on active duty from 2013-2020 and spent my final 3 years as a special operations flight paramedic. I deployed to Iraq and Afghanistan and volunteered on multiple committees to help advance medicine, including leading a research team to analyze the effects of hypocalcemia on hemorrhagic shock and trauma patients, dubbed the 'Lethal Diamond' model of trauma. I also gained a passion for conditions resulting from neurological trauma, specifically mild traumatic brain injury. With the help of mentors and colleagues, we developed the '7 pillars approach to mild traumatic brain injury management' which I was fortunate enough to present at the Special Operations Medic Science Assembly.
The day before my active duty service was going to end this past April, I was asked to serve as the Clinical Operations Director for New York Presbyterian (NYP) hospital's Ryan F. Larkin Field Hospital. We were tasked with helping decompress the NYP hospital system and in the month we were open we treated 150 COVID positive patients and had a staff of 175 volunteers from all over the country. After my time at NYP, I worked as a COVID Compliance Officer for a show hosted by Apple TV+.
I decided to continue my education in the Postbac Premed Program to pursue my goal of becoming a physician and specifically applied to GS after my experience at the field hospital. I met many student Veterans and I was fortunate enough to meet Dean Colgrove because his students were serving as volunteers at the hospital. I was amazed by the level of professionalism, resilience, empathy, and passion everyone from GS showcased as I interacted with them in many ways."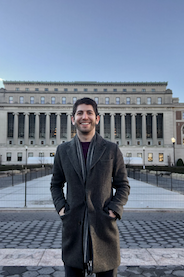 Alexander Hantman
"From high school, I knew that I had a strong interest in the sciences, and by my senior year I had honed in on the unparalleled elegance of biology through an internship at Memorial Sloan Kettering's molecular imaging lab. When I got to college, I majored in bioengineering and continued working summers at Memorial Sloan Kettering, but I grew inspired to try and fix healthcare sooner than it seemed possible to with the long path of medical school and the time it takes lab research to be helpful at the bedside.
In working closely over the last several years with physicians of many stripes—from oncologists and orthopedic surgeons to radiologists and primary care physicians—I came to realize something that my younger self had missed. Yes, medical school is a long path, and research does typically take many years to leave the lab and make a difference in care, but the impact you have on directly helping patients and their families make it all worth it.
And so this year I decided to take the leap in further exploring life as a provider through an accelerated EMT boot camp in Corpus Christi, TX, and with conversations from nontraditional doctors and mentors. Now I'm so thankful to have applied and been accepted; I can't wait to begin my premed journey at Columbia!
I'm most looking forward to learning from professors at the top of their fields, students with diverse life experiences, and clinicians and researchers working on advancing the standard of care. I also can't wait to participate in the robust student life—there are so many exciting clubs and organizations!"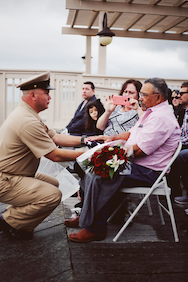 Tomas Davila
"I'm originally from a small town in Northeast Texas. Throughout high school, I worked as a veterinary assistant for a small clinic and exotic animal petting zoo. This is where my love for medicine started.
Senior year I worked at our local emergency medical center and provided care for under- and uninsured families. Working with this population resonated with me since I come from a family of poor migrant workers and was the first in my family to graduate high school. My grades were poor and I was a pretty depressed kid. I was bullied a lot and more concerned with getting out of town than getting my own education. Three days after graduating, I joined the Navy and never looked back. To me, it was a way to escape small-town life, see the world, and secure funds for college. This started a 23-year military career and numerous deployments around the globe. Starting at the bottom (E-1) of the enlisted ranks, I worked my way up to become a Chief Petty Officer.
Keeping my eye on the prize, I earned Associates and Bachelor's degrees, making me the first in my family to attend college. After retiring from the Navy, I was finally able to pursue my dream of becoming a medical doctor. I just started working as a medical assistant when the pandemic hit. Our clinic was one of the first in the area to offer drive-by testing and I once again found myself serving on the frontline, but this time as a medical professional. Working alongside nurses, PAs, and doctors well into the night to provide care for our patients while mitigating the spread of COVID motivated me even more to become a doctor. On Dec. 2, 2020, I found out I was accepted into the Postbac Premed Program. The next day, my father and I cried together as I told him the news. Little did I know that just 4 weeks later, he would pass away from COVID-19. This is the story of how I came to GS and it is only the beginning. I push myself every day to make sure I do my part to prevent the death of another's loved one.
My advice for others on their GS journeys: Wake up every morning and remind yourself in the mirror that you are amazing, you are beautiful, and you deserve to be here at this very moment."