Profiles of the Fall 2020 Incoming Class
The incoming Fall 2020 class comprises a diverse group of students. Below, a few incoming students share their stories from their experiences before coming to GS to now—all of it culminating in their enrollment at Columbia University. 
Undergraduate
Postbac Premed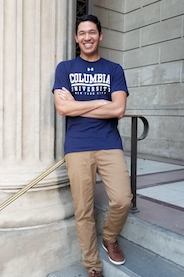 Julian Melo
"Growing up in a low-income family in Brazil forced me to be strategic about my resources and inspired me to prioritize learning. I've learned to manage burdens and disadvantages, and eventually, I carved my path to pursue higher education in the United States. As a sophomore in college, I was recruited by the U.S. Army under a pilot program called MAVNI (Military Accessions Vital to the National Interest), seeking recruits with cultural fluency in specific, mission-critical languages. Shortly after I signed the contract and willingly revoked my student visa, the program was placed on indefinite hold, placing all recruits at risk of deportation, myself included. It became clear to me that I would need to fight for my right to become a soldier and an American citizen. For nearly two years, I met with other recruits from all over the world, organizing our efforts to meet with senators, seeking support for a possible bill to revive the recruitment program. After two years of constant effort and litigation, we won a class-action lawsuit, and my dream to become a soldier and American citizen finally became a reality.
After transitioning out of the military, I had the privilege to work as a research and policy analyst for the City of El Paso, allowing me to conduct research and offer suggestions that can impact the lives of thousands of people. It has been a great experience and I'm excited to continue my journey at Columbia this fall. My experience with immigration and inequality inspired me to pursue a degree in Economics, preparing me to eventually attend law school. Columbia University presented an opportunity to embrace the challenge, demand for excellence, and excitement that comes with an Ivy League education. GS' commitment to veteran's success was a crucial factor in my decision to apply. Columbia was the best choice to prepare me for a legal career in constitutional law and human rights.
I'm currently attending the Harvard Warrior-Scholar program – this demanding summer experience is helping me to refine my reading techniques, strengthen my writing skills, and connect me to amazing veterans from across the country."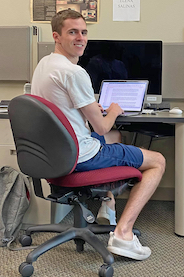 Lance Nelson
"Due to homophobic bullying received throughout my grade school years, I became fearful of school campuses. I ran away from my small hometown in hopes that the more diverse Los Angeles would offer something more inclusive. What I didn't realize is that the depression and social anxiety I had acquired back home had followed me.
My twenties were spent grasping for a meaningful connection or path forward, but my declining mental health placed me in more harmful situations—not unlike many other LGBTQ individuals. I did, however, start a social media platform titled 'LanceTheDriver." It was here that I shared my struggles and dreams with the hope that it may help someone else who was also feeling lost. I built a small but engaged following of "drivers" who shared my vision that in order to "drive" through their struggles, they should find something they are passionate about. Through this, I gained the attention from automotive manufacturers who then sent me weekly vehicles to feature alongside my content. This provided me with an amazing support system, but it didn't provide much of an income.
At age 30, realizing the extent of my financial struggles and difficulty getting a job without a degree, I began studying journalism at San Diego Mesa College. I was terrified of being back in a school setting, but with the help of a college therapist and the support of my online friends, I went from fearing the education system to absolutely falling in love with it. I graduated with honors and left as the Editor-in-Chief of our college publication, The Mesa Press. My perspective of higher education had been transformed, but more importantly, I began seeing my own potential for the first time in my life.
Upon graduating Mesa, I began looking at transfer options. One obstacle that came up repeatedly was how my earlier grades in high school and the gap in education reflected on my transcript. I had grown to believe that my nontraditional path was to be looked down on and as a result, I had little faith in a university wanting me.
Then I came across Columbia's School of General Studies and all of a sudden, I felt that my story was valued. Every negative message I had previously received about going to school later in life instantly dissolved. I felt supported by an institution that had yet to accept me. The message that Columbia GS was putting out there for nontraditional students was one that I had yet to hear and I again felt a renewal in my optimism for the possibility of higher education.
I have since used my spare time to hold the school district in my hometown responsible for its lack of LGBTQ inclusion and awareness. During my final semester at Mesa, I gathered research to write an article about the district's negligence in addressing their low markings in Equality California's Safe and Supportive Schools Report Card. The report created 13 years after I graduated, revealed a slew of significant shortfalls by the district in providing a safe environment for LGBTQ youth. I made numerous requests to the district to discuss the report and offer suggestions so that current or future LGBTQ students wouldn't experience what I went through. These requests were ignored. Subsequent to this, the article was published in The Fresno Bee. I have since received emails from faculty, community members, and current LGBTQ students in my hometown who have shared similar concerns. The issue has been escalated to the Fresno County Superintendent. Change is coming. 
I plan on using my Columbia education to further address the visibility of obstacles keeping others from higher education. Education saved my life and it's my objective to extend that opportunity to those who want it, regardless of what path they are on."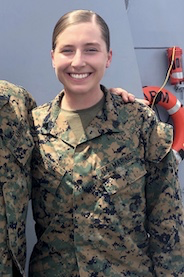 Alyssa Maerzke
"I graduated high school in June 2014 and attended community college for a semester before dropping out. Struggling as an 18-year-old without purpose or direction, I grew complacent in my studies. Furthermore, my desire for adventure led me straight to a Marine Corps recruiting office. In 2015, I joined the Marine Corps to become an intelligence specialist. During my basic schooling to become an intelligence specialist, my classmates and I were inundated with stories by our instructors of combat in Iraq and Afghanistan. Listening to their stories convinced me that the purpose I sought could be found as an intelligence specialist at a combat unit; however, at this point, females were still unable to serve in these units. Barred from joining an infantry unit, in 2016 I received orders to a non-deployable unit in Camp Pendleton, California. When legislation passed requiring all military units to allow females in the ranks, I knew my time was near. I spent my free time honing my skills as an intelligence specialist and increasing my physical capabilities. To my delight, opportunity knocked in February 2018 when I was greeted with a voicemail informing me that I had been chosen as part of the initial group of females to be integrated into Third Battalion Fifth Marines, a Marine Corps infantry unit.
Between facing adversity at an integrating Marine Corps infantry unit and gaining exposure to the inequality women across the globe deal with while deployed, I became passionate about advocating for the rights of women internationally. I joined the Marine Corps seeking purpose but realized that the purpose I desired could be obtained by fighting to rid the world of gender inequality. I knew that I needed to leave the Marine Corps and obtain a political science degree in order to better accomplish my newfound goal. While researching programs I discovered Columbia GS and instantly I was sold. Aside from the tremendous political science program at Columbia, I loved the idea of being in class with a diverse group of traditional and nontraditional students.
My time in the Marine Corps has given me a unique story and a different perspective on life. I look forward to sharing my story with my classmates, while also learning about the unique experiences that brought them to GS."
Jacob Borden
"It was a classic case of mistaken identity: while photographing in a Beirut suburb, a militant group emerged from a house, grabbed me and my translator, brought us into a courtyard and offered us mango juice and cigarettes while they interrogated us in Arabic. With the smell of cheap cigarettes wafting through the air, we pleaded our case that we were not Israeli spies. After a brief exchange they gestured towards the door, said 'yalla', deleted our memory cards, and sent us on our way.
This is one of the many unusual situations that I've found myself in on my 7-year 'gap year'. Attending Columbia University this fall is yet another milestone along the path less traveled. Vagabonding across New Zealand, Indonesia, and Morocco in the years since high-school taught me resilience, perseverance, and a reverence for the magic of serendipity. Apprenticing with award-winning photojournalist John Stanmeyer at National Geographic was the linchpin to my career as a storyteller and explorer. My work has since brought me to the periphery of conflict zones in the Middle East, Asia, and Eastern Europe, often challenging my preconceptions and forcing me to reassess what it means to be an engaged citizen.
In October of 2019, I was invited by an international collective of artists working under the name 'Nine Dragon Heads' to complete a series of work along the Korean DMZ. We traveled the length of the 38th parallel for 2 weeks, creating photography, poetry, music, dance, and sculptures inspired by the divided Koreas and exhibited them in Seoul and Suwon during a week-long symposium. My most recent work has been here at home, following the national BLM movement demanding racial justice and subsequent protests in Minneapolis and across the country. My work has been published by The BBC, Thompson Reuters, Vice News, and has been displayed at home and internationally.
The new landscape of Columbia and the city-at-large is a rich playground for photography, stimulating conversations, and exposure to all walks of life. And with my course set, I look forward to meeting everyone on campus (and Zoom!) in September.
Photography will remain my first love. I wake up each day with a rare sense of purpose. As a photojournalist, I am put in a unique position to think independently and critically of the world around me—a practice that seems anemic in our postmodern, instant, and digitalized world. GS is an extension of this spirit and I hope to gain a nuanced and deeper perspective to my work through a degree in cultural anthropology."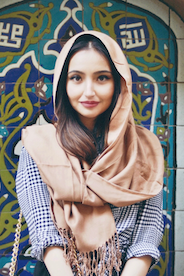 Sara Wahedi
"I vividly remember the day I got my GS acceptance letter. I had called my mom who was just finishing up her shift at her third job of the day. She recalled the memory of when we were homeless just outside of Manhattan in 2000, waiting for an update on our asylum case. There was a time when we would have passed the steps of Columbia, unknowing that it would lead me straight through its doors."
Before coming to Columbia, Sara Wahedi had set her sights on majoring in political science. But she couldn't shake the lack of purpose she felt. "I took a break from studying to work as a Program Assistant at an NGO focusing on community development in my city. It almost felt like a knee-jerk reaction-coming to Canada as a refugee with a single mother and dealing with every obstacle ranging from homelessness to cultural differences, I had gone through the journey and wanted to alleviate the process for those coming after me." 
After gaining 4 years of experience, Sara found herself in a full-circle moment when she was approached about taking on a position focusing on migration and displacement in Afghanistan. "As an Afghan refugee, I jumped at the opportunity to return to my home country. That position led me to interview the Senior Advisor to the President of Afghanistan for a research project. He saw my potential and offered me the opportunity to work as a Specialist focusing on Migration and Social Development at the President's Office." Following her time at the President's Office, Sara launched Afghanistan's first civic-engagement startup, Ehtesab, which aims to bridge the communication gap between Afghan citizens and government officials.
"It was during this time in Afghanistan in which I knew that I had to return to school if I wanted to continue my work in the fields of social innovation and public policy. Once I had learned about GS and Columbia's dedication to promoting a rich and varied student body, I knew that GS was the place for me and would be made up of a community of innovators, game-changers, and future leaders."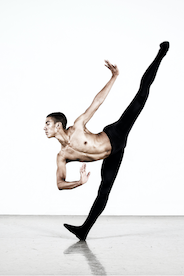 Desean Taber
"I have been dancing since before I can even remember. As a child, one could find me dancing around the house all day, putting on shows with my older sister for my parents. At the age of 12, I decided to seriously invest in ballet, which is quite young to make a life choice. But, I wouldn't change that decision for the world. I've been in all the big ballet schools around the world, either full time or exchange, including Miami City Ballet School, San Francisco Ballet, The School of American Ballet, and The National Ballet of Canada. After I turned 19, I was selected to join the Boston Ballet as a fulltime dancer. It was a dream come true. I worked with incredible choreographers such as William Forsythe and John Neumeier, and I have had the honor to dance dream roles in a variety of incomparable works like Balanchine, Robbins, Ekman, McGregor, Cranko, etc! Even though the ballet world was an amazing career path, the older I became the more I saw the dark side. Ballet is an old art form, dating back past the French Courts of kings and queens. This is not an excuse, but with that kind of history comes a lot of systematic behaviors, equity injustice, human rights issues, and racial injustices. Witnessing and experiencing these conditions lit a fire in my heart. I want this to change, and I will fight for this to change! It is time, as people all around the world are showing, to change how this country and the world views all its inhabitants. We must respect each other, and time is up. I decided to apply to GS for it was heavily recommended by many friends who have attended and since graduated. I wanted to stop sitting around and complaining, get up, and actually work to change this world."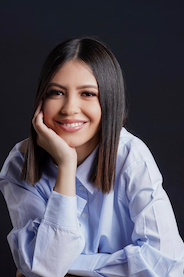 Nancy Bosnoian
"At 11, I witnessed my grandfather being taken for ransom by an insurgent group in Damascus; luckily we got him back alive. At 12, I lost the place I called home, Aleppo, and became an immigrant. At 13, Syrian rebels stole my father's factory. After turning 17, I was hospitalized with a mystery diagnosis, having lost the ability to walk. That same year, I also began experiencing problems with sleep. I found myself sleepy all the time, even if I had just woken up from a nine-hour rest. Realizing I wasn't the only one having difficulties, I began extensive research on sleep's effect in our daily lives and found a direct correlation between socioeconomic status and sleep challenges—and how very little resources exist to help.
I returned to school at 18 but was forced to take a medical gap year after graduating. I took it as an opportunity to officially found End No Sleep, Inc., a nonprofit I had dreamt of starting that would make sleep resources available to underserved, refugee, and immigrant communities where mental health and sleep are often neglected. Determined to regain my health, I focused my time on building skills I needed for the real world while balancing my medical problems; it was my time of transition from a student to an independent young adult.
Now at 20, I'm grateful for my experiences and excited at the opportunity to pave my own path, fueled by the belief that getting a good night's sleep is a human right and should not be a luxury. I hope to help people understand what sleep is and how it affects the brain. I've found a passion for advocating policies that help improve sleep, such as later school start times or policies that help professional drivers obtain enough sleep to function best on the road.
Every political, medical, and social setback has taught me more about the value of education. Columbia GS will accept me for who I am: a student who has forgotten what it's like to be one. Coming from a background where I have seen my home, health, and sense of comfort fall apart, I will have the chance to rebuild surrounded by peers whose stories will inspire me and professors with an enthusiasm to teach me."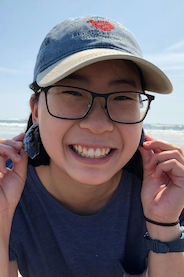 Laura Oing
"Before I came to GS, I was an undergraduate student at Johns Hopkins University. I majored in creative writing with a focus in fiction and was very involved in the arts on campus. In addition to performing my own stand-up comedy at shows on and off campus and writing some plays to be performed on campus, I was heavily involved in technical theater, with most of my focus on designing and building sets and stages for plays and musicals. For the longest time, I thought I would go into something that is traditionally thought of as "artsy." I wasn't sure if I wanted to write more plays, screenplays, and fiction, or if I wanted to go into professional theater.
Towards the end of my first semester of junior year, I began to think more about what I could envision myself doing in the future. I wanted so badly to be a doctor when I was younger, but that dream faded away over the years for a number of reasons. In high school, math wasn't my strongest subject, and I also found other interests very compelling. In high school I loved studying classical culture and the ancient Latin language, as well as pursuing my own creative writing exercises outside of classwork. Some of the other professions I felt drawn to at one point or another were: archaeologist, writer, psychologist, nurse, and jobs in the theater industry. I thought that it was too late for me to turn to medicine, and that I didn't have what it took to be a doctor—both in terms of my lack of completed STEM college courses and my own personal abilities.
With the guidance and encouragement of my parents, advisors, and peers, I looked into postbac premed programs. The program at GS really appealed to me for a number of reasons. Not only is Columbia a top-tier educational institution, but the Postbac Premed program at GS offered me flexibility and a wealth of advising and academic support services that would help guide me through this process, which I am still very new to!
My father is actually an alum of Columbia College (Class of 1986), and he has always said that college was the best time of his life (before his wife and kids came along, of course). I'm really excited to begin forging my own path at Columbia, and knowing that my father treasures his memories from his college days lets me know that I am in great hands."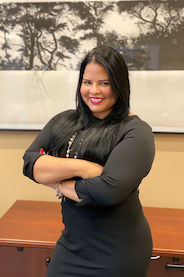 Jeannie Marmol
"I've been working in the financial service industry for 20+ years. During this time, I have grown as a professional and, as a result, have been promoted several times. Hard work and dedication are something I learned at a very young age from my mother. I grew up in Harlem with my mom, who was a single parent. My mom and I came from the Dominican Republic. My mom was 20 and I was 5, and like most immigrants coming to this country starting a new life was very difficult. However, it was during these moments that I learned to be resilient and never give up no matter my circumstances. It's with that same drive that I was determined to become a successful and influential leader that would be a role model for others and give back any way I could. I'm thankful for my success over the years in finance. Not only has it made me the person I am today, but I continue to inspire others with my own story. I've received various awards from my firm such as, "Top Manager" of the year, "You Make a Difference," and "The Leader of the Year from YWCA" in 2019. Despite my success within my firm, deep down I was not living my passion. I always wanted to help others in a more direct way and as a little girl wanted to be a doctor. "Dr. Marmol" was who I wanted to be since I was 5 years old. However, this was a dream that I kept putting off because of the responsibilities of being the financial provider for my family and not having the resources to attend medical school. I am the first person in my family to get a college degree and have a career that makes a positive impact on my family. How could I give this up and start over?
In pursuit of furthering my education two years ago, I applied to Columbia Business School and was accepted. It was an incredible experience going to CBS. During my time there, I met colleagues that were doctors who were now getting an MBA and other extraordinary people. It was here that I learned that it's never too late to start again and to take risks to make your passion a reality.
The current situation with COVID-19 and its devastation on low-income communities and people of color was the last push I needed to get over my fears. I could no longer stand by and not follow my dream. Right after graduating from CBS this past May, I applied to the Postbac Premed Program. I am so excited to start my journey. The program will help me acquire the knowledge in the sciences I need to apply to medical school and pursue my medical career. Columbia is a community that is extremely supportive and will guide me in my quest. One day, I hope to merge my 20 years of experience in finance and medicine to make a long-lasting impact on others. I also want to show my daughter, my family, and anyone out there who thinks it is too late for them or has given up on their dream—it's never too late. Take a risk, start over, and go be the best version of yourself. If I can do it, so can you!"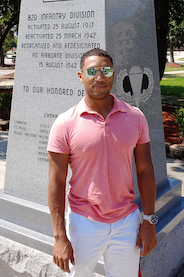 Paul Izard
"I wandered aimlessly through college, struggling to find a sense of purpose or direction. I had a variety of interests, but nothing that felt like I could make into a career. Luckily, I found mentorship in a pair of veterans, who explained to me how military service had transformed their lives. Encouraged by their tales, I decided that I would follow in their footsteps. So, soon after graduation, I enlisted in the United States Army and began the most meaningful career of my life. For the last five years, I've had the privilege to serve as an Infantryman in the 82nd Airborne Division.
Over the years, I came to understand that it is the service to a greater cause that gives this job meaning, and I began thinking of ways I could continue to serve after the Army. My interest in medicine began to grow while I was deployed to Afghanistan, where I got to see first-hand the unique challenges of providing medical care in an austere environment. Inspired by my experience, I decided to return to school after my time was up. Columbia GS' long history as a veteran-serving institution is second to none, which motivated me to apply. Now that I've been accepted, I'm thrilled to be able to share in that history.
This spring marked the beginning of my transition out of the military. I am fortunate to be participating in the Army Career Skills Program, which offers transitioning Soldiers an internship in their career field of choice. Through this program, I have spent the last four months interning with a local Community Health Center, serving the medically underserved population of Milwaukee. I hope to find similar involvement opportunities when I arrive in New York City this fall."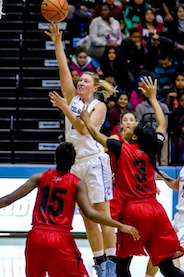 Devon Roeper
After three years working in advertising, Devon Roeper found herself wanting something more—something that would truly make an impact on the world around her: becoming a physician. A graduate of Columbia College and an alumna of the Columbia Women's Basketball team, Devon continues her Columbia journey in the Postbac Premed Program this fall.
"I was born and raised in San Diego, CA and attended Columbia for undergrad, where I also played on the women's basketball team. Although I received dozens of offers to play college basketball, I knew that I wanted a student-athlete experience that challenged me both academically and athletically. That is why I chose Columbia. I graduated with a double economics and political science major, with a concentration in business. Post-graduation, I knew that I wanted to be in a work environment where I was constantly learning and immersed in one that was team-oriented and people-centric. I chose a job in marketing at Ogilvy, one of the largest advertising firms in the world. In my business development role, I worked with creative, bright colleagues in a high intensity environment, where I was working with and learned about companies across multiple industries. Although I was challenged, inside I wanted more. I want to make a lasting impact on people's lives and have a career that encompasses the following components: fast-paced, high-pressure situations involving creative, complex problem solving, and a path that has an infinite learning curve. Being a physician will encompass each of these components in the most fulfilling way.
Although this career shift is a 180-degree change, I concluded that the majors I chose as an 18-year-old should not define decades of professional impact. When I was looking at postbac premed programs, I could think of no other place that I wanted to attend other than my alma mater. I had such an incredible undergraduate experience at Columbia with academics, athletics, and the community, that I knew this was the school I wanted to go back to, to make this career shift."