GS Welcomes Fall 2023 Incoming Class
GS welcomed 495 new students who'll begin their Columbia University journeys this fall on the Morningside Heights campus.
September 06, 2023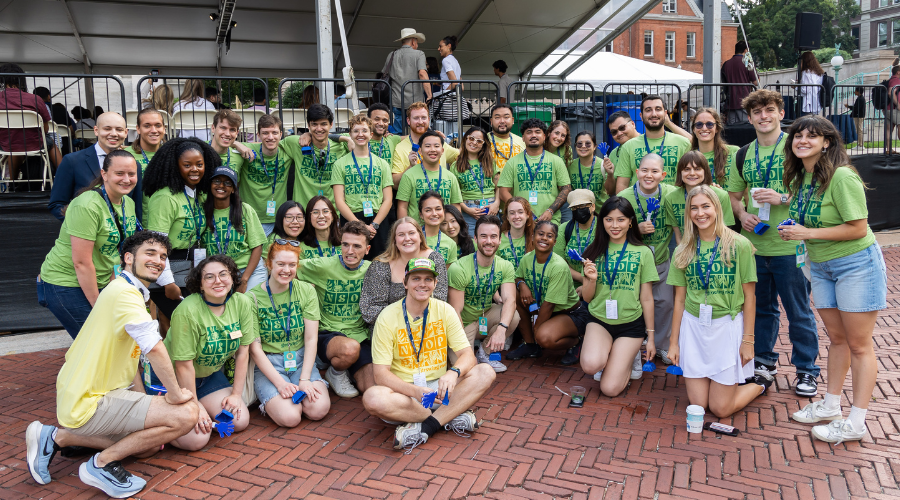 Columbia GS recently welcomed 495 new students to the bustling Morningside Heights campus for Convocation and to begin the fall 2023 semester. Columbia University President Minouche Shafik joined GS Deans, University leadership, and GS students and alumni in speaking to the incoming class about the journey they're embarking on and how their diverse experiences will serve them well in academia.
Dean Lisa Rosen-Metsch kicked off the semester by celebrating the achievements of the incoming class and sharing her excitement as they join the vibrant GS community. "As have thousands of GSers in our history, you are about to embark on a life-changing journey."
"Your stories weave together to create a beautiful tapestry of voices, experiences, and expertise that is the very essence of GS. Now more than ever, your pursuits at Columbia and the convictions, dedication, and perspectives you bring to your studies are needed in our communities," she said.
Following an enthusiastic introduction from Dean Lisa Rosen-Metsch, President Shafik likened her own journey to those of the new students sitting in front of her.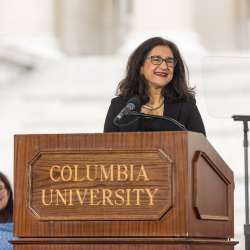 "Like you, I am new to this campus, having started as Columbia's 20th president in July. And I say as someone who has experienced change once or twice in my life, beginnings are exciting, and hard, and everything in between. They introduce us to new people and ideas, challenge us to adapt to new situations, and open our eyes to new ways of thinking about the world and our place within it," she said.
President Shafik praised the diversity of GS students, forging their own paths in life and using their experiences to better connect with and understand the world around them.
"That is the genius of Columbia General Studies, after all. The school was founded on the idea that life is not linear, that talent is found across backgrounds and experiences, and that our community is made stronger by embracing diversity in every sense of the word," she said.
Look, to your right and to your left—you, our students, are now part of the Columbia story. You are now partners, with all of us, in creating what comes next.
Following President Shafik's welcome address, Executive Vice President of the Arts and Sciences Amy Hungerford spoke about the Columbia undergraduate experience and expressed how proud she was of both the past and future achievements of the incoming class. She shared her hopes for their journey ahead as they begin writing GS story.
GS Dean of Students Marlyn Delva also addressed the newest GSers, encouraging them to dive head-first into the coming semester, knowing that while they may forget some of the specifics of what happened, they will remember the feelings, the experiences, and the moments in which they discovered something new about themselves.
"Participate in what feels natural. But, also allow yourself to go outside of your comfort zone as it is in our discomfort that some of the greatest lessons in life are learned," said Dean Delva.
Students also heard from James Colgrove, Dean of the Postbaccalaureate Premedical Program, who discussed the various identities of GS students and the transformation that occurs when one begins their academic journey. "You won't leave behind who you were before. Instead, you'll integrate the knowledge and skill that you gain through this program into your new selves."
Alumnus and Executive Director of the Center for Civic Education, Christopher R. Riano '07GS implored students to embrace the importance of engaging with the uncomfortable—those ideas and experiences that challenge your beliefs and spark educational debate within the community.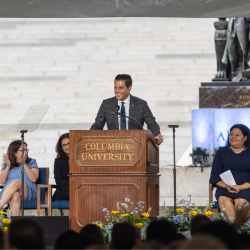 "I urge you all to embrace the challenges you encounter during your studies. Do not let fear or uncertainty hold you back from pursuing your passions and realizing your potential."
To close-out the Convocation ceremony, GSSC Student Body President Nasser Odetallah reflected on his own path to higher education and how GS became an instrumental part of his self-discovery journey. 
"Two years ago, I remember attending my own convocation, wondering what I was doing at Columbia and GS. [...] Like me, you may not have everything figured out quite yet. You may also feel you have lived many different lives before beginning here at Columbia and may not be sure of how that all relates to your future here. Even if you have a plan, this place will challenge you, inspire you, and make you consider the new chapters your life might take once you have left this place," he said.
Following Convocation, GS students were invited to attend several special orientation events for the International and Veteran communities at Columbia.
Every year, GS welcomes new students to the Columbia Morningside Campus with their New Student Orientation Program (NSOP). NSOP events are specifically designed to introduce the incoming class to their peers, advisors, and professors, and help them settle into life around Morningside Heights before classes begin.
---
An Overview of the Incoming Class of Fall 2023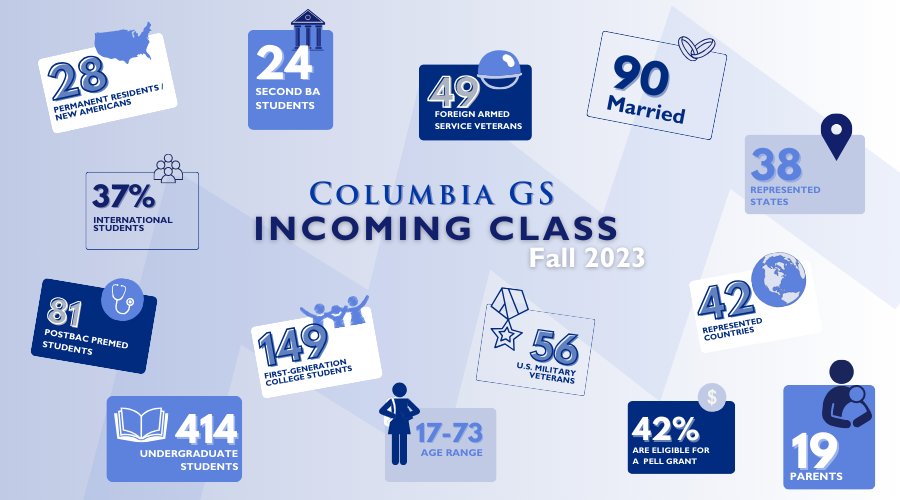 The School of General Studies is home to a diverse community of students whose non-linear paths contribute to the rich intellectual discourse of Columbia's undergraduate classrooms.
37% of incoming students are international students
42% of incoming students are eligible for a Pell Grant
24% of incoming students are military veterans
149 incoming students are first-generation college students
24 incoming students are pursuing their second Bachelor's degree

Enrollment
Undergraduate: 414
Postbac Premed: 81

Demographics
Age Range: 17 - 73
Students who are married: 90
Students with children: 19
U.S. residents hail from 38 states

Citizenship
42 countries represented