Meet the Class of 2021
Ranging from ages 21 to 72, the Columbia GS Class of 2021 is 663 graduates strong. Meet some of the GS and Postbac Premed students who make up the Class of 2021!
Undergraduate
Postbac Premed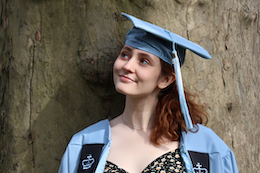 Safia Southey
"In high school, I was very passionate about international relations and political science, particularly in the Middle East–but I had no idea in what capacity I wanted to pursue this. When I graduated in 2016, I felt somewhat lost and decided to defer university in order to gain some clarity. This year was very formative for me–I shared my time working for the UN in Jordan and for Senator Gillibrand in New York. Most importantly, I learned about the Dual BA Between Sciences Po and Columbia, when my best friend happened to stumble upon it and let me know because it seemed like something I would enjoy. I applied to the program from my little room in Amman and got in–on my birthday in fact! And it has genuinely changed my life forever, I am so grateful for this program and how it has molded me into a smarter, more thoughtful, individual. My experience at Columbia has been inspiring, eye-opening, and invigorating, and I am so excited to continue the friendships and passions I developed and nurtured during my time at GS."
After graduating next week, Safia Southey '21GS will spend the next two years continuing her work with the UN and other international agencies that focus on law and human rights before starting at Columbia Law School, which she was admitted to as part of the LEAD Fellowship Program.  
Safia's advice for current GS'ers: "Make friends with everyone you meet! GS is filled with the most incredible, diverse, impressive people, with backgrounds from all over and in every field. Take advantage of this opportunity and get to know everyone as best you can, because it will change your life in the most beautiful way."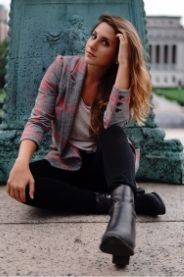 Maria Prudente
"I moved to New York City to study musical theater, graduated at 19, and quickly booked a principal role in a national tour. For nearly a decade, I continued to work in theater, film, and television. Though I was happy to start so young, I felt envious of my friends from Virginia who experienced normal college life. My girlfriends and I would take the 1 train uptown to walk around Columbia's campus. We fantasized about what it might be like to attend, but I never thought I would one day sit on the steps of Low Library as a GS student. Eventually, when it became clear that acting no longer brought me joy, I turned to another form of storytelling that still did: writing. In many ways, the self-discipline and grit I developed from being an actor helped me handle Columbia's rigorous academics and creative writing program."
During her time at GS, Maria Prudente '21 assisted Professor Sudhir Venkatesh as a research fellow for the Tech Society Interface Lab, TSiGNL. She also worked as an editorial intern at Professor Porter Fox's travel magazine, Nowhere Magazine. These experiences not only gave her more confidence in her writing and research but also helped shape her direction after graduating: pursuing an MA in Journalism in the Cultural Reporting and Criticism program at New York University this fall. 
Maria's advice for current GS'ers: "Sit in the front row, ask questions, offer comments, and prepare to do some extra work. It takes a semester or two to find your groove. I didn't start my undergraduate career full-time and didn't feel like a 'real' student sometimes. Getting involved and studying in the library with other students helped me move through that challenging period. Most important: go to office hours! I have found that Columbia's undergraduate faculty are not only outstanding in their respective fields but incredibly generous with their students."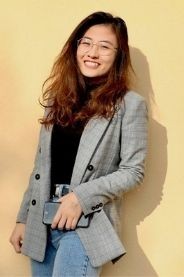 Rhe-Anne Tan
"I have always been driven by the sense that there is a world larger than ourselves, one that we are indelibly connected to and have responsibility for. More than anything else, this belief animates the interests and opportunities I hope to pursue in life."
Rhe-Anne Tan '21GS grew up in Singapore, but travelled extensively with her father, whose work took him to places like Jordan, Angola, and West Papua. Prior starting in the Columbia Dual BA Program with Sciences Po, she took a gap year following the end of the Singaporean school year and taught History and Social Studies at her alma mater and interned with the Ministry of Defence, which reinforced her desire to return to government service upon completing her education. "My experiences instilled the belief that regions of the world should be viewed as complex, living societies, rather than as political problems to be solved and squared away. This desire to look beyond reductive paradigms prompted me to pursue a global and interdisciplinary education through the Dual BA Program."
During her time at Columbia, she was a Saltzman Scholar at SIPA's SIWPS, a Cold War Archives Research Fellow conducting research on Cold War Asian cinema, and served on the editorial team and as Director of Outreach for the Columbia Journal of Politics and Society, where she worked on pieces pieces ranging from Chinese urban sociology to cybersecurity in Southeast Asia. This summer, she published an essay on West Papuan autonomy in the Columbia Journal of International Affairs, which was selected as the Andrew Wellington Cordier Essay. 
Rhe-Anne was also heavily involved in the GS community: "A particularly rewarding part of my Columbia experience has been my time on the GS Student Council. I served as the International Students Representative for the past year, navigating the immigration and distance learning challenges that emerged for international students." Post-graduation, she has been offered a place in Columbia's MARSEA program at the Weatherhead East Asia Institute.
When asked to describe her Columbia experience in one sentence, Rhe-Anne said: "Organic connections, organised chaos, altogether too many cups of coffee."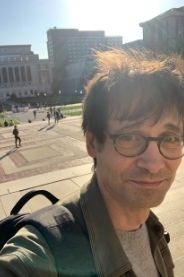 Claude Knobler
Quick Q&A with recent graduate Claude Knobler!
📚Major?: American Studies 
🎯Path to GS?: I've delivered singing telegrams in a gorilla suit, acted on TV, hosted a radio show, been a private detective, wrote a book that actually got published, was a stay-at-home father, and now...I'm a 56-year-old college graduate. 
🎓Post-graduation plans?: I'm currently hoping to become a non-denominational chaplain and work in hospice care. Though honestly, this last year has made it pretty clear that the future is awfully hard to predict. At this point, I'm not ruling out trapeze artist.
📝Your GS experience in one sentence?: I pursued wisdom, survived Intro to Stats, and loved most every day (except the ones where I was just trying to survive Intro to Stats).
💡Advice for a new student?: It's easier to keep going than to get going.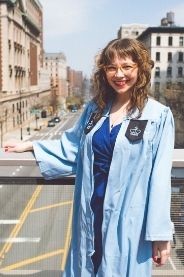 Lori Paulson 
"My path to GS was certainly non-traditional! I left high school without a degree. I stayed until the very last day, but circumstances beyond my control held me back from succeeding. At the time, I took this as a personal failure and that followed me into my late teens and early 20s. I started working at a natural foods co-op right after high school, working my way up from a grocery bagger to running my own department at the new flagship store. I realized that I could do so much more than I ever thought I could as long as I had the right people beside me, encouraging me to push harder.
So push harder, I did. I went back to community college at 24 and worked full-time, along with taking a full class load. I was able to somehow make it out with a 4.0, an associate's degree, and a high school equivalency degree. The difference? My community and the boost in my confidence. I told my community college advisor that I planned to transfer to the state school, but he urged me to aim higher. I landed on the east coast and, having heard about GS years before, decided it was time to apply. I was thrilled to be able to pursue my dream in a way I'd never imagined possible!
I'm very passionate about helping people find their way to and through education. My experience at GS allowed me to meet so many other students who felt the same way as well as countless staff and faculty members that were advocates for me when I felt that I was stuck. I want to do this for others too! I'm currently looking to start my career in higher education and eventually plan to pursue either an MSW or an M.Ed.
In my time at GS, I served as a Peer Advisor, NSOP leader/crew captain, GS Peer Mentor, JED Initiative team member, worked with the GS Communications team, and even made an appearance in the latest GS advertising campaign. 
My advice to a current GS student: Be kind to yourself, you belong here. It won't always feel that way, but there are absolutely people here who will help remind you of that. Also, don't be afraid to ask for help. If you're struggling in a certain way, there's someone else out there who is too."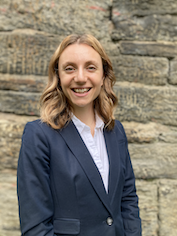 Devon Gingrich
After graduating from Binghamton University with an Environmental Studies degree, Devon Gingrich '21PBPM went to the Adirondacks to work on an organic vegetable farm and spent 5 years at various small-scale farms across New York. "After several incredible years of learning from all kinds of farmers, I realized I wanted to shift the focus of my career towards working with people more directly."
She moved from a small cabin in the woods to Brooklyn to work as a Garden Manager for an NYC non-profit centered around edible education for public school students. Splitting her time between Gravesend and East Harlem, she managed several school gardens and worked with volunteers and students to teach them how to grow and cook their own food and learn how to love playing with worms. 
"I realized how much I loved making one-on-one connections with others and having a meaningful impact on their lives and future decisions from these relationships. This ultimately pushed me to shift my work from a public health realm to one in medicine, and led me to enroll in the Postbac Premed Program."
After completing the Program later this month, Devon plans to attend the University of Michigan Medical School via the Postbac Premed Program's Linkage Admission Program. "I'm so excited to start at UMMS! The program is exactly what I'm looking for. I have extended family in Ann Arbor and couldn't be more thrilled to spend the next four years near people I love. I do still have to take the MCAT, so until May 15 you can find me buried in my review books!"
Devon's advice for current Postbacs: "Be kind to yourself, do not get behind, form a crew and lean on them, and don't stop doing the non-school things you love! I had to learn how to be a student in a whole new way during this program but Columbia has tons of resources - use them! When classes go back in person, go to the Physics help room like it's your job, find a tutor at the ARC, don't be afraid to show up to office hours, and participate in class. I know it sounds annoying but every time a question is asked in recitation or lecture, try to answer it! It's a freebie way to test your knowledge before there's a quiz or test that actually counts."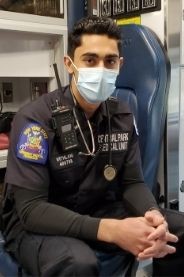 Nandan Vithlani
"I worked in investment banking for almost 2 years before coming to the Postbac Premed Program. For many years, I've had a passion for service work, and while working in banking I had continued these projects on the side. I eventually decided that I wanted to make service my professional focus, and healthcare was a space where I felt I could have a large personal impact. It also represented a chance for me to explore and indulge my interest in science. Since coming to Columbia, my interest in medicine and in working with underserved populations has only deepened.
I serve as a volunteer Emergency Medical Technician with the Central Park Medical Unit, providing free prehospital emergency care and transport to visitors of Central Park. I also volunteer at a research lab at Columbia Med, where we use yeast as a model organism to study the interactions of the nonstructural proteins of SARS-CoV-2 with host proteins. I am also the President of Conserve Inc., a nonprofit organization I founded two years ago focused on increasing engagement with the nonprofit sector, and work extensively with a charity called Rayse Academy that provides free digital education tools to girls in rural India. In my free time, I enjoy fitness and sports. Upon completion of the program, I plan to apply to medical school and explore full-time clinical and research opportunities during my gap year. I also plan to do a lot of traveling and relaxing!
My advice for current Postbacs and GS'ers: Take advantage of the myriad opportunities available to you, both at Columbia specifically and in New York City generally. Leverage the Columbia network to reach out to people who are doing work you may be interested in. Don't be afraid to go off the beaten path, and try to challenge yourself with new experiences."