The Justice and Pandemics Preparedness Academy ("Academy") is a co-curricular activity open to students in the four undergraduate schools at Columbia University as an opportunity to engage in an interdisciplinary experience consisting of introductory lectures, weekly journal club, and production of an individual (or collaborative) project.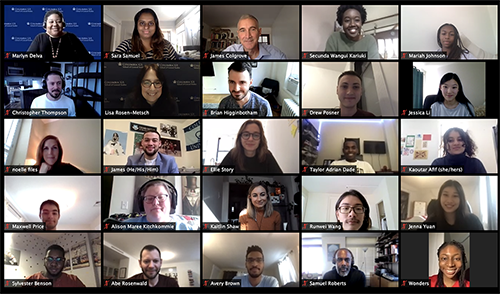 The fall 2020 cohort of the Justice and Pandemics Preparedness Academy gathered virtually on Friday, December 11 to discuss the Academy's first semester.
Background of the Justice and Pandemics Preparedness Academy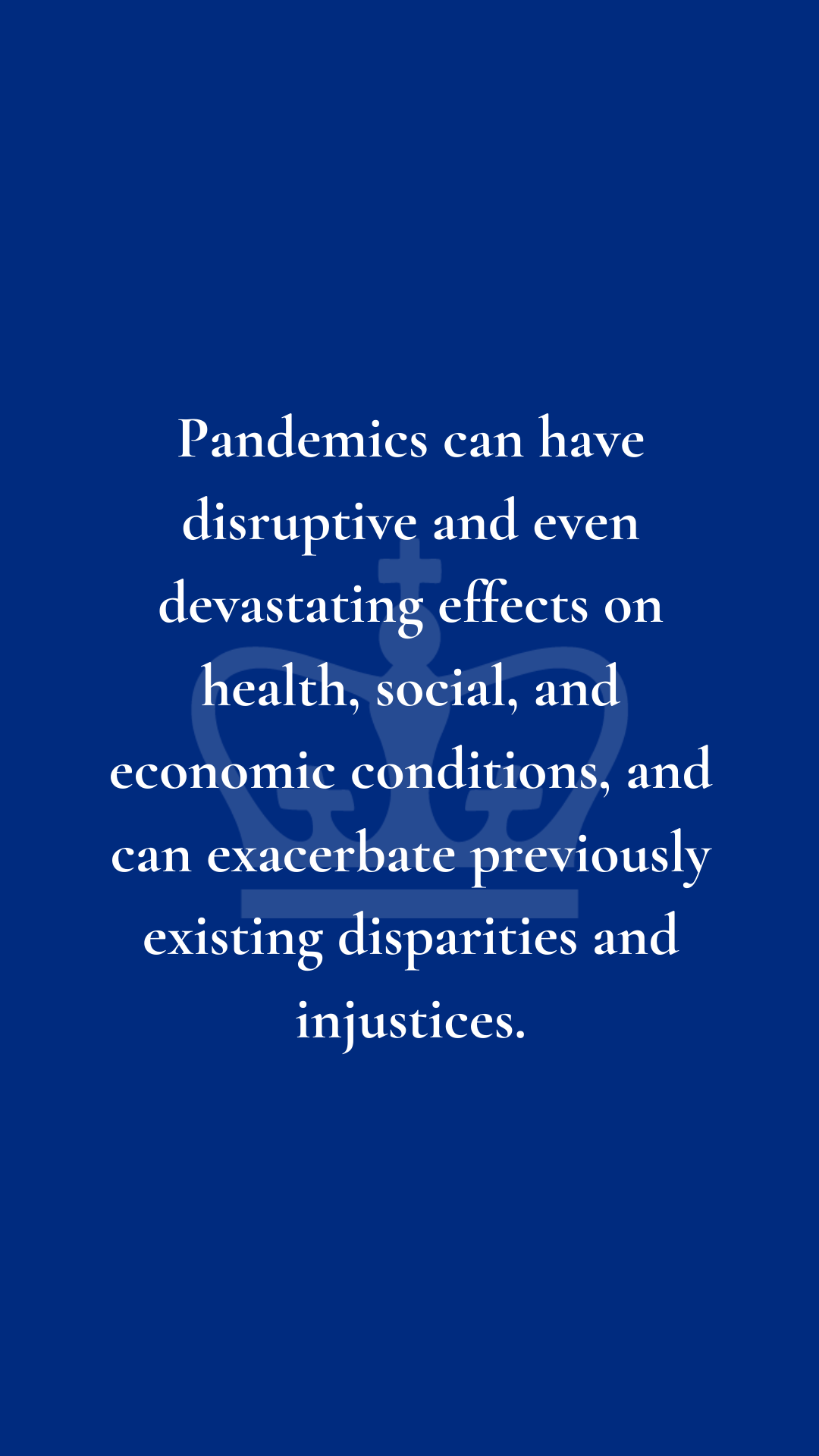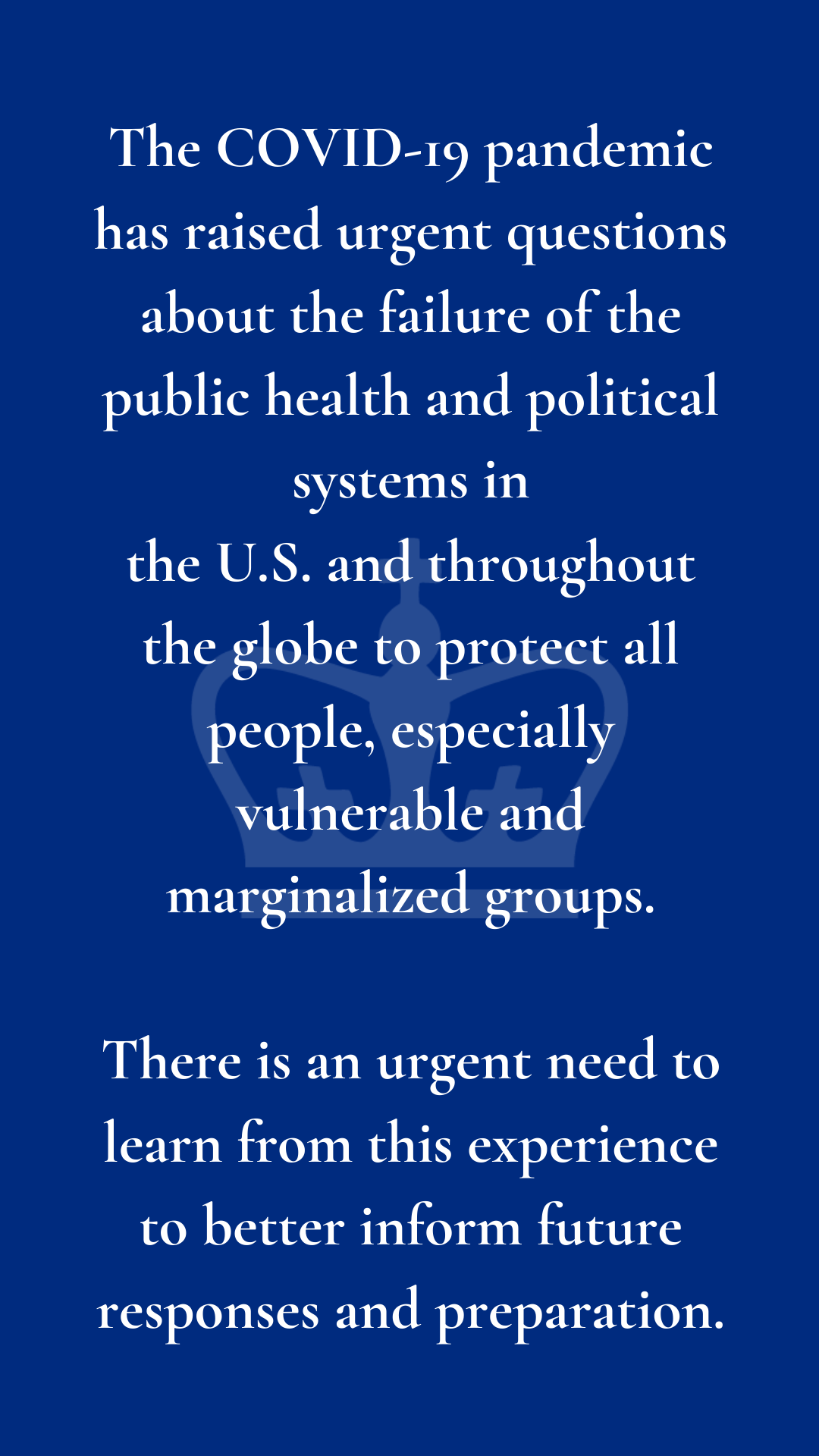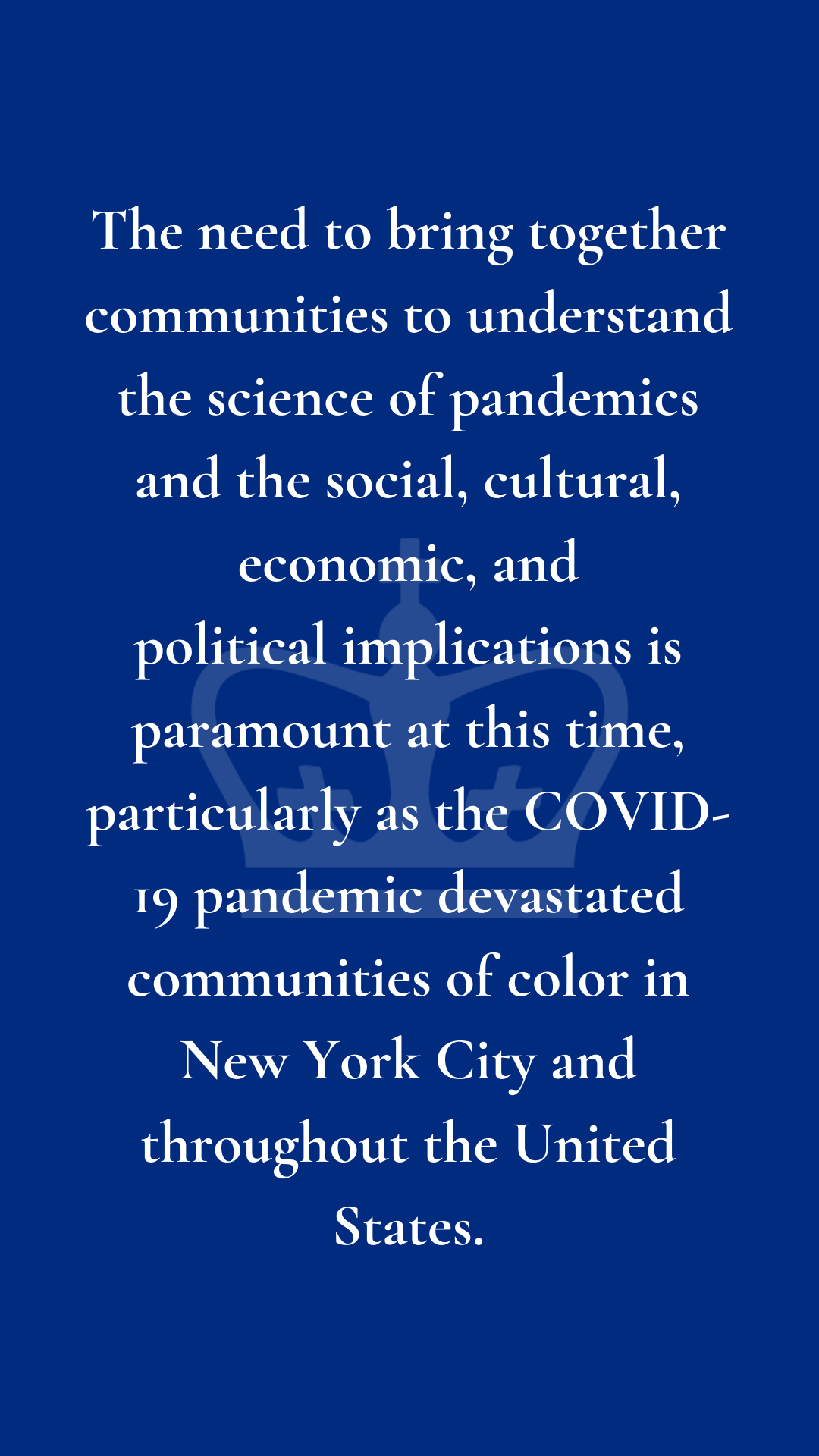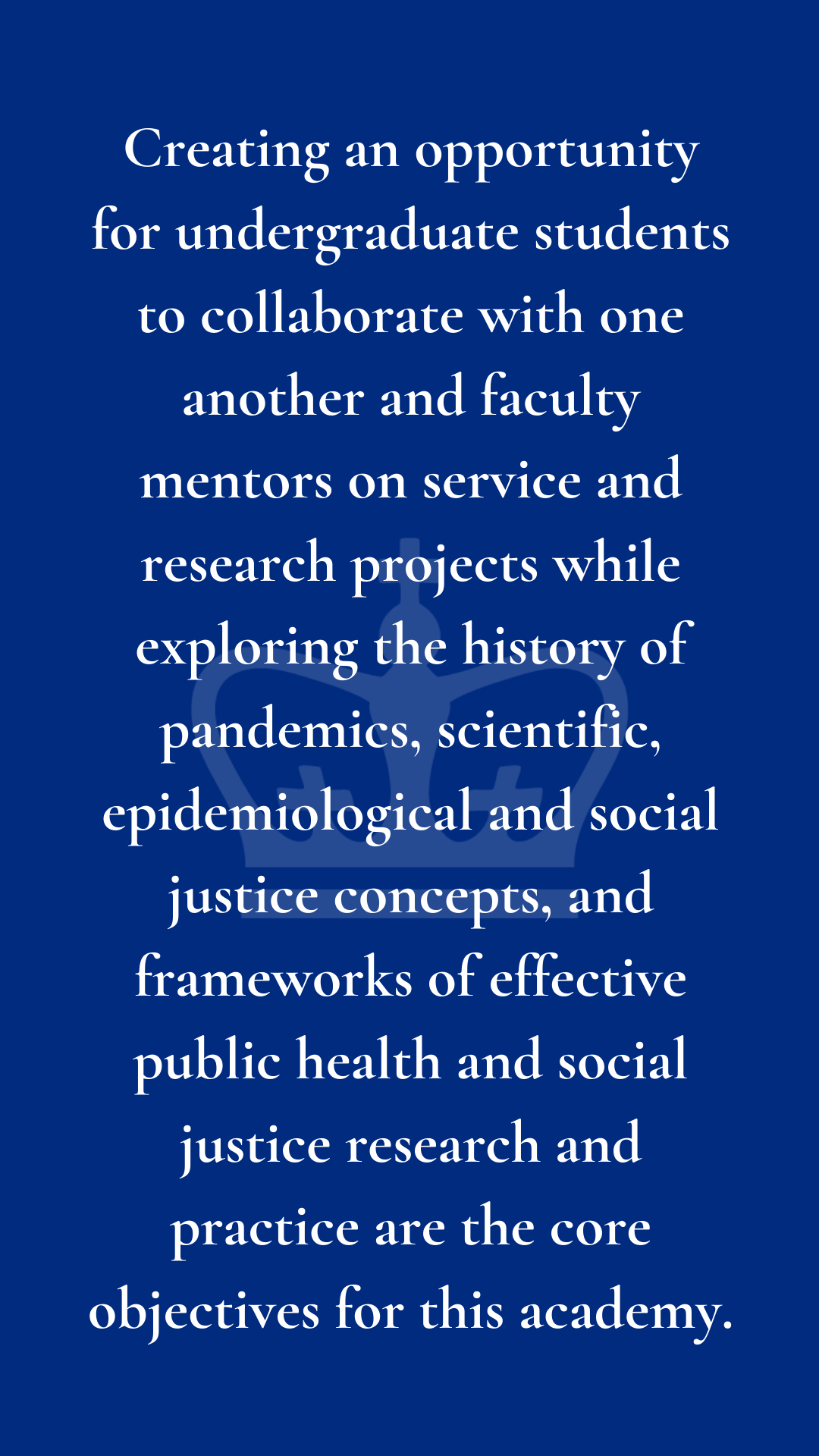 The Academy includes three essential components
Focused Study
Focused study on public health and social work approaches to addressing pandemic preparedness and the disproportionate impact these pandemics have on communities of color drawing on the COVID-19 pandemic experience. Specifically, students would participate in three 60- 90 minute "boot camp" seminar/discussion groups over three days that will introduce them to the history of pandemics, core public health and social justice concepts and models, and action steps that can be used for pandemic preparedness and the protection of vulnerable populations disproportionately affected. The seminars offered in the "boot camp" will be interdisciplinary, integrating approaches from the natural sciences, social sciences and the humanities. 
Weekly Journal Club
A weekly journal club that will engage students in critical discussion of writings, videos, and social media accounts focused on pandemics from the lens of public health, humanities, and the social sciences. Examples of topics include racial inequalities and their contribution to and manifestation in coronavirus infection, morbidity, and mortality, food insecurity, policy development and implementation for prevention of and response to pandemic crises, leadership in a crisis, and predictive indicators and models for future pandemics. The journal club will enable students to analyze and debate scientific, ethical, social, and political dimensions of pandemic preparedness and intervention. It will also feature opportunities to critically examine the public health system and the race crisis during the current COVID-19 pandemic and to examine opportunities to build a better system that protects all populations equally.  Faculty mentors and students will select the works to be discussed in the weekly journal clubs.  These works will be posted one week before each session
Writing/Social Media/Video Projects
Individual writing/social media/video projects in student areas of interest. Examples of projects include an op-ed, policy memo, a survey, or a proposal for a philanthropic endeavor.  Each student will be assigned a faculty member to provide mentorship in the completion of their project. Students would also have the opportunity to propose collaborative (group) projects and/or participate in a faculty member's ongoing research project.
Learning Objectives and Benefits of Participation
Learn more about COVID-19 from perspectives of public health and social justice
Connect with faculty in the Arts & Sciences, Mailman School of Public Health and Columbia School of Social work
Develop meaningful relationship with faculty mentor
Connect with students from four undergraduate schools
Strengthen skills in critical thinking and reflection, research, speaking, and writing.
Opportunities to participate in service projects
Engage in team-building and interdisciplinary collaboration
Learn to describe the basic epidemiological concepts of viruses, particularly SARS-COV-2
Discuss the history and predictors of pandemics
Define social justice concepts and frameworks
Analyze the relationship between illness and the ways social, cultural, economic and political factors shape health outcomes
Critically argue the response to COVID-19 in the US and abroad