GS Alumnae Forge a Connection Over Modern Dance and the Cold War
Tinatin Japaridze '18 still recalls the day Professor Victoria Phillips '85 called to ask if she'd be interested in working as a research assistant on the book she was writing about American modern dancer Martha Graham. At the time, Japaridze was a second-year undergraduate student at GS and describes being "completely blown away" by the offer, which she eagerly accepted.
December 15, 2020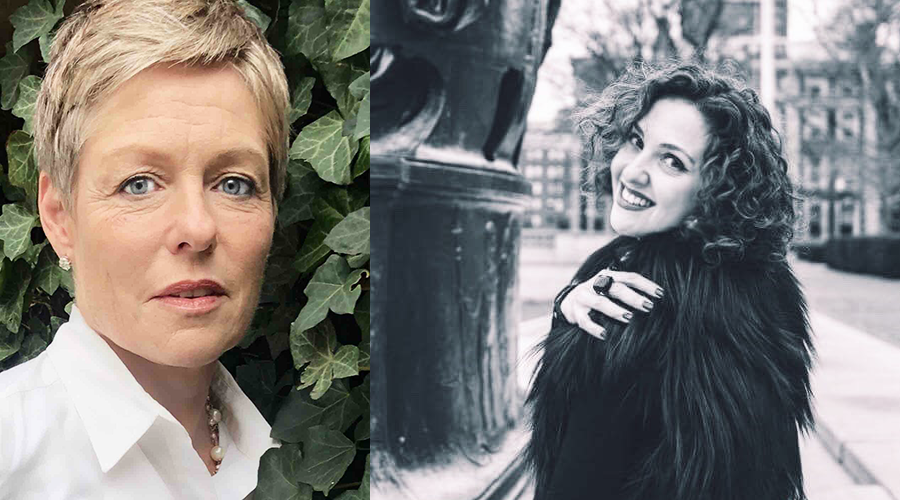 Phillips, an adjunct lecturer in history at Columbia University from 2013-2019 after graduation from the PhD program, specializes in the Cold War, cultural diplomacy, and international relations. At the time, she was turning her dissertation exploring Graham's State Department tours between 1955-1987 into a book (Martha Graham's Cold Wars: The Dance of American Diplomacy).
Their paths crossed after Japaridze applied to take part in the Cold War Archives Research (CWAR), a project Phillips had just launched that offers a unique opportunity for students to conduct archival research on the cultural history of the Cold War and develop original projects and academic papers based on the findings. As Japaridze explored her own project at the President Eisenhower Archives in Kansas, she and Phillips began discussing cultural diplomacy in the heat of the Cold War, and in conversation, she learned about Phillips' book manuscript.
"It started off with me transcribing a PBS film on Graham, then slowly editing footnotes, and at some point, halfway through, I 'graduated' to reading a chapter draft and offering some thoughts on the content (in particular, the Soviet portions, as this was a significant focus of my studies at Columbia). Before too long, we were traveling to Stanford in California, Berlin, and Warsaw and Krakow, and going through archival material together," said Japaridze.
In Martha Graham's Cold War: The Dance of American Diplomacy, Phillips performs a deep dive on the life and works of Martha Graham, and explores the international political world in which Graham and her company mesmerized audiences around the world, promoting the United States in more than thirty nations for every presidential administration from Franklin D. Roosevelt through George W. Bush.
I suppose the fact that we both graduated from GS is no coincidence—following nontraditional trajectories in our careers and lives as a whole was one of the first and, I would say, deepest points of connection for us.
Phillips first became enthralled by Martha Graham at the age of sixteen when she went to see the Martha Graham Dance Company and felt drawn to Graham as she came out on stage, thinking, "I want to do that." Within a week, she negotiated her high school academic schedule to take independent studies in English and history, which afforded time in her schedule to simultaneously study at the Graham School every morning. Upon graduation, to her parents' horror, she announced that she would not be attending college. She had been accepted by Graham herself to join the company class and learn the repertory. To appease her parents, she enrolled part-time at GS, planning to take premedical courses for a post-dance profession.
At twenty-one, after deciding that neither a career in dance nor medicine was meant to be, Phillips enrolled at GS to study full time, in search of a new passion. Enthralled with Contemporary Civilization (which she took at the then-all-male Columbia College, when all of the course texts were written by men), she enjoyed fulfilling degree requirements in French, art history, and English. She majored in film for several semesters before realizing that she had mostly fulfilled the requirements for a degree in literature and creative writing, with diary-writing being a passion held since childhood. 
With the hopes of becoming a novelist, she wrapped up her degree while working at Columbia Business School, which would afford her free tuition and a typewriter. After writing for the Bottom Line school newspaper about finance, she took a different direction that eventually led to an MBA and a job as one of a small number of female short sellers and "vulture capitalists" on Wall Street in the 1980s and early 90s. Her story was published as a satiric diary in the New York Times Business World, "An MBA Runs the Gauntlet." While on Wall Street, she earned her MFA in fiction from New York University. 
In 1992, she left Wall Street to dedicate her time to raising three daughters. However, an innate desire to continue learning eventually led to taking a few classes in dance history, again at GS, which ultimately led to earning an MA from NYU in U.S. cultural, intellectual, and dance history and a PhD from Columbia University in history. But she never left behind the skills she picked up on Wall Street; she found that they simply played a new role in academia. 
"I believe I am using the same research and analytic skills I learned from the giants of Wall Street, but I've just changed the end result. After reading the documents, kicking the tires, doing interviews and oral histories, I used to make predictions; I now try to find conclusions. In both cases you add it all up; on Wall Street you buy or sell, or both; with history I write, publish, and magically work with the next generation."
Shortly after the CWAR group returned from their first trip, Japaridze enrolled in Phillips' course Cold War Power, followed by Cold War Cultural Battles and Women as Cold War Weapons, which she recalls as one of her favorite courses taken at Columbia. After exhausting every class offered by Phillips, she applied to become her teaching assistant. 
"Working under the leadership and mentorship of Dr. Phillips—as her research assistant on this fabulous literary work, and her teaching assistant in the classroom—these experiences were invaluable in helping me find my voice and follow my heart, thus pursuing the projects and endeavors I'm most passionate about. I will always be indebted to her for the trust, faith, and motivation to never stop looking for answers even in places we least expect to find them," said Japaridze. "I suppose the fact that we both graduated from GS is no coincidence—following nontraditional trajectories in our careers and lives as a whole was one of the first and, I would say, deepest points of connection for us as mentor and mentee and also, I'm proud to add, as friends."
---
Cold War Archives Research (CWAR)
As part of its Initiative on Cultural Power in International Relations, the European Institute offers the Cold War Archives Research (CWAR) Fellowship. The fellowship gives students the opportunity to conduct archival research on the cultural history of the Cold War and develop original research papers based on their findings. Those interested in public and cultural diplomacy, journalistic history, and the engagement of modern Europe with other regions during the Cold War will find abundant resources for productive investigations at archives they will visit with the group.
The fellowship was created in 2015 under the name "Radio Free Europe (RFE) Research Project Fellowship" and sponsored student research in the archives of RFE in Europe and in the US. It was renamed in 2017 to "Cold War Archives Research Fellowship" as the focus was expanded to other cultural projects and archives of other media active during the Cold War.
The CWAR program is continuing despite the COVID-19 pandemic as a joint online project between the European Institute's Cultural Initiative at Columbia and the Department of International History at the London School of Economics, where Phillips teaches at present. 
Victoria Phillips
Victoria Phillips is the author of Martha Graham's Cold War: The Dance of American Diplomacy [Oxford, 2020], which explores the international political life of Martha Graham to promote the United States in over thirty nations for every presidential administration from Franklin D. Roosevelt through George H.W. Bush. Graham famously denied that her work was political, yet documents, oral histories, and even the dances themselves show a deep promotion of freedom and the constitutional principles of the United States. Joining her denial of her modernism, missionary religiosity, feminism, the book explores how and why she performed these denials as a fundamental response to the Cold War to promote seemingly a-political messages. Her choreographic works, preeminence as a company leader, and dynamism as a performer both on and off-stage made her an invaluable Cold War cultural export. As one star dancer from the early Cold War said to Victoria, "Never forget: Martha was a genius."
Dr. Victoria Phillips is a Lecturer in History at the European Institute and Department of History, Associated Faculty at the Harriman Institute, director of the Cold War Archival Research project (CWAR), and Visiting Fellow in the Department of International History at the London School of Economics. She specializes in cold war history and cultural diplomacy. She developed CWAR as a cooperative research group and accompanies advanced students to international archives to explore Cold War cultural projects. Her articles have appeared in such varied publications as the New York Times, American Communist History, Dance Chronicle, Ballet News, and Dance Research Journal. She has curated several public exhibitions in the United States and Europe. Phillips has lectured at renowned universities, colleges, high schools, and international institutes. Although she has appeared as a speaker or classroom instructor, she has used a model of combining historical talks on Graham and the Depression with live dance performance, technique and improvisation classes. She has served on the boards of the Joyce Theater and American Ballet Theatre. At present she serves on the boards of the Gilder Lehrman Institute of American History, the European Institute at Columbia University, and chairs the board of Historic Dance Theatre which pairs scholars with dancers to offer lecture-demonstrations on such varied topics as Merce Cunningham's choreographic connection to Martha Graham, the Spanish Civil War, the Berlin Wall, and the figure of Medea in the history of dance from ballet to Graham and new twenty-first century choreographers. She is on the editorial boards of American Communist History and Dance Chronicle. Her primary research is held at the Library of Congress as the Victoria Phillips Collection.
Tinatin Japaridze
Former U.N. Bureau Chief for Eastern European media outlets and U.N. Radio host and producer, Georgian-born Tinatin Japaridze is a graduate of Columbia University's School of General Studies ('18) and the Harriman Institute at Columbia University ('19), where her master's thesis, "Russia, China, and the New Digital World Order" focused on Sino-Russian cooperation on cyber sovereignty and 5G policies. Her work has been published by various media outlets, including The Moscow Times, The Washington Post, Georgian Times, Argumenti & Fakti, Novoye Russkoye Slovo, and The Atlantic. 
Tinatin recently served as a digital community engagement and field specialist at NYC Census 2020, NYC Mayor De Blasio's new initiative. She is also working as a Go Big Officer at the European Leadership Network (ELN) on a digital campaign to extend the New START between Russia and the US. Her forthcoming book, The Tale of Three Stalins, will be published by Lexington Books/Rowman & Littlefield in 2021. In 2019, she became a Carnegie Council for Ethics in International Affairs Student Ambassador on Cyber Ethics and Digital Leadership. Currently, she is a mentor at Girl Security, a non-profit that aims to close the gender gap in the security sector, focusing on national security and cybersecurity-related matters. Tinatin co-wrote and recorded the U.N. anthem, "We the Peoples," and co-authored Iceland's silver prize-winning Eurovision song in 2009.